Is NPS the right option for your retirement planning?


20 Jul 2022 - Contact Sayan Sircar


8 mins read





This article talks about if investors should go with NPS for retirement planning or look at other options which give them more control.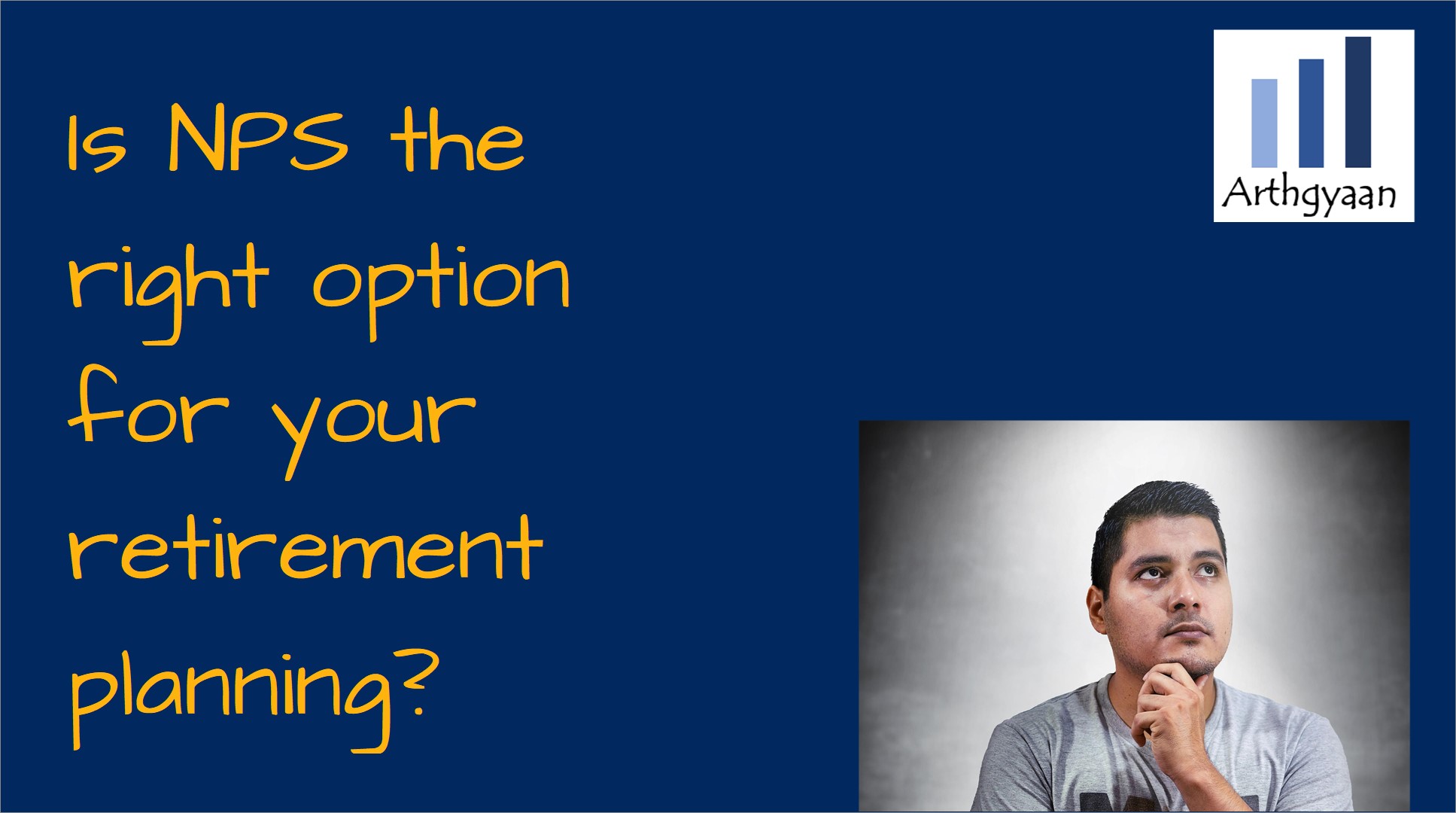 Table of Contents
What is NPS?
National Pension Scheme (NPS) is a defined contribution retirement plan launched in May 2009 with the following features:
withdrawable only at 60 years of age, of which
60% can be withdrawn as a lump sum tax-free
the remaining 40% is compulsorily invested in an annuity to provide a lifelong pension
NPS contributions are tax-deductible under 80C. There is an additional deduction under section 80CCD for 50,000 i.e. tax payable reduces by 30% (slab rate) times ₹50,000 or ₹ 15,000 per year.
If you are new to NPS, enter with this understanding that, unlike the "defined benefit" pension that our previous generations had, it is a "defined contribution" plan. You invest some money every year, that grows over time and once you reach 60 you can start using that corpus for retirement. The final corpus value and amount you get to spend in retirement are unknown and depends on 4 things:
How much you invest over the years
How much the returns you get every year
What kind of NPS plan you choose (auto or active etc)
How you manage the the NPS corpus that you get in hand once you reach 60
NPS replaces the earlier defined benefit old-style pension scheme in Government jobs since the pension bill has ballooned to high figures that are difficult to foot. Instead, under NPS, the participant bears market risk (in both equity and debt markets). The pension they get depends on how much they invest before retirement and how those investments perform.
Unlike the old pension scheme, there is NO guarantee of the pension amount you will receive once you retire.
Recent articles:
Investment options under NPS
The investment options in NPS are governed by the Pension Fund Regulatory and Development Authority (PFRDA) rules. NPS funds are essentially mutual funds with the following four asset classes described below:
Equity option (Scheme E)
This class invests in stocks like other equity mutual funds, and risks/returns are in line with other equity mutual funds. Large fluctuations in equity funds are considered normal, say 40% or worse falls in a year or 60%+ rise in other years. Unless they have entered the stock market since the post-Mar 2020 bull run, investors are well aware of the nature of this fluctuation.
Government bond option (Scheme G)
This class invests primarily in RBI, i.e. Government bonds. These bonds have a sovereign guarantee, i.e. no risk of default. However, based on the time to maturity of each bond in the portfolio, they have interest or duration risk. We extensively cover the concept of duration risk here: Should you match debt portfolio duration with goal duration?, but the summary is that the Scheme G NAV will fluctuate considerably due to interest rate changes in the economy.
This fact may surprise investors new to the concept of duration risk or who have only seen high returns from this category due to falling interest rates in line with global economic trends.
Corporate bond option (Scheme C)
This class invests in corporate bonds, i.e. debt issued by companies, not the Central/State Governments. Apart from duration risk, this category has credit risk also since there is always the risk that the company that has issued the bond can fail to pay back interest and principal.
Alternative Investments option (Scheme A)
This class invests in alternative investments in products like Alternative Investment Funds (AIF), Mortgage-Backed Securities (MBS), REITs, InvIts, and other similar investments. Due to their nature, these products are high-risk investments and have existed since 2016 only in NPS. Therefore, we are excluding their discussion in this article. Still, the sequence of return risk applies to this category as well. Since the allowed allocation to this category is capped at 5% of the corpus, it does not make a material difference to the returns of the NPS portfolio.
We have covered asset allocation for NPS in more detail here: Asset allocation for NPS: equity or debt / active or auto?
Who should invest in NPS
NPS puts your money behind locked bars
NPS may be a good option for those investors who
have stable jobs up to age 60
do not plan to retire early (due to 60 age lock-in)
want to save tax under section 80CCD
have an employer match component in NPS
If your employer offers to pay 10% of your basic pay into NPS, match it via your contribution since it is a part of your CTC.
---
Our new Goal-based investing tool will help you to create and manage all of your goals in one place. Click the image below to get access:

---
---
Arthgyaan creates a system for reaching your financial goals by sharing simple, actionable advice backed by research and analysis.

Your email address will not be shared with anyone and you can unsubscribe anytime.
---
Who should not invest in NPS
If at least one or two of the above conditions are false makes NPS an unsuitable investment for investors who
what to retire earlier than 60 (FIRE candidates). If your money is locked until 60, you cannot FIRE
understand that annuity rates are going down as the economy develops and annuity income is taxable
do not mind the missed tax saving under 80CCD since, over time, this ₹15,000 should grow a lot more in outside investments than in NPS
The fundamental critiques of NPS are
compulsory taxable annuity in a falling interest rate environment
lack of liquidity in accessing the corpus until age 60
If you need to break out of NPS before 60, the rule says that at least 80% of the corpus has to be converted into an annuity.
Many proponents of NPS have the following opinion:
60y lock-in is good since the purpose is retirement. Investors must evaluate if they are disciplined enough not to touch the retirement corpus for non-retirement expenses. If they are not disciplined, locking their money in NPS will not save their retirement corpus since they have an option of spending money every month on other expenses and not contributing to NPS
₹15,000 80CCD tax saving has a compounding effect: this depends on the investor's perspective and ability of portfolio construction. The tax not saved by forgoing NPS can be considered a cost of liquidity on ₹50,000 of corpus/year. Alternatively, many investors can be confident that they can make higher returns in the market by properly managing an equity portfolio with an equity proportion more than the 75% maximum equity limit in NPS funds
How much to invest in NPS?
We believe young investors should not invest in NPS at all due to blocking the amount until age 60 and the compulsory annuity purchase requirement for 40% of the corpus.
If you still must invest in NPS, restrict the amount to get the ₹50,000 deduction under Section 80CCD and to get any employer match under the corporate NPS scheme since that is a part of CTC. Up to 10% of salary can go to NPS (limit of ₹7.5L) under corporate NPS as the company's contribution, just like EPF.
What is the alternative of NPS for retirement planning?
NPS assumes that at 60, you will suddenly become able to manage a large corpus of money on your own once you get the 60% lump sum. So why not start today?
We will consider options that give us both flexibility, liquidity and a wide variety of choices that NPS doesn't for creating a retirement portfolio.
We will choose:
Employee provident fund: for salaried people, this is already a part of investments
public provident fund: this is an excellent tax-free retirement planning tool - PPF vs. mutual funds: which is better?
mutual funds: equity and debt mutual funds provide liquidity (you can take out money anytime) and complete control. These should be used to hold the majority of your retirement assets - Which funds should I invest in?
Can these options replace the auto-pilot inner working of NPS?

They can, and it does not take a lot of time: around one hour of work a year to manage the retirement portfolio. A step-by-step option is given here: A low-stress step-by-step guide to creating a retirement portfolio

If you liked this article, consider subscribing to new posts by email by filling the form below.
More: worked out case studies for goal-based investing
This article shows how a young just-married couple can invest for future goals using the Arthgyaan goal-based investing tool.

Did you welcome a bundle of joy in your 40s? This article will discuss ways of planning the child's (and your's financial future)

This article shows how a very typical salaried couple with one child can invest for future goals using the Arthgyaan goal-based investing tool.
Previous and Next articles: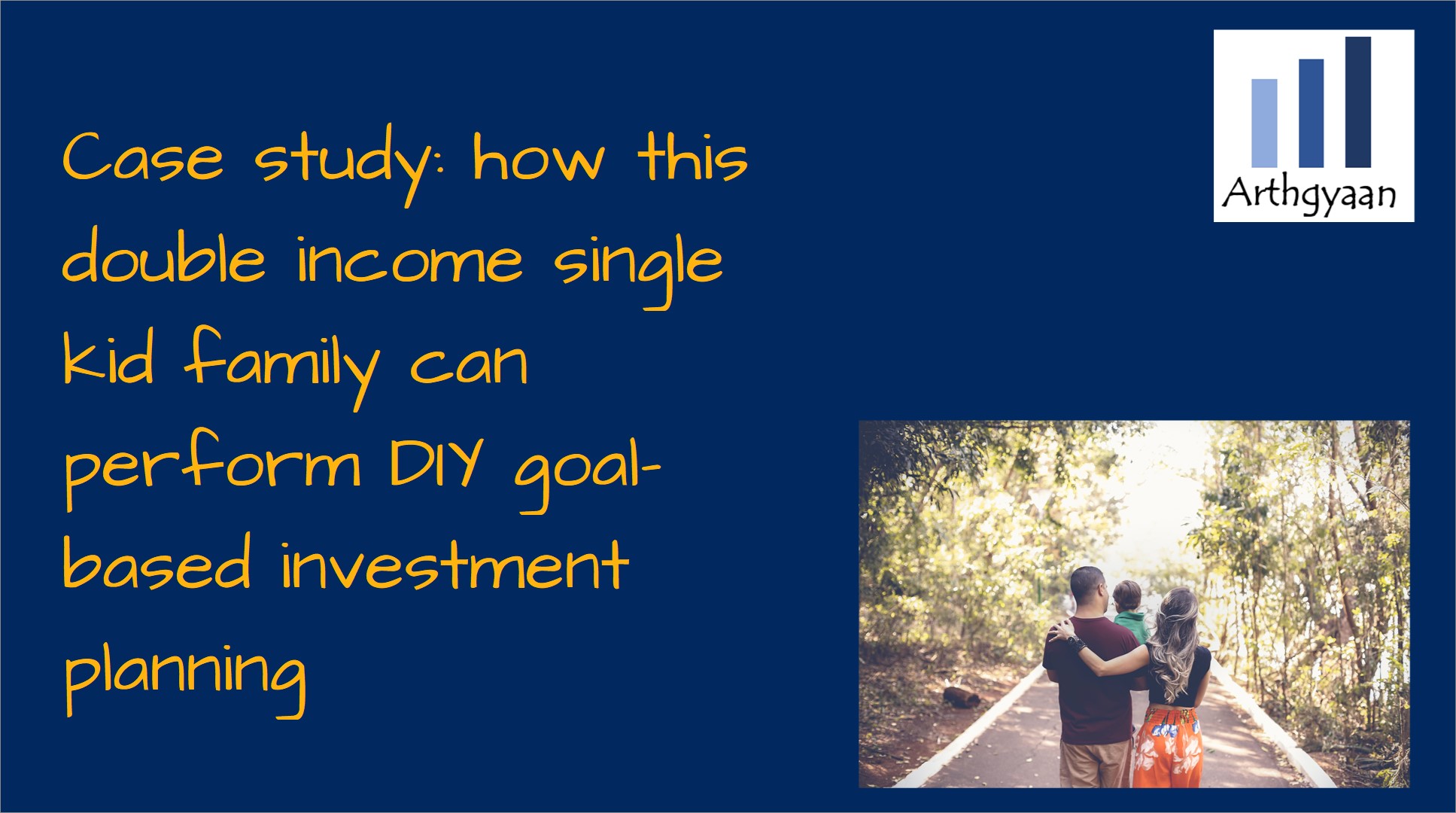 Case Study
Case study: how this double income single kid family can perform DIY goal-based investment planning
This article shows how a very typical salaried couple with one child can invest for future goals using the Arthgyaan goal-based investing tool.
Published: 17 July 2022
16 MIN READ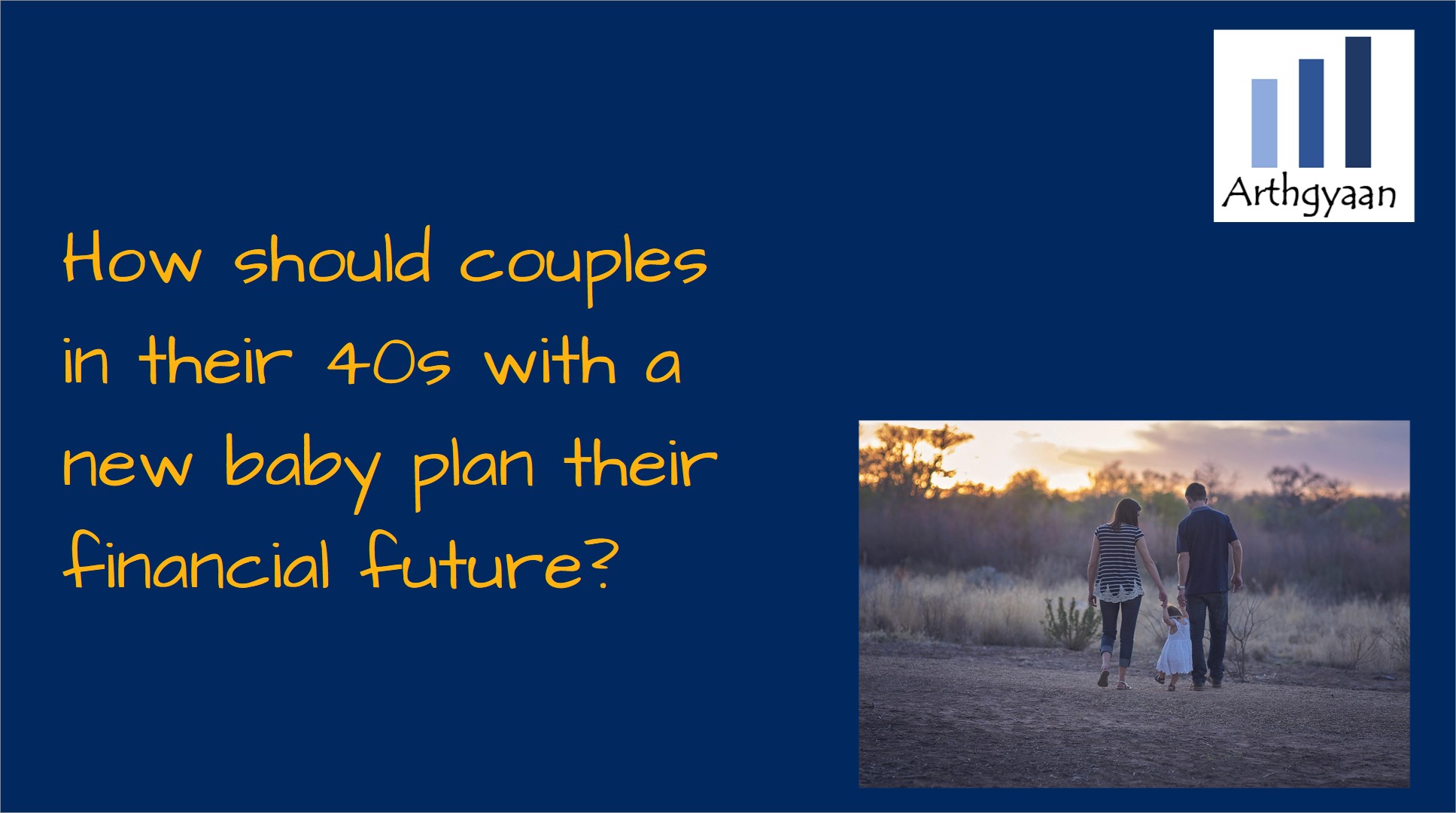 Case Study
Children
Case Study: How should couples in their 40s with a new baby plan their financial future?
Did you welcome a bundle of joy in your 40s? This article will discuss ways of planning the child's (and your's financial future)
Published: 24 July 2022
15 MIN READ
Latest articles: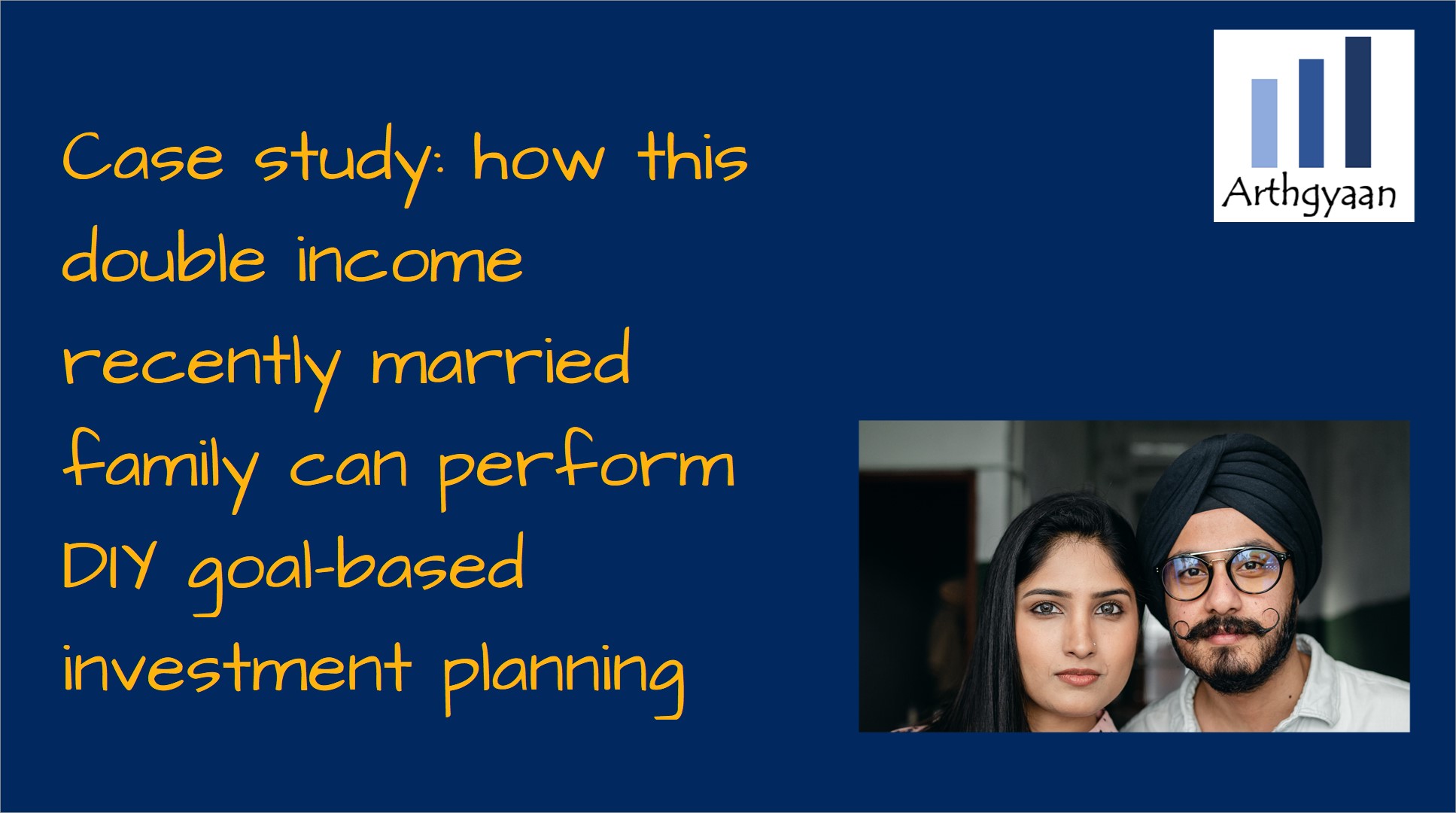 Case Study
Portfolio Construction
Case study: how this double income recently married family can perform DIY goal-based investment planning
This article shows how a young just-married couple can invest for future goals using the Arthgyaan goal-based investing tool.
Published: 7 August 2022
14 MIN READ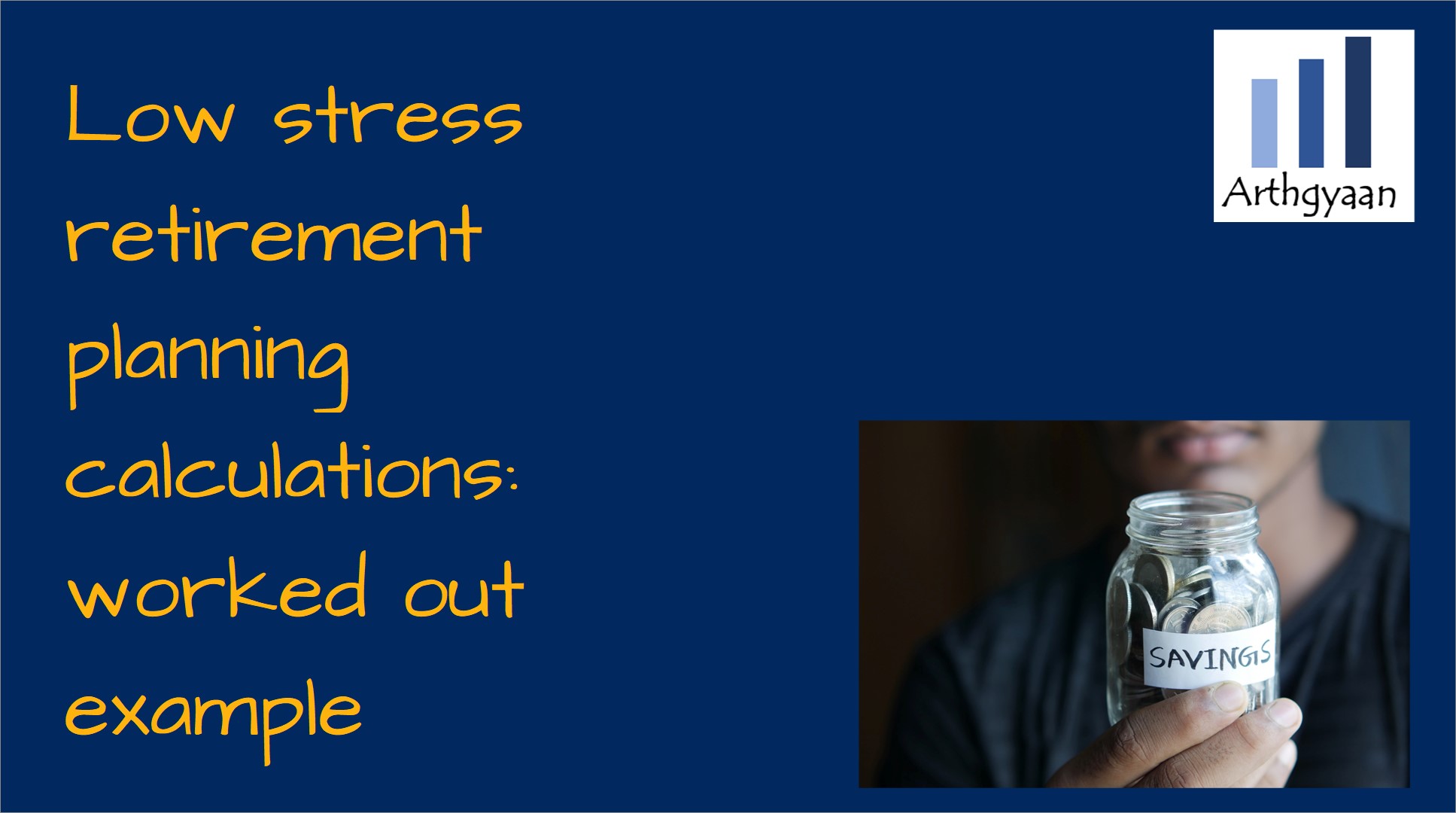 Retirement
Portfolio Construction
Step by step
Low stress retirement planning calculations: worked out example
This article shows a simple retirement and review plan that anyone can follow in a step-by-step manner.
Published: 3 August 2022
6 MIN READ
Topics you will like:
Asset Allocation (18) Basics (7) Behaviour (10) Budgeting (9) Calculator (11) Case Study (3) Children (7) Choosing Investments (24) FAQ (2) FIRE (8) Gold (6) Health Insurance (2) House Purchase (11) Insurance (8) Life Stages (2) Loans (10) NPS (4) NRI (3) News (5) Portfolio Construction (30) Portfolio Review (18) Retirement (22) Review (7) Risk (6) Set Goals (24) Step by step (4) Tax (12)

Next steps:


1. Email me with any questions.

2. Use our goal-based investing template to prepare a financial plan for yourself
OR
use this quick and fast online calculator to find out the SIP amount and asset allocation for your goals.



Don't forget to share this article on WhatsApp or Twitter or post this to Facebook.

Discuss this post with us via Facebook or get regular bite-sized updates on Twitter.

More posts...


Disclaimer: Content on this site is for educational purpose only and is not financial advice. Nothing on this site should be construed as an offer or recommendation to buy/sell any financial product or service. Please consult a registered investment advisor before making any investments.

This post titled Is NPS the right option for your retirement planning? first appeared on 20 Jul 2022 at https://arthgyaan.com


We are currently at 172 posts and growing fast. Search this site: Copyright © 2021-2022 Arthgyaan.com. All rights reserved.

---