What are the best index funds for new investors in India?


Posted on 26 Oct 2022
Author: Sayan Sircar


9 mins read


Get new post notifications on WhatsApp!



This article shows the steps that a new index fund investor can follow to shortlist an index fund for investing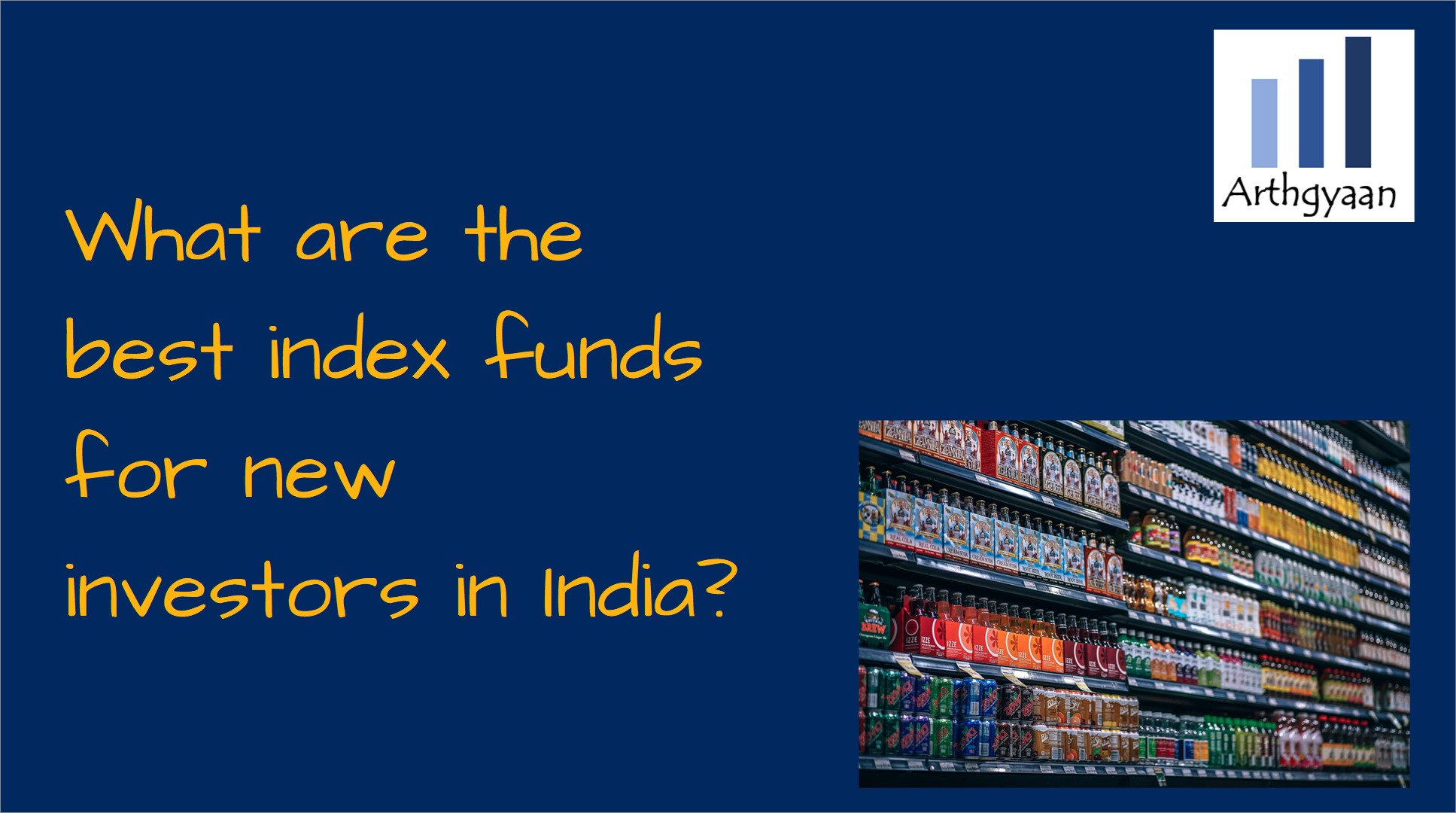 Disclaimer: Fund names in the article are not recommendations to invest into or exit those funds.
📚 Topics covered:
Why should new investors choose an index fund?
A "new investor" belongs to one or more of the following categories:
• someone starting their first investment in mutual funds
• someone looking for an index after being convinced of the reasons to choose an index fund over active funds for example to avoid Closet indexing or chasing performance
• someone looking for another index fund in a different AMC
We have already covered the concept of why you should invest in index funds. If you are unfamiliar, please review that article first: Which index funds to invest in and why?.
Investing in index funds is the first step in the journey towards lazy portfolios: What are lazy portfolios and why you should implement them for your goals?.
Join the Arthgyaan WhatsApp community:
You can stay updated on our latest content and learn about our webinars. Our community is
fully private
so that
no one
, other than the admin, can see your name or number. Also, we will not spam you.
How do index funds differ among themselves?
An index fund is a commodity offering that does not differ too much from one AMC to another. A few factors help differentiate between different index funds tracking the same index. The table below is sorted on tracking error ascending.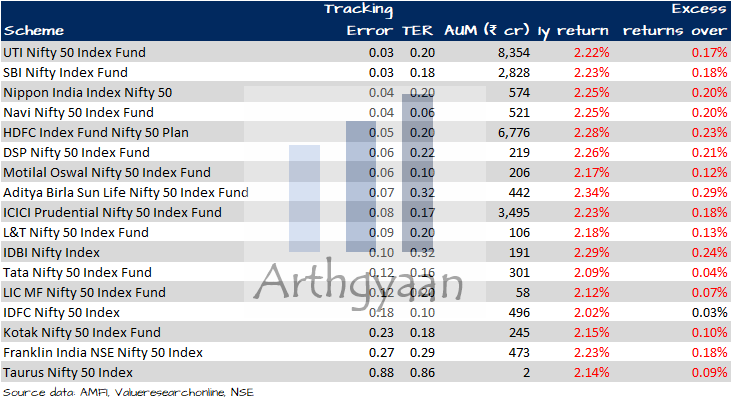 Here is how you choose an index fund once you have decided which benchmark index (like Nifty 50, Nifty Next 50, S&P 500 or MSCI World) you want to invest in:
Low Expenses (TER)
Total Expenses Ratio (TER) is what AMCs charge to a fund as the cost of running that fund. This includes salaries of the fund manager and team, trading and related costs of buying/selling and distributor costs. Index funds generally have lower TER than active funds since there is not much to do for both AMC employees, trading is less, and distributors have no incentive to push them vs high-cost active funds.
Since all index funds give returns similar to the index by design, a fund with lower expenses, i.e. TER, will provide better returns than another fund with higher fees. Everything else remains the same. Mutual fund portals generally give TER for all funds as a convenient list/table. Keep a watch on this one since AMCs have a habit of abruptly increasing it.
Low excess returns (and low tracking error if known)
Index funds returns will vary slightly from index returns since it is impossible to perfectly replicate the index by buying and selling stocks all the time since that will become too expensive to trade frequently. The difference between the index return and fund return is called excess return. Tracking error (TE) measures how much these excess returns vary from each other (mathematically, TE = standard deviation of excess returns).
It is generally advisable to go for the lowest tracking error since that indicates consistency in how the fund is run. This information is usually present in fund information documents. Alternatively, investors can calculate this from index data from the NSE/BSE website and fund NAV data from AMFI using at least one year of trading data.
However, if Tracking Error data is not available, choose funds with low TER and not too much return difference from the index (i.e. low excess returns) and go with that.
High Assets under Management (AuM)
AuM is an easy metric to check since this is present in all fund portals, AMFI, and AMC websites. The bigger the size of the fund, the easier it is for the fund manager to buy/sell stocks as per the index. Also, it is easier for the fund to deploy cash from inflows and handle redemptions if the fund size is larger. However, for some indexes, too much AuM may create liquidity issues if the underlying stocks are not traded, for example, in the mid and small-cap universe. This will lead to higher tracking errors.
We will now show how to choose an index fund step-by-step.
Step 1: Choose the index you wish to track
We will start with the Nifty 50 index. Nifty 50 has the highest number of funds tracking it. Also, a large-cap index will be the core portfolio for any investor.
Related:
What are the best mutual funds for first-time investors?
Step 2: Locate the list of funds
There are now multiple AMCs that have index funds. There are now 19 different index funds that track the Nifty 50 as per AMFI. While most index funds are similar, some are better than the rest.
We will exclude ETFs here due to considerations of liquidity issues that lead to high price-NAV variations. We will cover this topic of ETF-exclusion in detail in a future article.
Step 2a: Get the tracking error from AMFI
We will use the AMFI website to locate the list of tracking errors for mutual funds: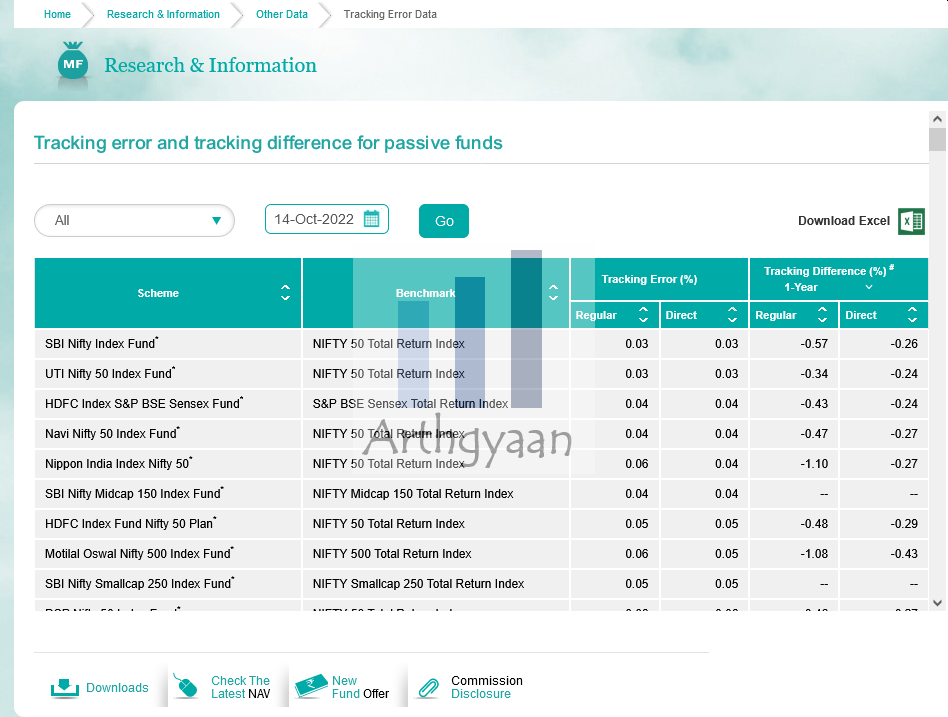 There are a few things to do here:
choose a date a few days in the past to let the data be updated
sort the list using Tracking Error ascending
choose only those funds with at least one year's history. The Tracking difference (%) 1-Year column will have some value in this case
Step 2b: Get the fund details from Valueresearchonline
Use Google Search to get to any Nifty 50 fund page and then click through to the category page (direct link).
There are a few things to do here:
sort the list with descending TER
export the list to Excel
filter the list with both the lowest TER and highest AuM (like this)
fill in the tracking error information from AMFI and filter again
Step 3: Calculate the Excess returns (optional)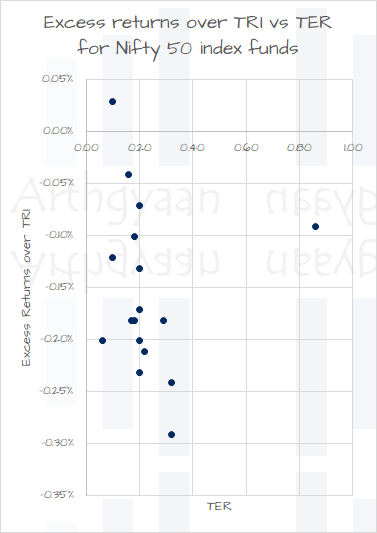 We recommend that investors do this step since it is an important metric. But, if the process is too technical, it can be skipped. The result adds the Excess return as a column to the table created above.
Step 3a: Calculate the TRI returns
Source of this data: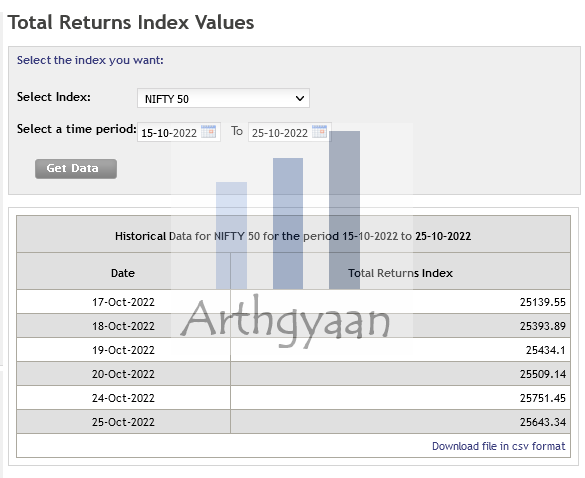 TRI return = Index Level Today / Index Level 1-year back -1
In this case:
TRI return = 25,509.14 / 26,042.59 - 1 = -2.05%
Step 3b: Calculate excess returns over TRI data
We already have the 1-year fund return data from Valueresearchonline. We calculate Excess returns like this:
Excess Returns = Fund returns - TRI returns
For UTI Nifty 50,
Excess Returns = -2.22% - (-2.05%) = -0.17%
Step 4: Combine the results

As the table shows, there are:
four funds with AuM > ₹1,000 crores
of the four, we will exclude the one with the worst tracking error of 0.08
of the three remaining ones, we will choose the one with the highest Excess Return (0.18%) and the least tracking error (0.03)
if you have not calculated the excess returns, take the one with the least tracking error and highest AuM
Step 5: Keep in mind the caveats
You should know that the analysis above is at this point. If you repeat the whole sequence of steps a year later, you will likely get a slightly different answer. Index funds form the core of the equity portfolio. You will not switch between them frequently though it is reasonable to diversify between AMCs
Here are the points you should note:
TER will fluctuate over time. The AMC can keep TER low for some time, attract AuM and then increase it
AuM for some funds will go up faster than others. For example, the EPFO invests its equity corpus in SBI Nifty 50 ETF, therefore, increasing its AuM
Ultimately what matters more is the consistency in the returns, measured by excess returns and tracking errors. Both being close to zero is the ideal situation. But realistically, consistency of return is one of the factors that you cannot control. You should revisit this framework once a year to see if your current index fund does not drift too much away from their peers. We maintain that the investor should focus more on increasing their investments year-on-year and perform effective risk management instead of focusing on finding the best index fund.
What's next? You can join the Arthgyaan WhatsApp community
You can stay updated on our latest content and learn about our webinars. Our community is fully private so that no one, other than the admin, can see your name or number. Also, we will not spam you.


If you liked this article, please leave us a rating
The following button will take you to Trustpilot:


Discover an article from the archives
Worked out case studies for goal-based investing
Previous and next articles: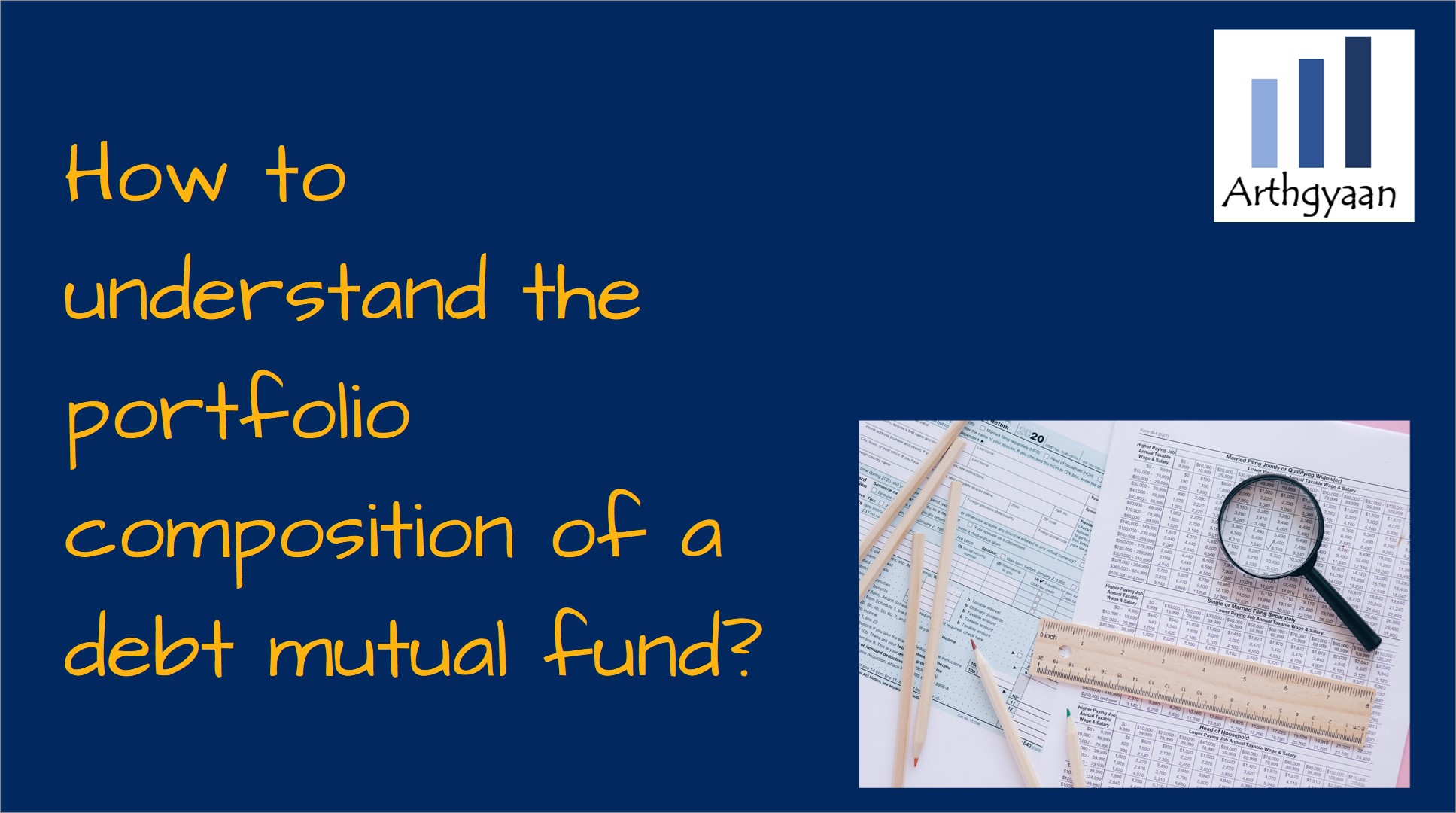 Choosing Investments
Mutual Funds
Portfolio Review
How to understand the portfolio composition of a debt mutual fund?
This article teaches you how to read the portfolio disclosure statement of a debt mutual fund to understand what the fund invests in and the risk-return characteristics.
Published: 23 October 2022
10 MIN READ
---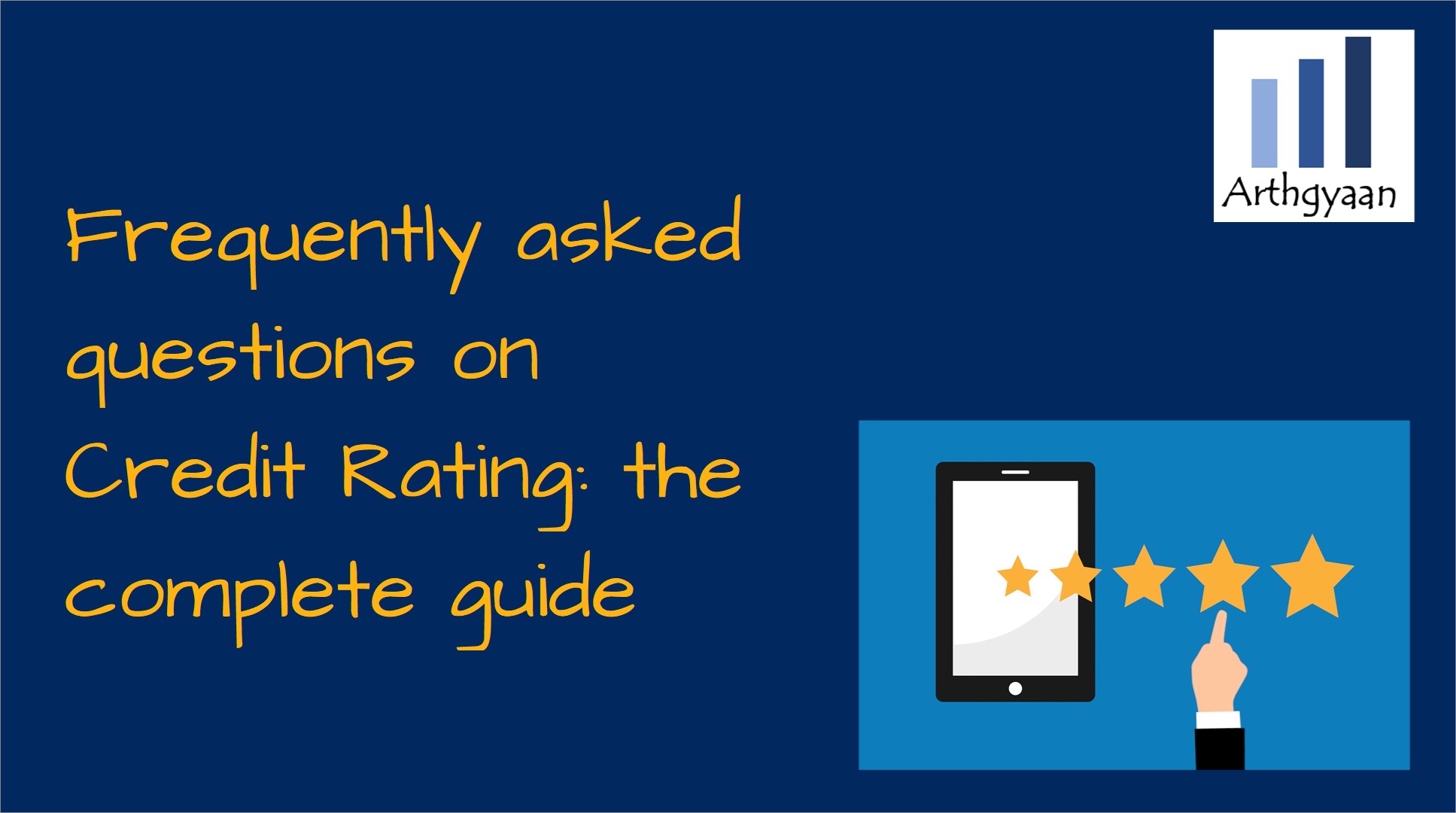 FAQ
Frequently asked questions on Credit Rating: the complete guide
This article compiles an exhaustive list of FAQs on the concept of Credit Rating.
Published: 30 October 2022
1 MIN READ
---
Latest articles: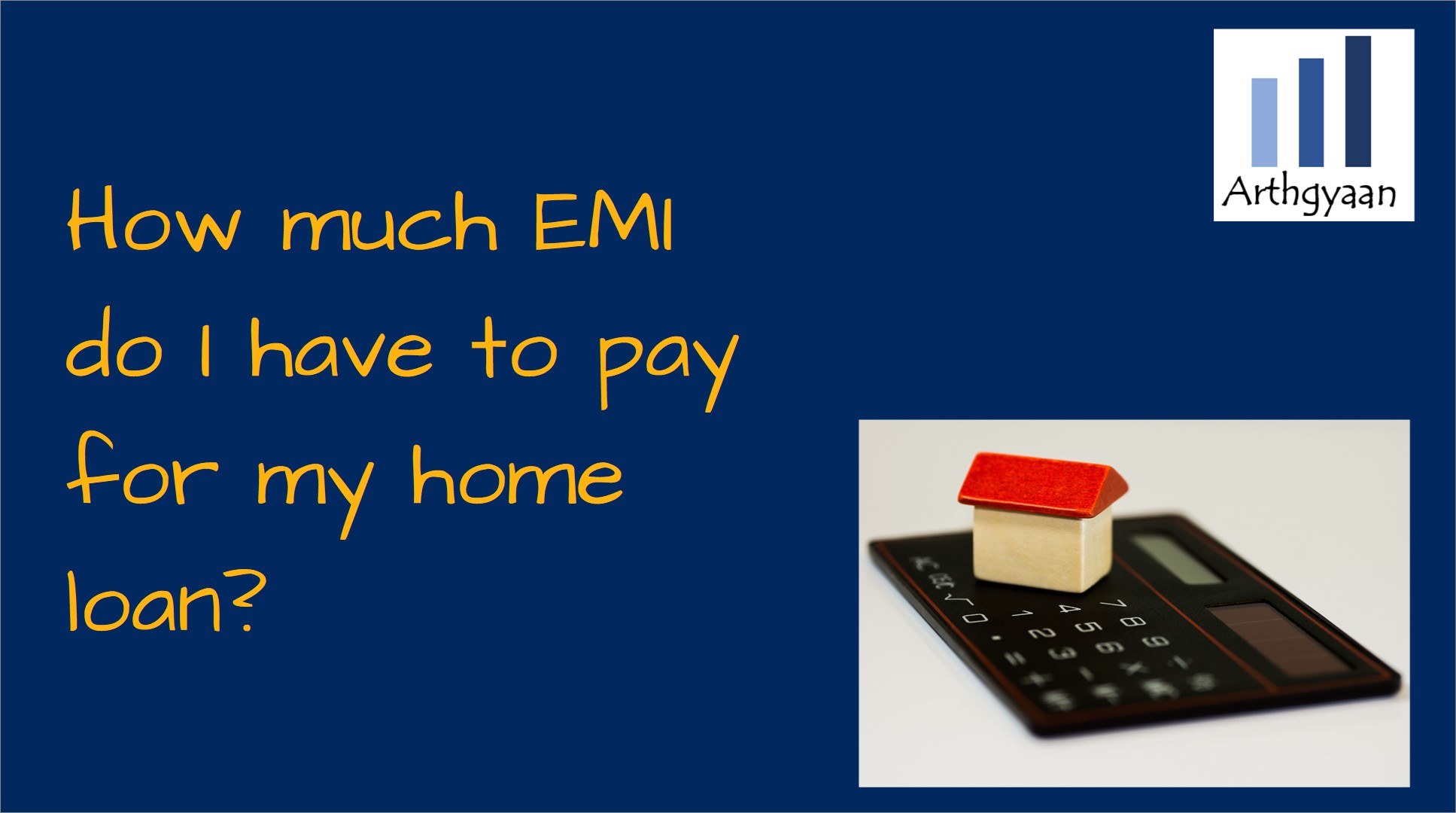 House Purchase
How much EMI do I have to pay for my home loan?
This article shows a handy ready reckoner for home loan EMI amounts for all tenures and interest rates along with the amount of principal and interest to be paid.
Published: 29 September 2023
1 MIN READ
---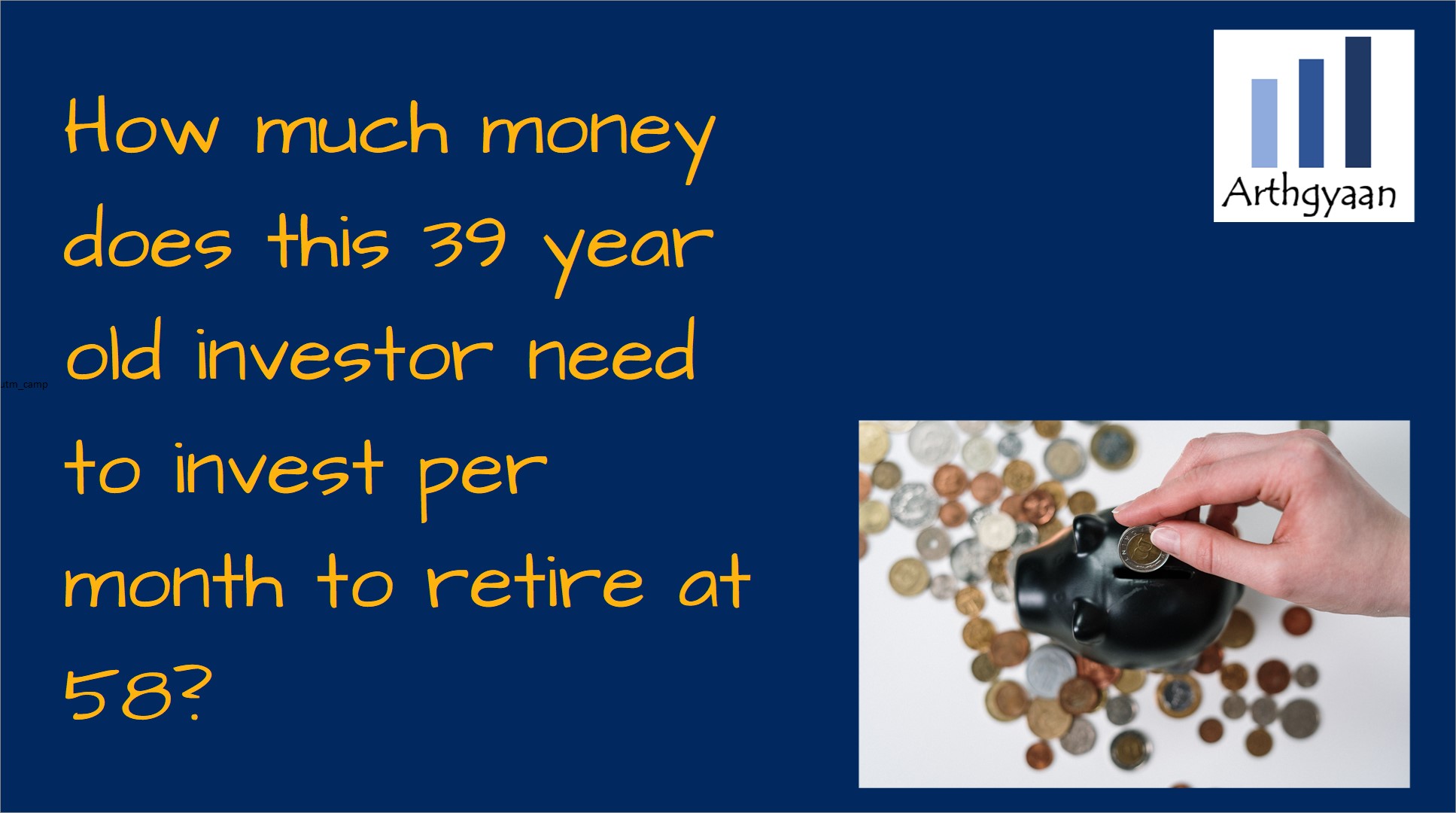 Retirement
Reader Questions
How much money does this 39 year old investor need to invest per month to retire at 58?
A quick retirement calculation for a reader query who has a good amount of corpus already saved for retirement.
Published: 27 September 2023
7 MIN READ
---
Topics you will like:
Asset Allocation (20) Basics (8) Behaviour (10) Budgeting (11) Calculator (17) Case Study (6) Children (12) Choosing Investments (38) FAQ (6) FIRE (13) Gold (11) Health Insurance (4) House Purchase (17) Insurance (15) International Investing (10) Life Stages (2) Loans (9) Market Movements (13) Mutual Funds (29) NPS (6) NRI (13) News (9) Pension (8) Portfolio Construction (46) Portfolio Review (27) Reader Questions (6) Real Estate (6) Retirement (36) Review (12) Risk (6) Safe Withdrawal Rate (5) Set Goals (27) Step by step (14) Tax (37)

Next steps:


1. Email me with any questions.

2. Use our goal-based investing template to prepare a financial plan for yourself
OR
use this quick and fast online calculator to find out the SIP amount and asset allocation for your goals.



Don't forget to share this article on WhatsApp or Twitter or post this to Facebook.

Discuss this post with us via Facebook or get regular bite-sized updates on Twitter.

More posts...


Disclaimer: Content on this site is for educational purpose only and is not financial advice. Nothing on this site should be construed as an offer or recommendation to buy/sell any financial product or service. Please consult a registered investment advisor before making any investments.

This post titled What are the best index funds for new investors in India? first appeared on 26 Oct 2022 at https://arthgyaan.com


We are currently at 299 posts and growing fast. Search this site: Copyright © 2021-2023 Arthgyaan.com. All rights reserved.

---