SIP, SWP and STP - what do they mean, which one should you choose and when?


28 Aug 2022 - Contact Sayan Sircar


6 mins read





This article demystifies some common jargons of investing in mutual funds by explaining SIP, SWP and STP along with examples of which one to use and when.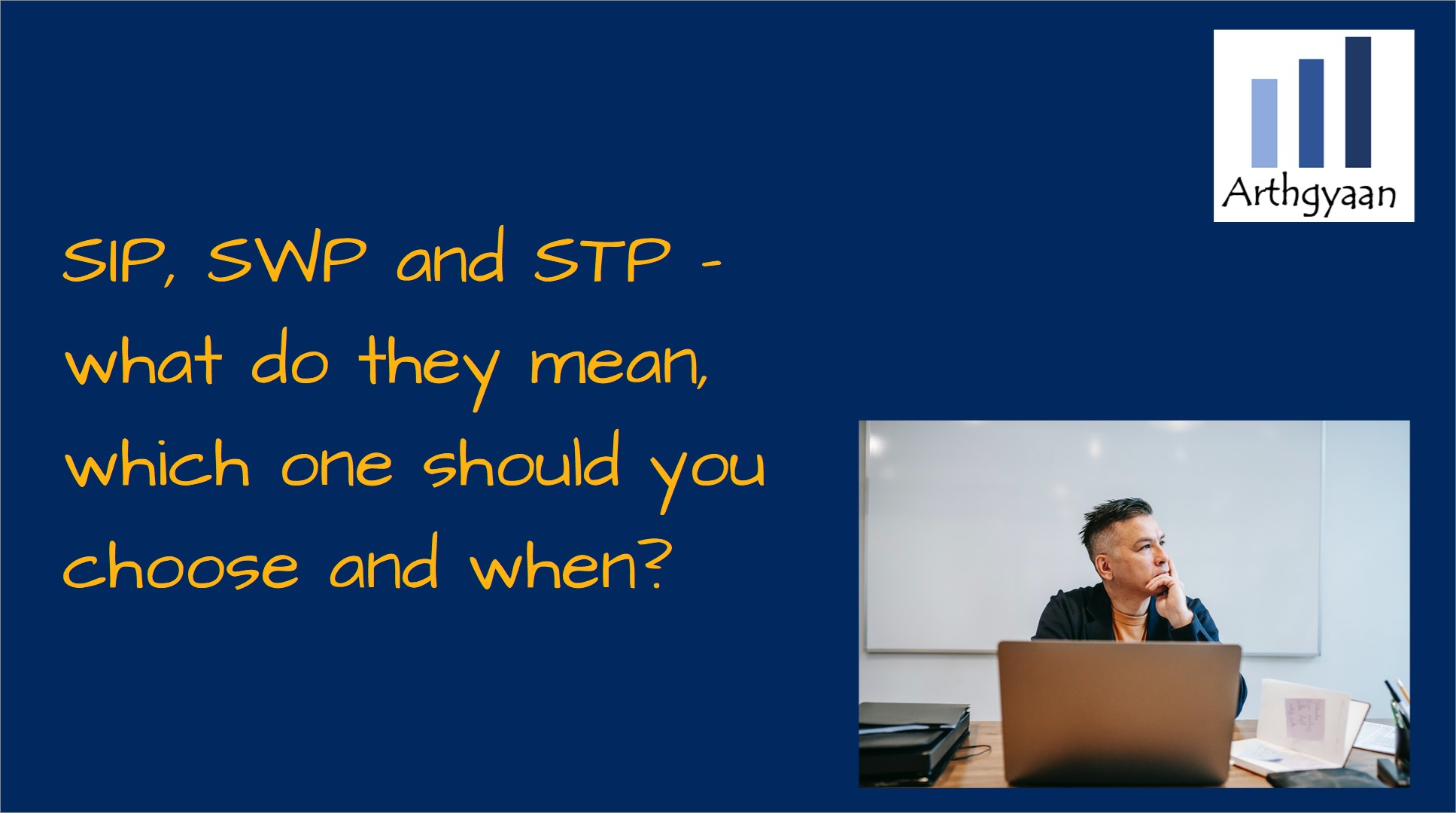 Table of Contents
Defining SIP, SWP and STP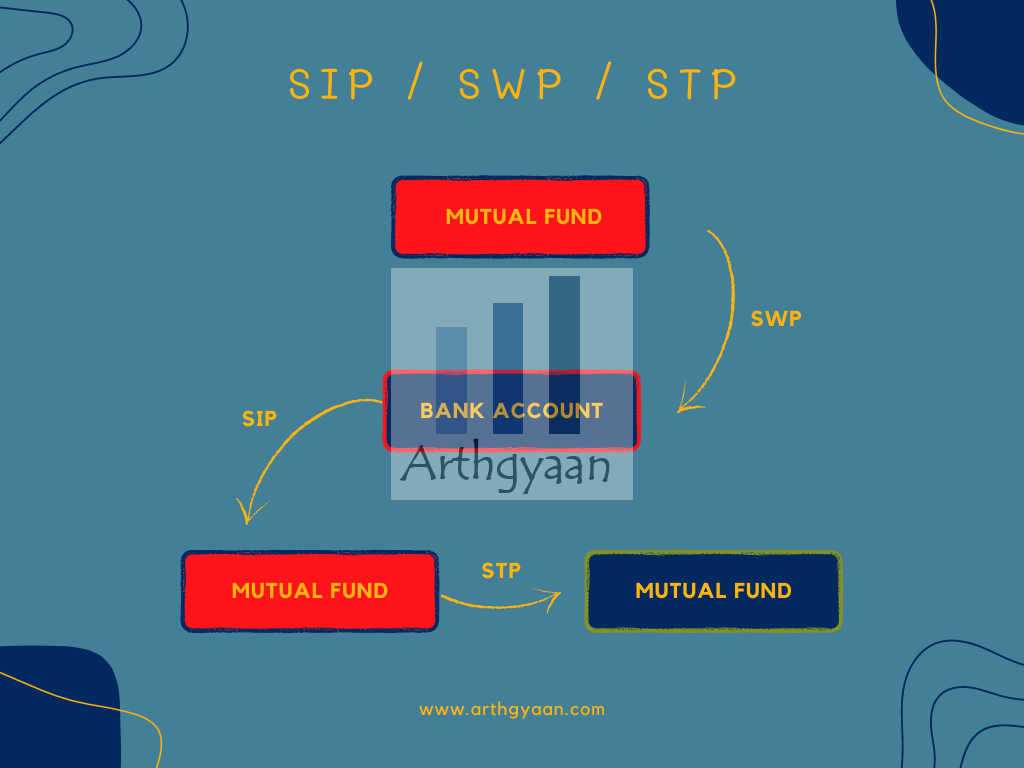 All of these are standing instructions that get executed as per a schedule you specify:
Systematic Investment Plan (SIP): Money from a bank account is invested into a mutual fund, typically once a month
Systematic Transfer Plan (SIP): Units from a mutual fund are redeemed to invest in another mutual fund of the same AMC
Systematic Withdrawal Plan (SWP): This is the reverse of the SIP. Units from a mutual fund are sold to send money to a bank account
Note: You don't invest in a SIP; you invest via one since a SIP is a standing instruction. You invest in a mutual fund, or basket of stocks, via a SIP.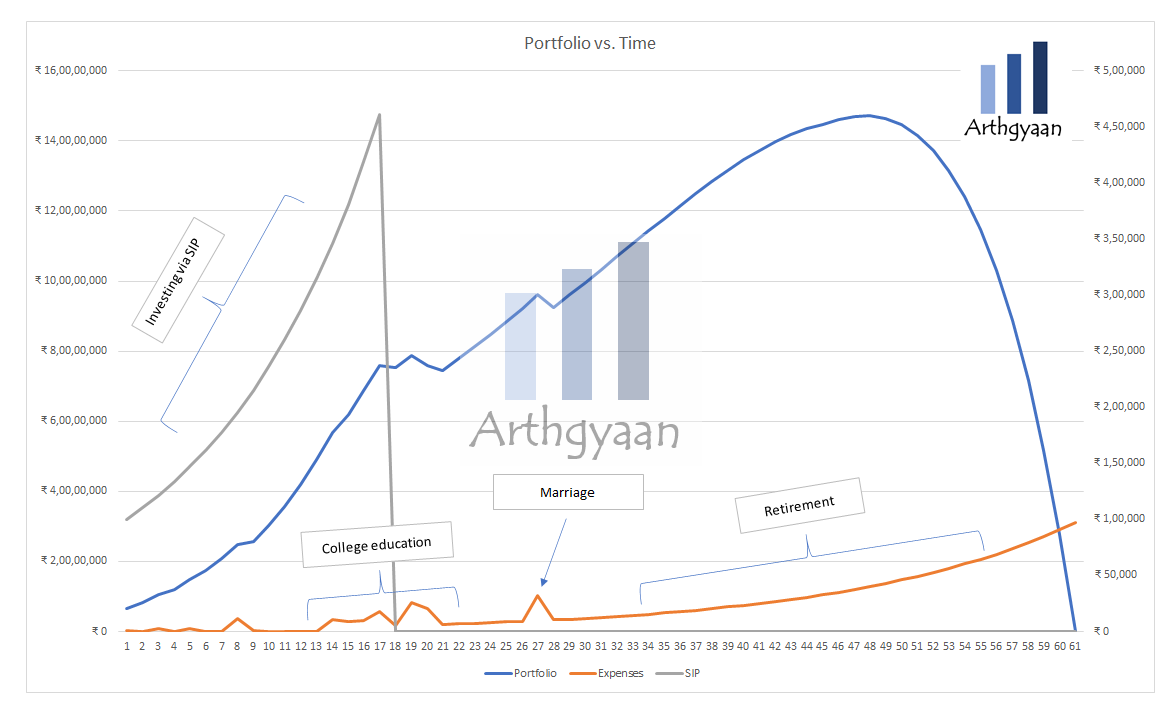 In the image above, SIP runs from years 1-17, and SWP takes over after that. However, STP may happen anytime in between for rebalancing purposes. We will explain the use cases below.
Recent articles:
1 / 3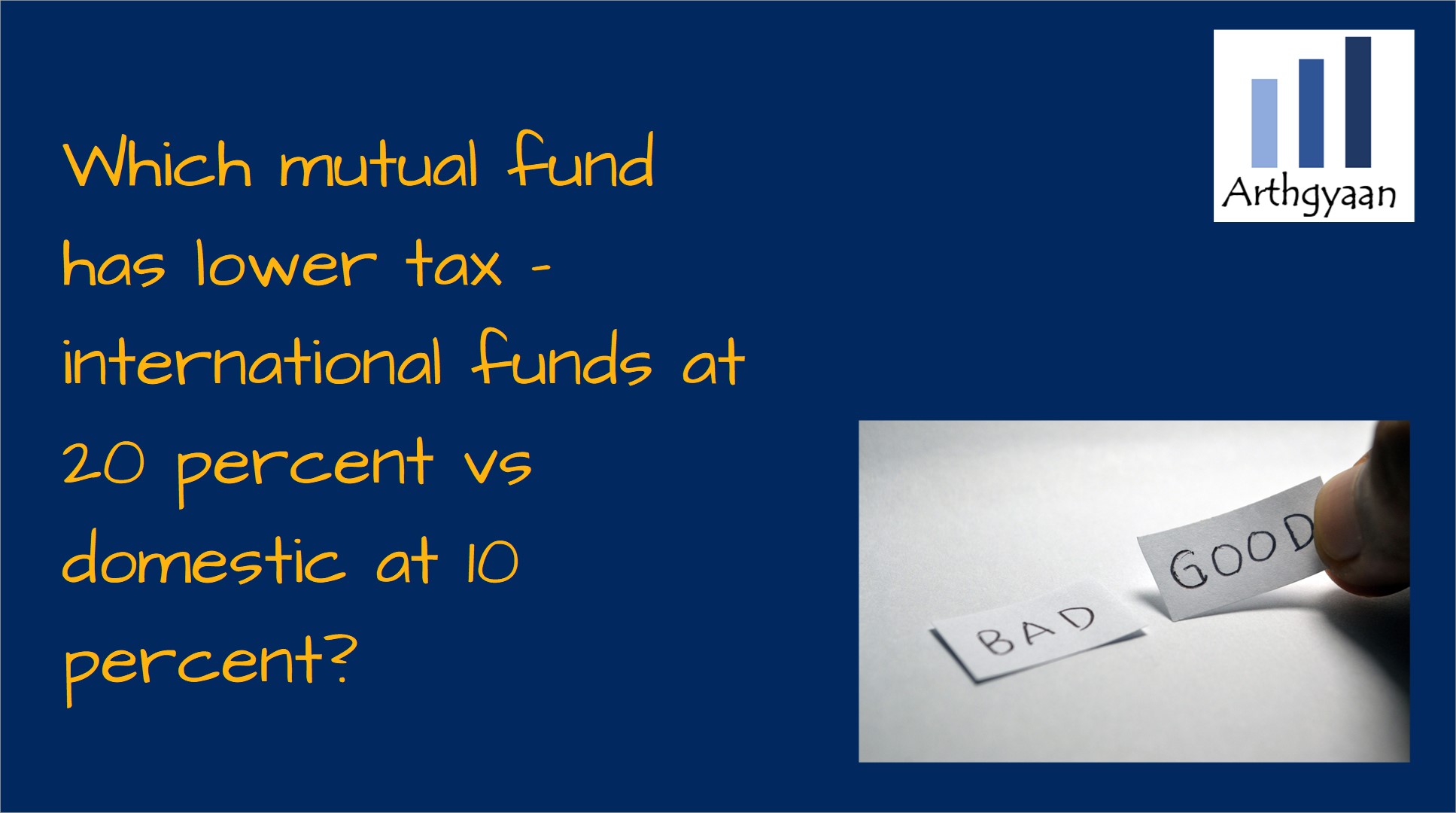 Which mutual fund has lower tax - international funds at 20 percent vs domestic at 10 percent?
❮
❯
What is the purpose of SIP?
The asset management industry and every seller of mutual funds have one mantra that they want to drill into the head of the investor:
Start a SIP and never stop a SIP so that the SIP will create wealth
There is nothing inherently wrong with the statement above, so let us break it down.
Why invest as a SIP?
Most people get paid once a month via salary, so it makes sense to match investing with money coming in
The concept of the SIP originates in the idea of dollar-cost-averaging (DCA). DCA allows you to:
regularly invest whenever you have surplus
without considering the ups and downs in the market since market-timing is not possible
leading to averaging your buy price since you buy more units when the market is down and buy less when the market goes up
Just having a SIP is not enough
You need to keep a few things in mind since just having a SIP will not help you reach your goals or create wealth.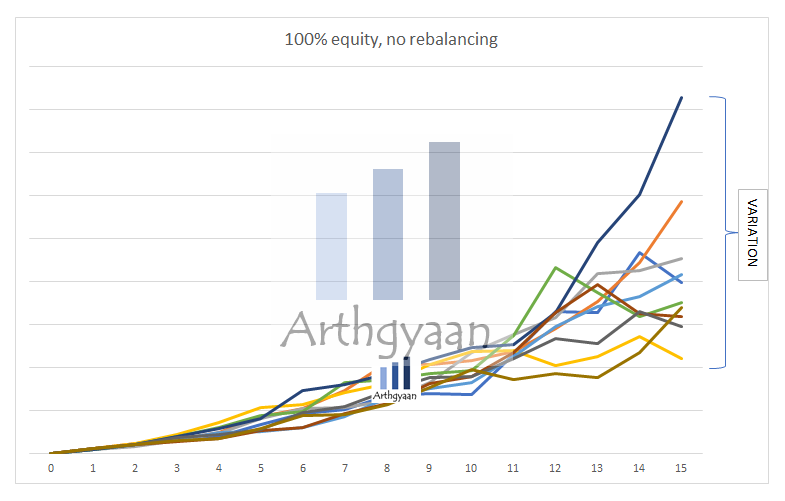 Since markets fluctuate unpredictably, you will not know the end value of the SIP after 5-10-20 years. Here is an example of a 15,000/month SIP run for 15 years. The SIP amount is increased by 5% every year. The chart shows ten possibilities assuming the average equity return is 11% post-tax and a risk of 15%. The results are:
maximum value: ₹ 166 lakhs
minimum value: ₹ 44 lakhs
You can tell that the "wealth" generated in these extreme cases is very different. The better alternative here is to apply the concept of goal-based investing instead of a simple SIP: I have started a 15k SIP. How much money will I have in 15 years?.
---
Our new Goal-based investing tool will help you to create and manage all of your goals in one place. Click the image below to get access:

---
---
Arthgyaan creates a system for reaching your financial goals by sharing simple, actionable advice backed by research and analysis.

Your email address will not be shared with anyone and you can unsubscribe anytime.
---
When to use STP?
The STP is the way to transfer money from one mutual fund to another slowly. There is, of course, capital gains tax since the first leg of STP is selling mutual fund units. STP works very well in cases where behaviourally, you do not wish to take action due to inertia, tax implication or fear of market levels.
Investing a lump sum
Many investors use STP to invest a large chunk of money, instead of a lump sum, via STP from a debt fund to an equity fund. For example, let us say you have 5 lakhs from a bonus much higher than the 50,000/month SIP. You invest the amount in a debt mutual fund and then start a 6-month STP to send the money into an equity fund.
Exiting a fund
There are many reasons why you would like to switch from one mutual fund to another: it is not performing well, being a typical example as part of a regular review process: Are you checking the performance of your funds regularly?. Having an STP in place allows you to overcome the inertia of not taking action.
Rebalancing amongst asset classes
Rebalancing allows you to systematically buy low and sell high
STP is an easy way to implement rebalancing since you can run a 3-6 month STP to exit from a mutual fund that has gone up in value into one that has not gone up that much.
Related:
This article explains what rebalancing is and why it is important.
What is the right way to use SWP?
An SWP instruction implements DCA in reverse to fund a recurring goal like college fees for your children or monthly expenses in retirement. When these costs increase due to inflation, adjust the SWP amount.
Paying fees for school or college
Once you have a corpus for your child's school or college education, you can create a quarterly or monthly SWP to get money into your account to pay the fees.
Related: Case study: how this double income single kid family can perform DIY goal-based investment planning
Retirement expenses
You can follow the principle of goal-based investing in creating a solid retirement corpus like this: Low-stress retirement planning calculations: worked out example.

When you retire, you can simulate a salary by starting an SWP from your cash bucket. Read more about buckets in retirement here: How to plan for retirement using the bucket approach?.

In a future article, we will cover the concept of funding retirement expenses via SWP.

If you liked this article, consider subscribing to new posts by email by filling the form below.
Worked out case studies for goal-based investing
This article shows how a young just-married couple can invest for future goals using the Arthgyaan goal-based investing tool.

Did you welcome a bundle of joy in your 40s? This article will discuss ways of planning the child's (and your's financial future)

This article shows how a very typical salaried couple with one child can invest for future goals using the Arthgyaan goal-based investing tool.
Previous and next articles: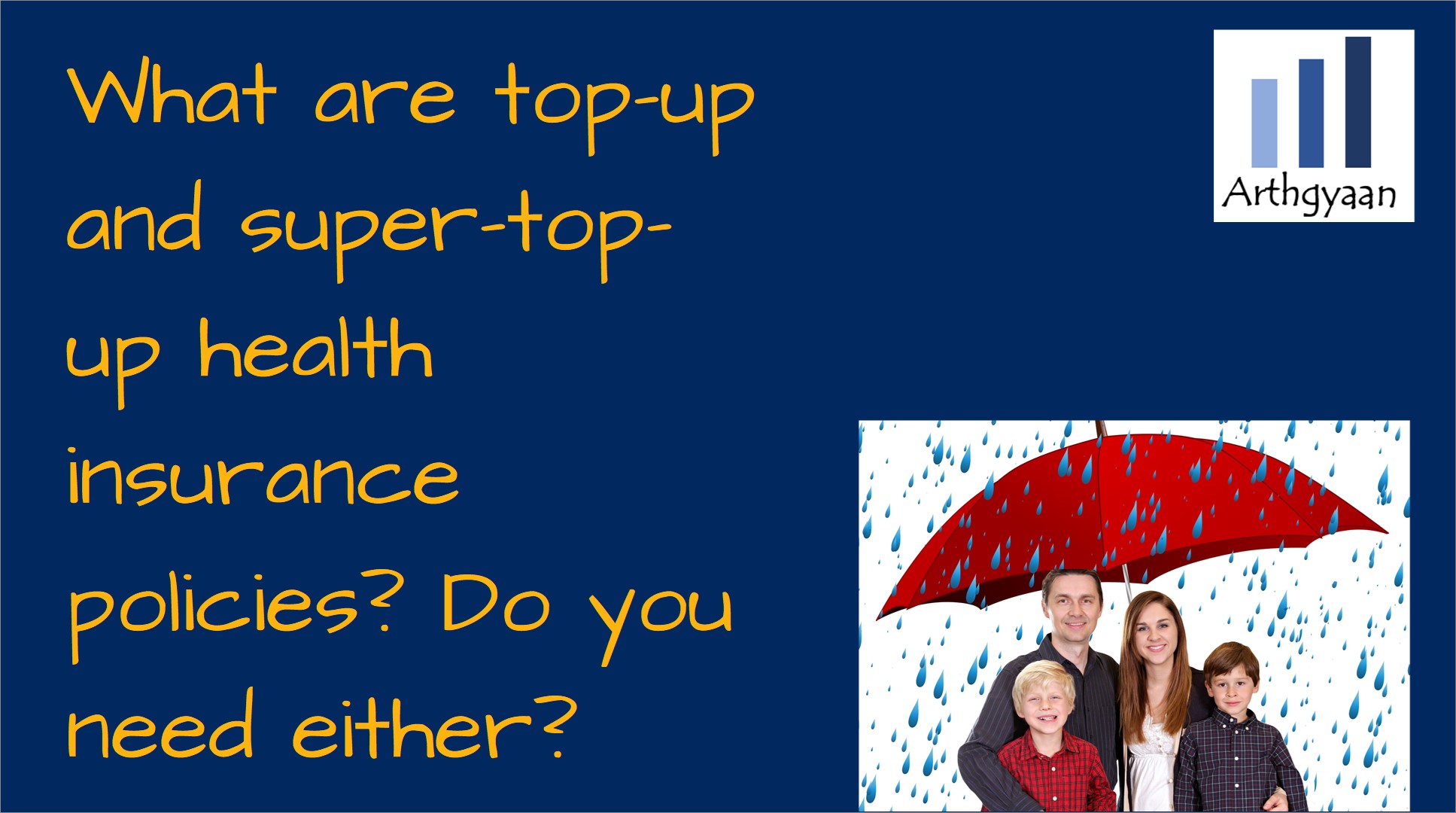 Health Insurance
Insurance
What are top-up and super-top-up health insurance policies? Do you need either?
This article talks about deductible-based health insurance plans like top-up and super-top-up and shows which one you should buy and why.
Published: 24 August 2022
9 MIN READ
---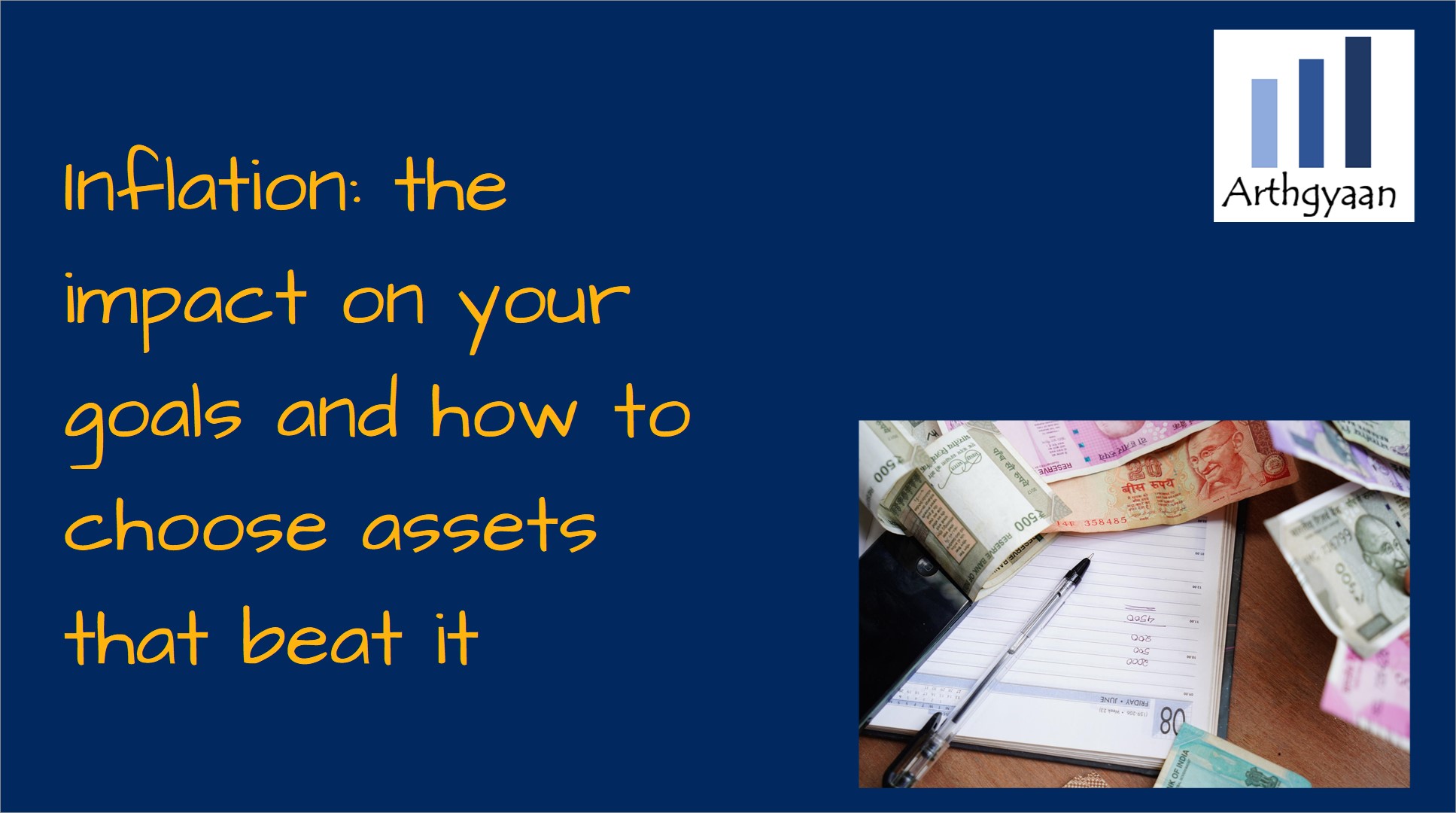 Portfolio Construction
Inflation: the impact on your goals and how to choose assets that beat it
This article talks about the impact of inflation on your goals and shows which assets have beaten inflation over time in India.
Published: 1 September 2022
6 MIN READ
---
Latest articles: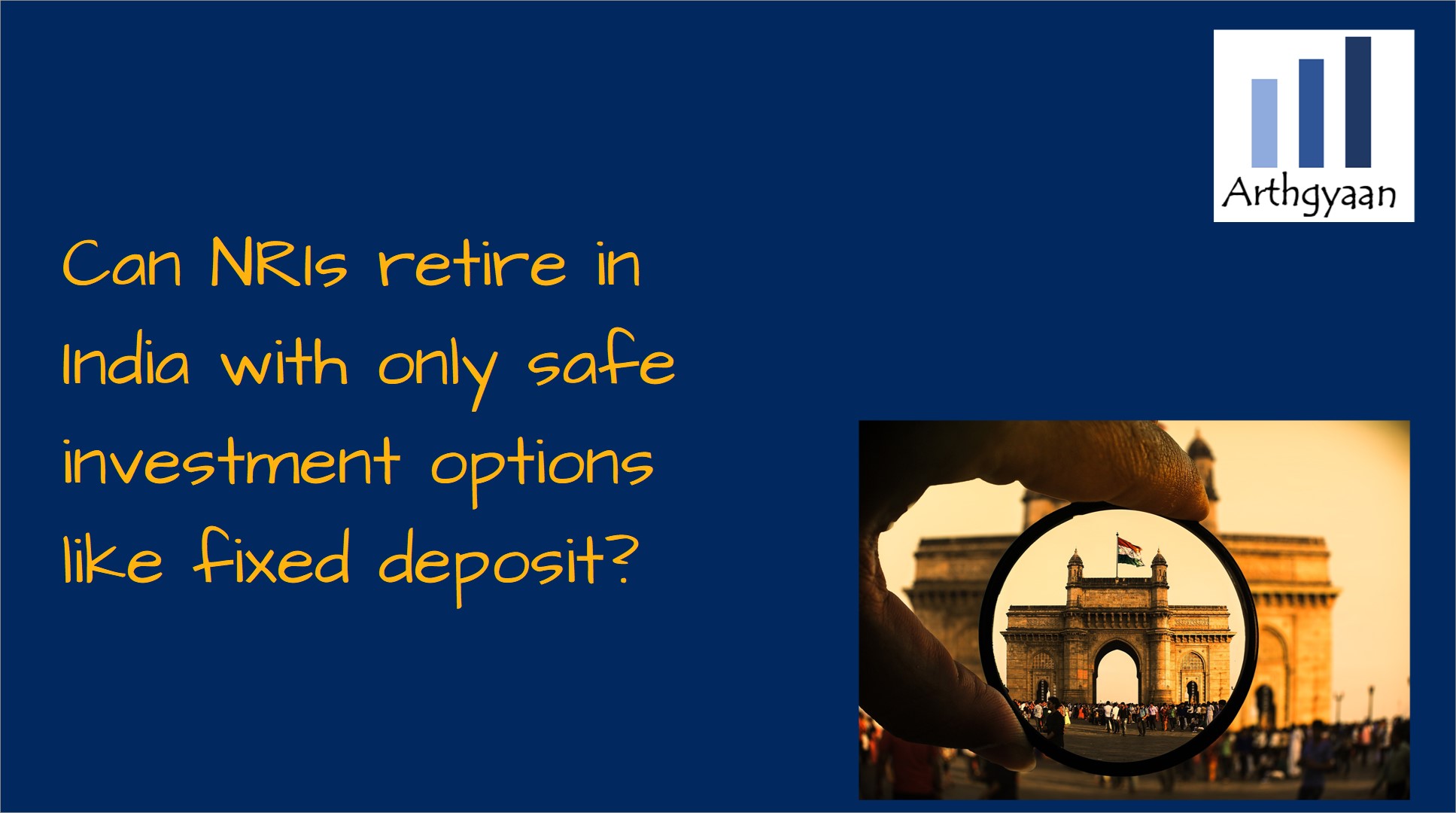 NRI
Retirement
Can NRIs retire in India with only safe investment options like a fixed deposit?
We discuss if it is a good idea for conservative NRI investors to create a retirement portfolio in India only with safe and risk-free investment options.
Published: 25 September 2022
8 MIN READ
---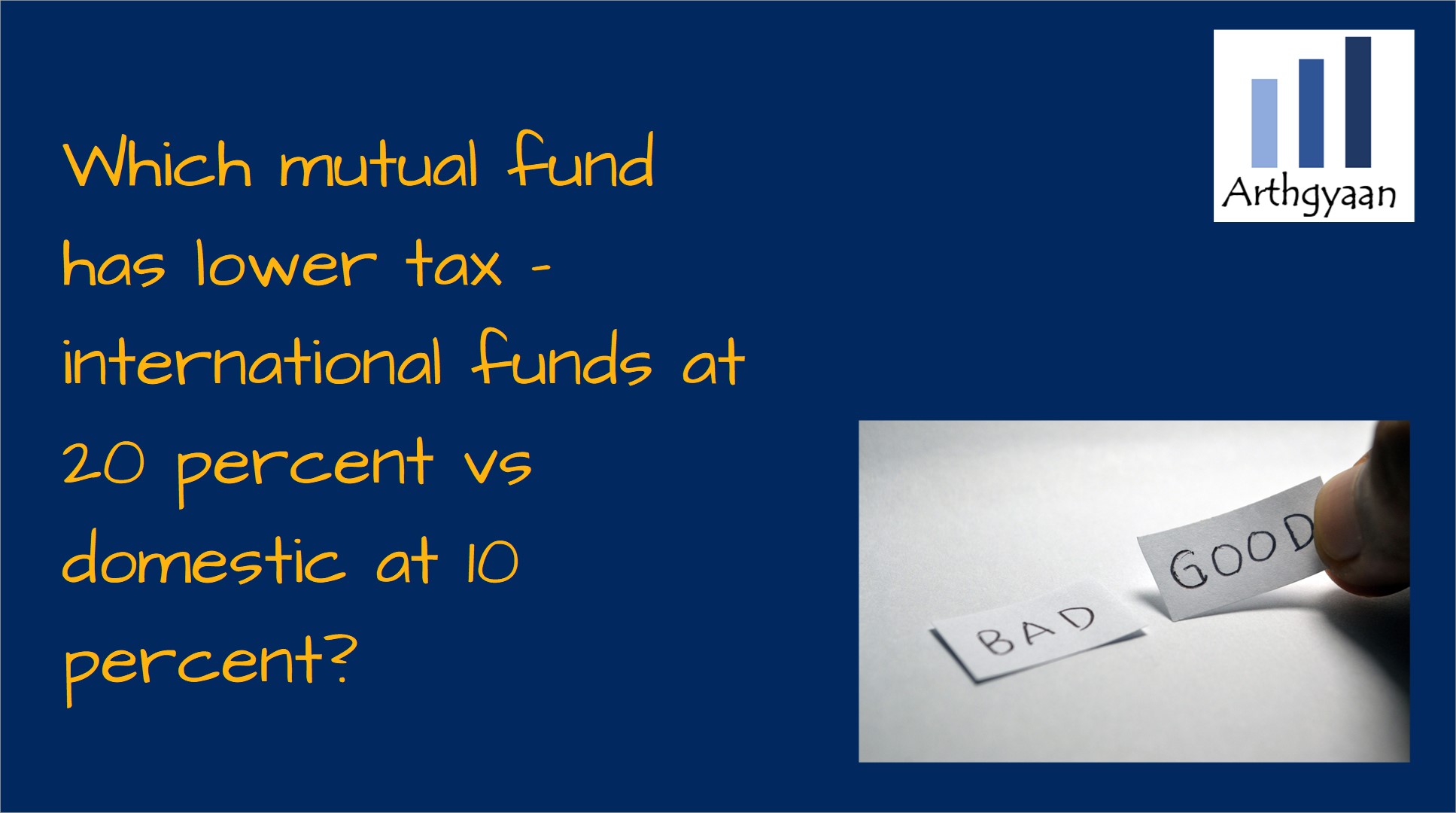 Tax
International Investing
Which mutual fund has lower tax - international funds at 20 percent vs domestic at 10 percent?
This article settles the question of which type of capital gain calculation is better - debt-type funds taxed at 20% with indexation vs equity-type at 10%.
Published: 21 September 2022
5 MIN READ
---
Topics you will like:
Asset Allocation (17) Basics (7) Behaviour (10) Budgeting (9) Calculator (11) Case Study (3) Children (7) Choosing Investments (24) FAQ (2) FIRE (9) Gold (6) Health Insurance (4) House Purchase (13) Insurance (11) International Investing (8) Life Stages (2) Loans (10) NPS (5) NRI (4) News (5) Portfolio Construction (34) Portfolio Review (20) Retirement (26) Review (7) Risk (6) Safe Withdrawal Rate (3) Set Goals (25) Step by step (6) Tax (15)

Next steps:


1. Email me with any questions.

2. Use our goal-based investing template to prepare a financial plan for yourself
OR
use this quick and fast online calculator to find out the SIP amount and asset allocation for your goals.



Don't forget to share this article on WhatsApp or Twitter or post this to Facebook.

Discuss this post with us via Facebook or get regular bite-sized updates on Twitter.

More posts...


Disclaimer: Content on this site is for educational purpose only and is not financial advice. Nothing on this site should be construed as an offer or recommendation to buy/sell any financial product or service. Please consult a registered investment advisor before making any investments.

This post titled SIP, SWP and STP - what do they mean, which one should you choose and when? first appeared on 28 Aug 2022 at https://arthgyaan.com


We are currently at 186 posts and growing fast. Search this site: Copyright © 2021-2022 Arthgyaan.com. All rights reserved.

---