What is the best way to accumulate gold for your child's wedding?


Posted on 19 Nov 2023
Author: Sayan Sircar


7 mins read


📢Get new post notifications on WhatsApp!



This article shows you how to buy gold in small amounts over years for a child's wedding goal.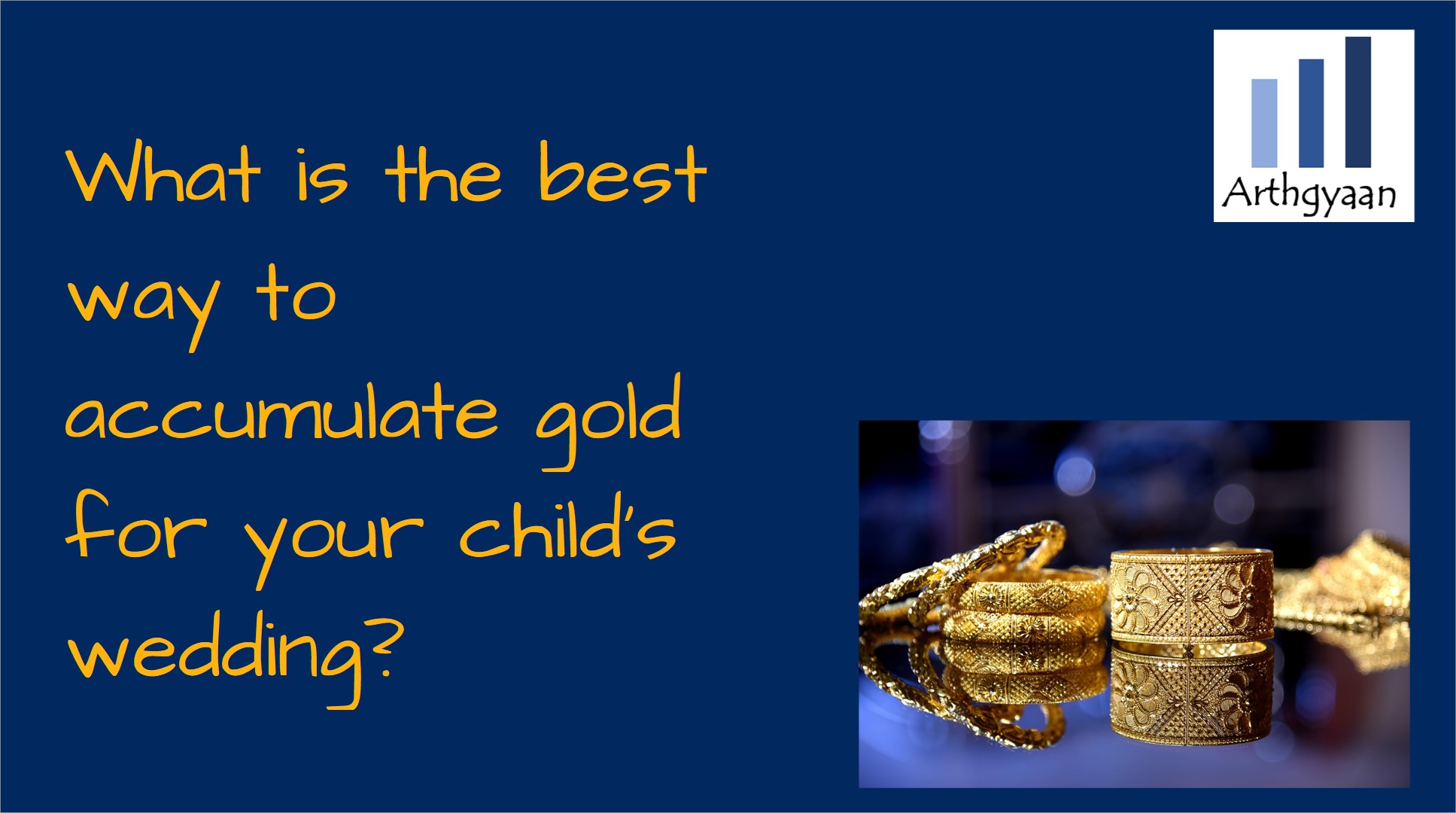 This article is a part of our detailed article series on accumulating gold over time for a child's wedding in the future. Ensure you have read the other parts here:
This article gives the solution for buying small amounts of gold over the years in case buying SGB is not an option.

The article shows you if you there is a better alternative to buying gold over time for your child's marriage goals.
📚 Topics covered:
Do you need gold or money for a wedding?
Many parents wish to gift their children a large amount of gold for their wedding. There are two ways of looking at this problem. When the wedding is being planned, you either
have enough money to buy what is needed with complete flexibility
or have the gold accumulated separately, and the rest comes from investments
The first approach says that you have money for the goal to be spent as and when you need it. If you change your mind later, and instead of spending money on gold, which stays in the locker, you can gift that money for, say, a house down payment, a lavish destination venue, or a college fund for your future grand kids or 10-year school fees for 50 needy children or whatever else you want.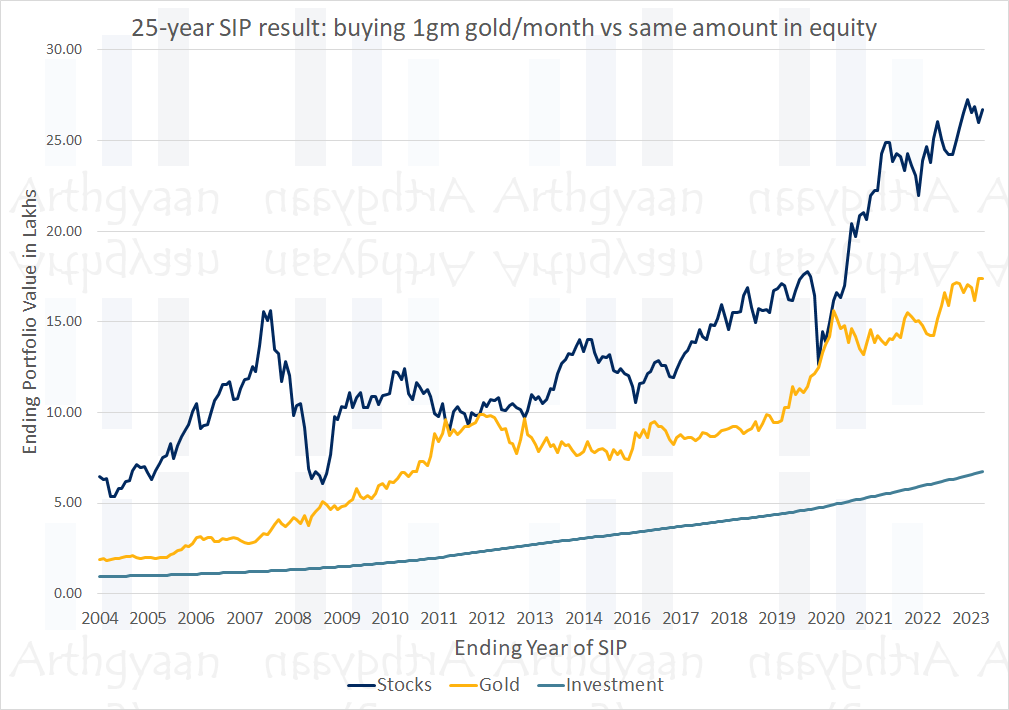 We have shown above that this option works better: What will create a higher corpus for children's marriage: buying physical gold vs SIP in stocks.
However, we will now discuss the best way for parents interested in the alternative approach of accumulating gold for a wedding.
Join the Arthgyaan WhatsApp community:
You can stay updated on our latest content and learn about our webinars. Our community is
fully private
so that
no one
, other than the admin, can see your name or number. Also, we will not spam you.
How do you know this approach to accumulating gold is the best?
We will aim to have the highest amount of gold that we can get for our money by
having the option that has the lowest capital gains tax
invest only in regulated and well-established schemes
the cheapest way to hold gold with the lowest spread
requires least payment of GST and other charges
We have argued before that Sovereign Gold Bond (SGB) is the only option that suits all the criteria above: The Ultimate Guide to Which Type of Gold Gives the Best Returns.
However, SGB has two main shortcomings that we need to overcome in our hybrid approach:
SGB is a digital certificate that promises you will get the return of gold. You need to, at one point, sell the SGB or have it mature to buy the actual gold
SGB matures in 8 years. You need a way to renew your matured SGB if the wedding date is still some time away
How do you get started with gold accumulation?
We will assume the target is 900 grams of gold for a wedding in 25 years. This goal requires us to buy 3 grams of gold monthly over 300 months.
Every month you will buy 3 units of SGB from the secondary market following this guide: Sovereign Gold Bond (SGB): Which Series is Best for You?. You must do this manually since the "best" SGB to buy will change from month to month. A recurring reminder on your phone will be helpful for this.
If there is a fresh issue of SGB, like this, you can buy the 3 units from this primary issuance or even more if you have extra cash available.
Since SGB also gives 2.5% interest, once you have 40-50 units of SGB, the annual interest will let you buy 1 extra unit.
Related:
Frequently asked questions on Sovereign Gold Bonds (SGB): the complete guide
What should we do when the SGB matures?
When the SGB matures, you will have to take the entire amount and do one of three things:
Buy more SGB
Buy other forms of electronic gold like gold mutual funds or ETFs
Buy physical gold
Buying more SGB
If more than 8 years are left for the wedding, and SGB is still available either in the stock market or there is new issuance, then invest in SGB in one shot.
If less than 8 years are left for the wedding, then there are two options:
Buy SGB that matures before the wedding
Buy physical gold bars or biscuits
Buy gold mutual funds or ETFs
Gold mutual funds (or ETFs) also track the price of gold mostly accurately since they have yearly expense ratio that reduces their overall return. If SGB is not an option and you don't want to move to physical gold yet, then these can be decent option: How to choose a gold mutual fund?.
Buy physical gold
Physical gold bars, biscuits or coins have GST and making charge and therefore will have lower return compared to SGB. However, if you are not able to buy SGB due to whatever reason, moving to physical gold is an effective option. Just like SGB, physical gold has no capital gains tax if you use it to make jewellery. Gold ETFs and mutual funds, though convenient to purchase, will have capital gains tax at slab rates for all units purchased after 1-Apr-2023.
What if new SGB is no longer issued?
There is no guarantee that the government will keep issuing SGB for the foreseeable future. They can stop bringing in fresh issues of SGB at any time while letting the existing series mature. In such a case, the fallback will be physical gold bars, biscuits or coins.
What do you do when the wedding is near?
When the wedding comes near, you will have the following:
some units held as SGB that should ideally mature before the wedding
some amount of physical gold
some cash due to earlier matured SGB or interest from SGB
As all the SGB gets converted to cash, you will have the same amount to buy the exact grams of gold as you had units of SGB. You can directly use this cash for jewellery along with the physical gold.
We would prefer that any jewellery be made at the point of the wedding itself since making charge will be wasted in case your plan changes later.
What's next? You can join the Arthgyaan WhatsApp community
You can stay updated on our latest content and learn about our webinars. Our community is fully private so that no one, other than the admin, can see your name or number. Also, we will not spam you.


If you liked this article, please leave us a rating
The following button will take you to Trustpilot:


Discover an article from the archives
Worked out case studies for goal-based investing
Previous and next articles: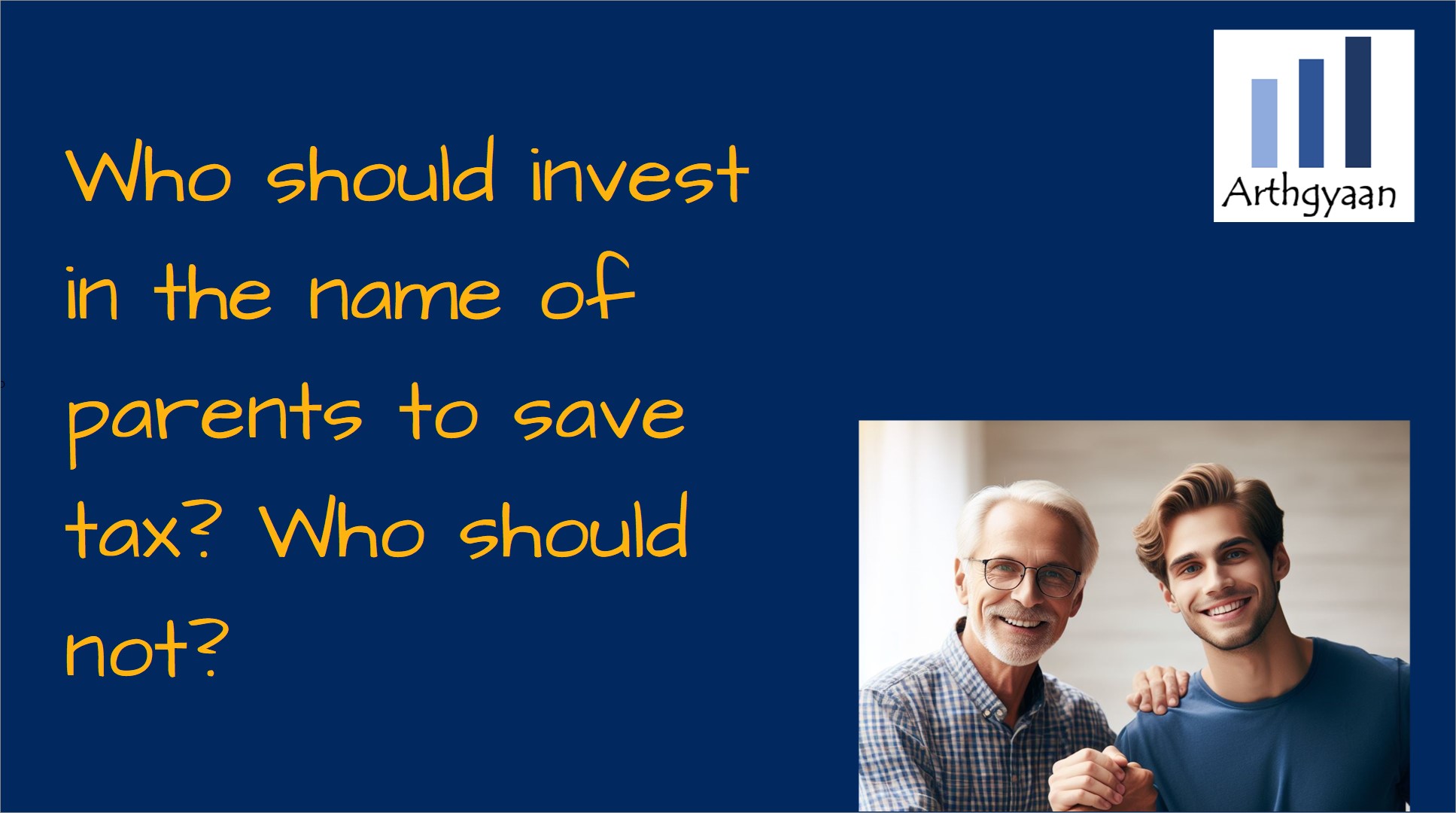 Tax
NRI
Who should invest in the name of parents to save tax? Who should not?
This article discusses a common tax saving technique of investing in the name of parents to save tax. We also look at the pros and cons.
Published: 15 November 2023
4 MIN READ
---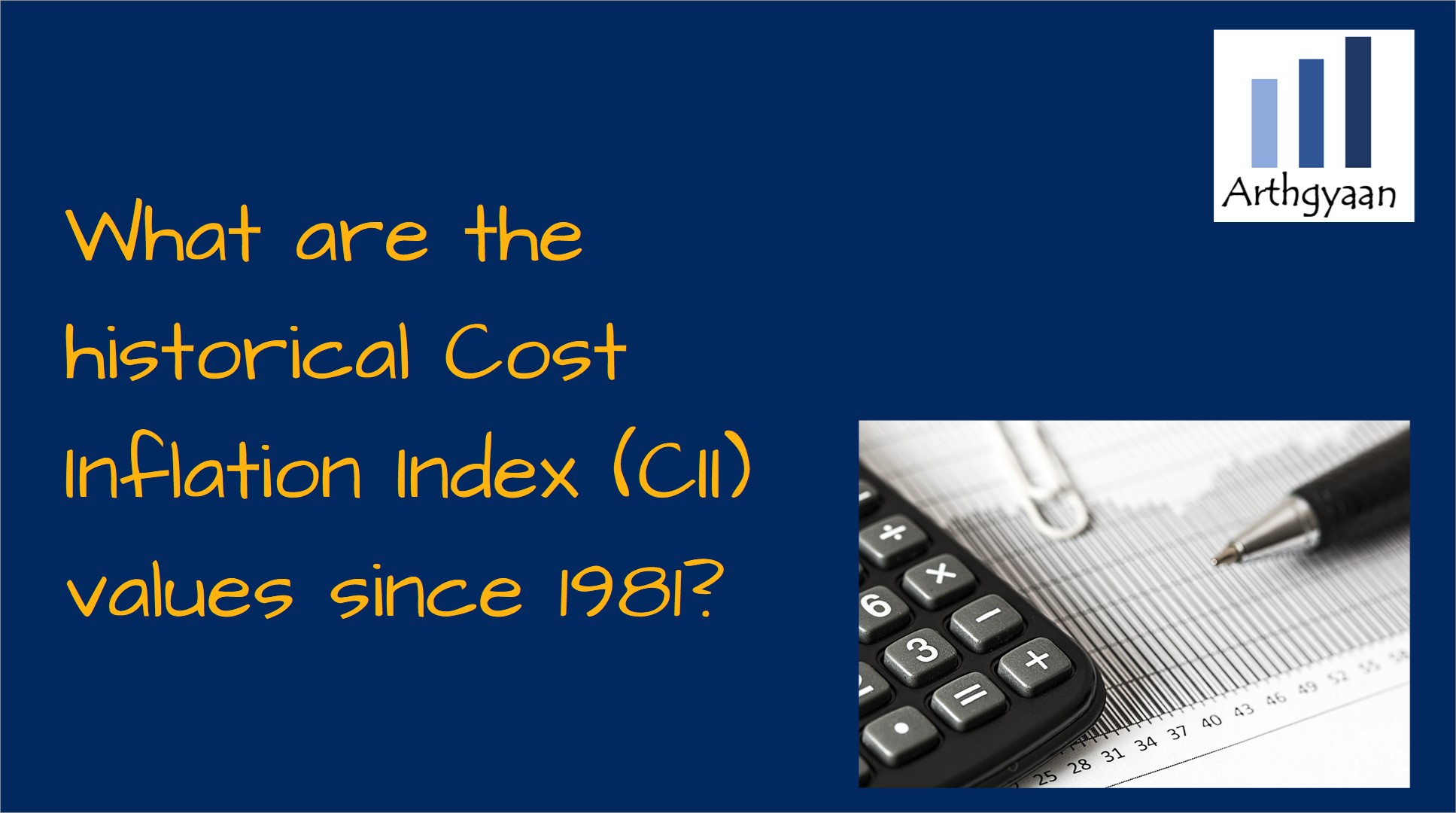 Tax
What are the historical Cost Inflation Index (CII) values since 1981?
This article lists the historical Cost Inflation Index (CII) values since 1981 which are to be used for capital gains tax calculation for assets purchased before 2001.
Published: 21 November 2023
1 MIN READ
---
Latest articles:
Market Movements
How to invest a lump sum amount when the stock market is at an all-time high?
This article shows how an investor should invest a lump sum amount in the stock market when the market has reached an all time high.
Published: 10 December 2023
4 MIN READ
---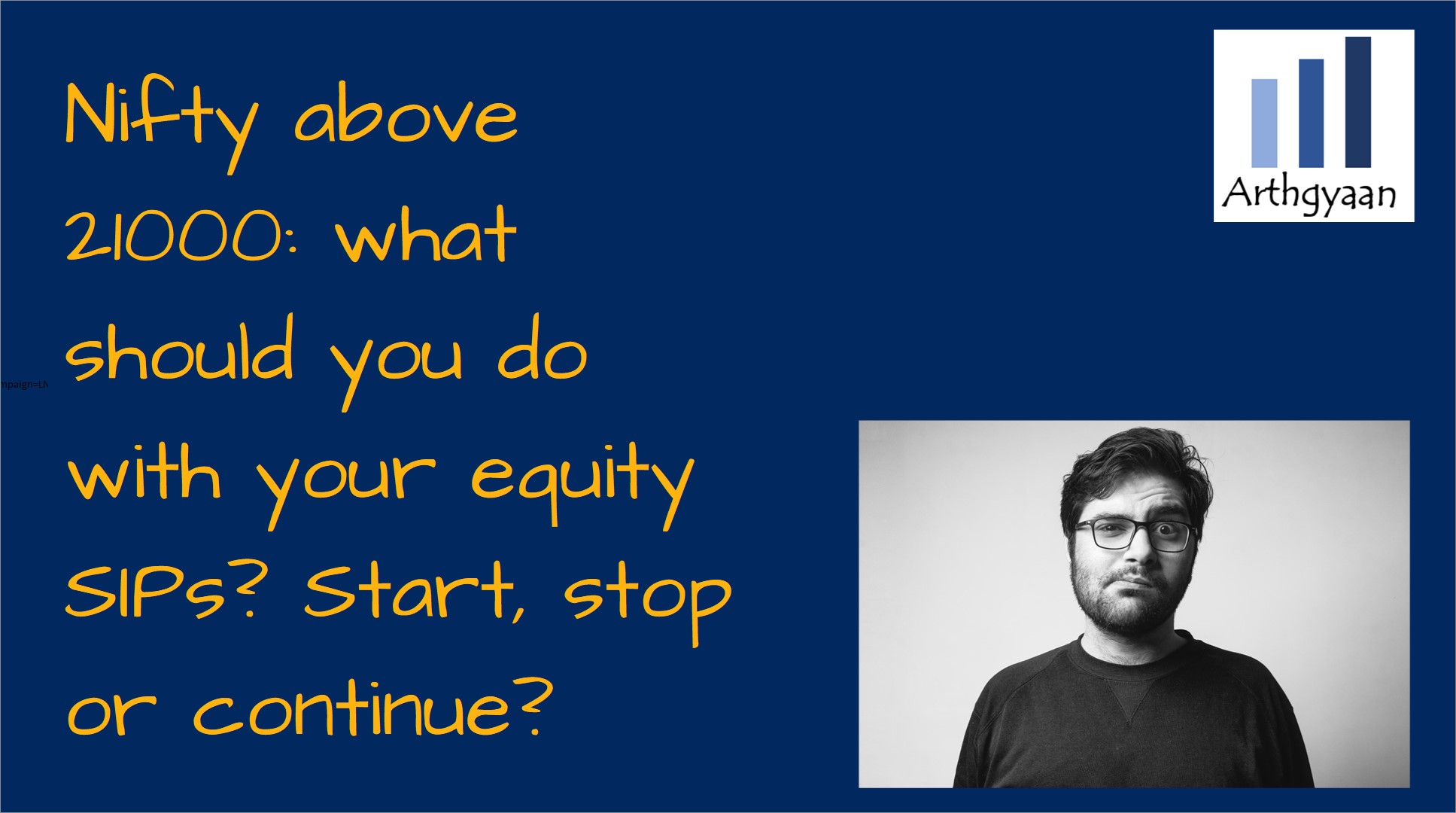 Market Movements
Nifty above 21000: what should you do with your equity SIPs? Start, stop or continue?
As the market keeps rising to new all-time high figures, how much returns should equity investors expect from their investments running in SIP form.
Published: 8 December 2023
3 MIN READ
---
Topics you will like:
Asset Allocation (20) Basics (8) Behaviour (10) Budgeting (11) Calculator (17) Case Study (6) Children (14) Choosing Investments (40) FAQ (7) FIRE (13) Gold (14) Health Insurance (4) House Purchase (21) Insurance (15) International Investing (10) Life Stages (2) Loans (13) Market Movements (17) Mutual Funds (34) NPS (6) NRI (15) News (10) Pension (8) Portfolio Construction (47) Portfolio Review (27) Reader Questions (6) Real Estate (6) Retirement (38) Review (13) Risk (6) Safe Withdrawal Rate (5) Set Goals (27) Step by step (15) Tax (43)

Next steps:


1. Email me with any questions.

2. Use our goal-based investing template to prepare a financial plan for yourself
OR
use this quick and fast online calculator to find out the SIP amount and asset allocation for your goals.



Don't forget to share this article on WhatsApp or Twitter or post this to Facebook.

Discuss this post with us via Facebook or get regular bite-sized updates on Twitter.

More posts...


Disclaimer: Content on this site is for educational purpose only and is not financial advice. Nothing on this site should be construed as an offer or recommendation to buy/sell any financial product or service. Please consult a registered investment advisor before making any investments.

This post titled What is the best way to accumulate gold for your child's wedding? first appeared on 19 Nov 2023 at https://arthgyaan.com


We are currently at 327 posts and growing fast. Search this site: Copyright © 2021-2023 Arthgyaan.com. All rights reserved.

---