How much cash should I hold in my portfolio?


Posted on 17 Jul 2021
Author: Sayan Sircar


4 mins read


Get new post notifications on WhatsApp!



The answer is just enough as per your portfolio goals: here's how to calculate it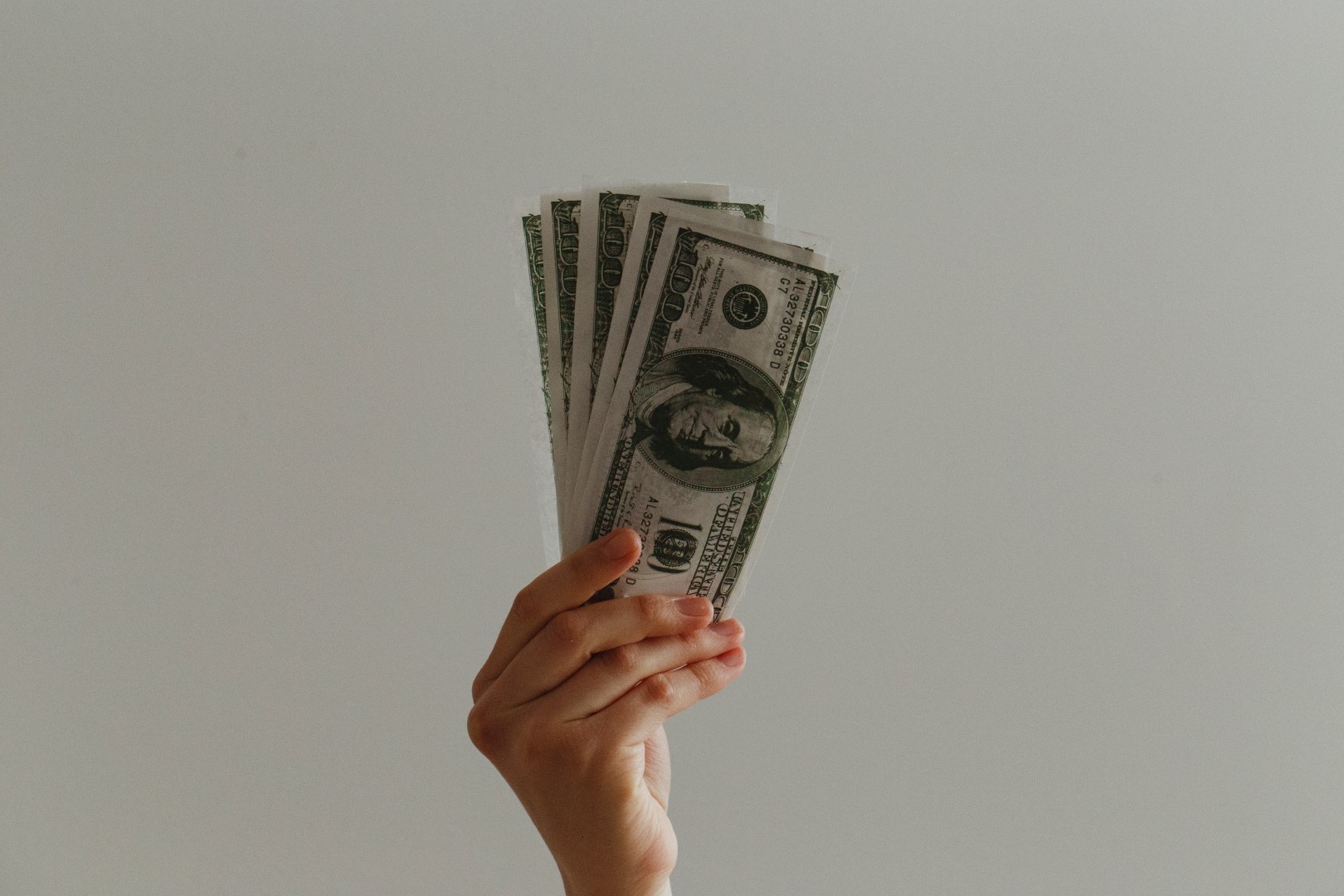 While "cash is king" in many cases, it is not the most suitable thing to have in large amounts in a portfolio since cash does not beat inflation. There are 4 uses of cash in a portfolio, beyond the usual monthly expenses:
emergency fund (and sinking fund)
opportunity fund
funding of short term goals
cash portion of assets in a retirement portfolio
Keeping cash beyond the 4 heads above will reduce gains due to low-interest rates on cash.
📚 Topics covered:
Emergency fund
An emergency fund is money kept aside for usage in a sudden or unplanned expenditure or contingency. This money is needed to be available for immediate use in emergencies. Without this safety net in place, people will have to run around for money, depend on a loan or use a credit card at high interest rates.

The standard advice is to store 6-12 times monthly mandatory expenses and EMIs in cash and equivalents as described in detail in this post. An additional cash balance is used to keep the sinking fund for known periodic expenses like insurance premiums and festival travel/gifting.
Join the Arthgyaan WhatsApp community:
You can stay updated on our latest content and learn about our webinars. Our community is
fully private
so that
no one
, other than the admin, can see your name or number. Also, we will not spam you.
Opportunity fund
This fund is for taking advantage of opportunities that might arise in the markets or a deal that you are looking for. A few examples are:
A temporary fall in stock markets allows you to take advantage and invest extra money
A house is available suddenly in a complex that you have been scouting for purchase for some time
A contact brings up an opportunity to invest in a lucrative business that will be available for a short period
To start a business or try new passive income streams
The amount to be kept as "dry powder" will depend on the number of possible opportunities that may come up and their sizes. If the purpose is to take advantage of a stock market fall then a possible target will be to hold around 15-20% of the equity portfolio in cash form. This will however introduce significant cash drag on the returns of the portfolio and it is only suitable for those whose goals are funded.
Funding of short term goals
Short term goals, as per the principles of asset allocation, need to be kept in safe and liquid assets like bank savings account, FD, RD or suitable debt mutual funds. These goals are of two types
goals that are short term by nature: buying a car 3 years from now, school admission fees for a newborn (4 years from now), a foreign vacation in 5 years are examples of such goals
originally long term goals that are now due within the short term window: typical goals can be house down payment, children's education or the first few years of retirement once retirement is about to start. These were longer goals at the start but now due to the passage of time, have become shorter goals.

Let us say that the return in the cash bucket is 2.5%/year post-tax and there are 3 goals:
New car purchase for ₹8 lakhs due in 3 years
UG College admission for ₹11 lakhs due in 4 years
Foreign vacation for ₹5 lakhs due in 5 years
We will use the Plan Excel workbook for this example. The Excel model shows that for these 3 goals, we need to have ₹13 lakhs in the cash bucket and invest ₹31,375/month.
Cash portion of assets in a retirement portfolio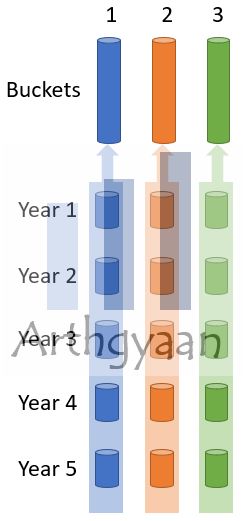 Here we will use the bucket theory of goal-based investing to calculate how much money we need for this cash balance for retirement. Bucket theory divides the portfolio into 3 buckets - broadly cash, debt assets and equity assets. The cash bucket is for funding goals due within the next 5 years. We choose 5 years as a reasonable balance of risk and return. This cash bucket gives the peace of mind that a 2008 style crash in the equity markets will not require a fire sale of the stock portfolio to fund regular expenses.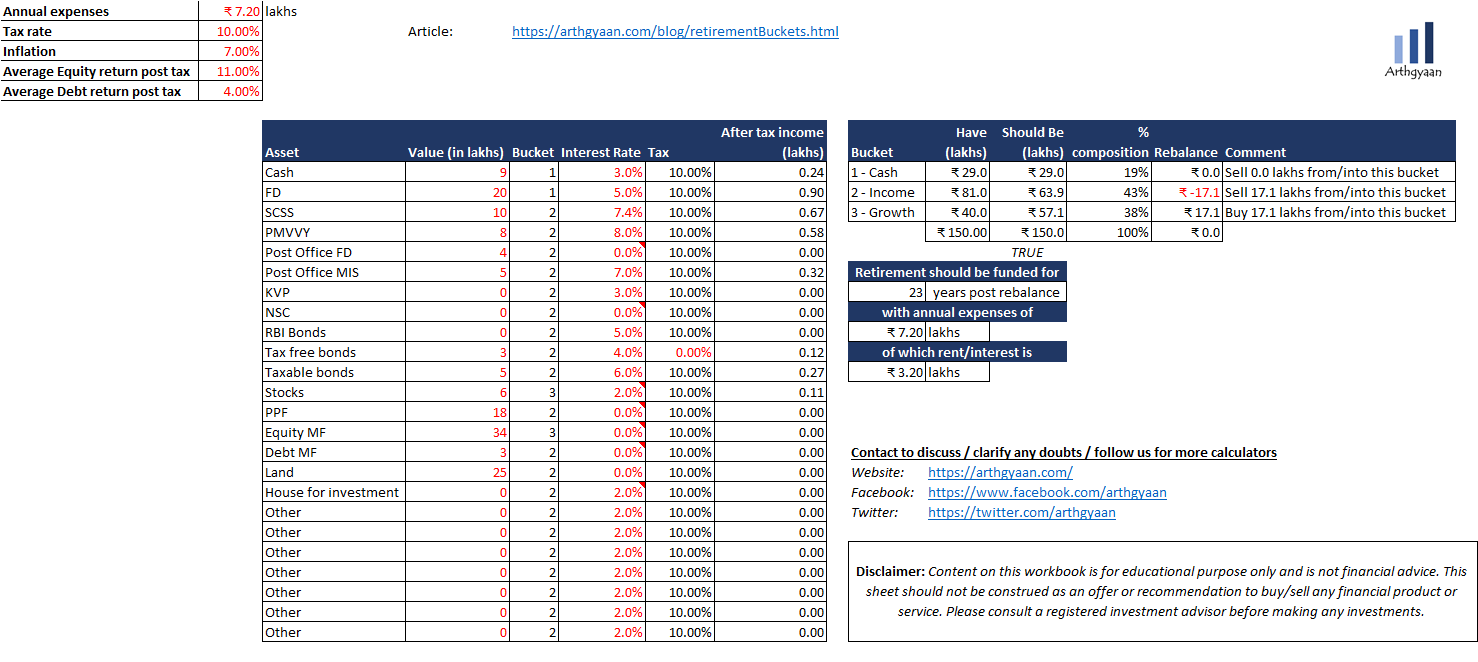 Here in the example, ₹1.5 crores are invested for 23 years with ₹7.2 lakhs of yearly expenses. The cash bucket has ₹29 lakhs and contains 5 years of living expenses and the emergency fund and is inflation adjusted to last 5 years.
What's next? You can join the Arthgyaan WhatsApp community
You can stay updated on our latest content and learn about our webinars. Our community is fully private so that no one, other than the admin, can see your name or number. Also, we will not spam you.


If you liked this article, please leave us a rating
The following button will take you to Trustpilot:


Discover an article from the archives
Worked out case studies for goal-based investing
Previous and next articles: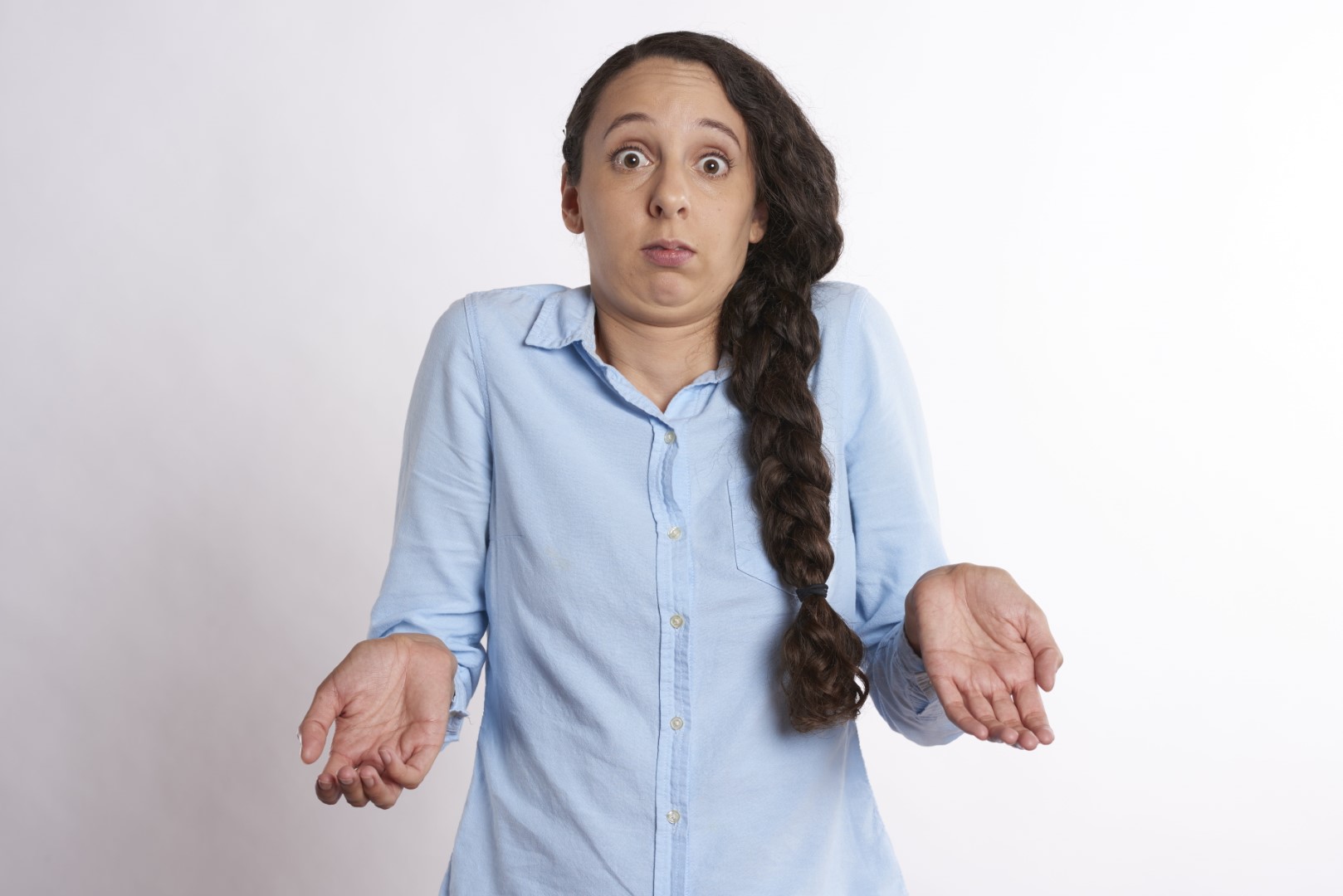 Portfolio Review
Market Movements
Should you sell off your equity funds since the market is overvalued?
The stock market cannot be predicted, but lessons from history and some basic rules can help you decide what to do as the market keeps moving up.
Published: 16 July 2021
5 MIN READ
---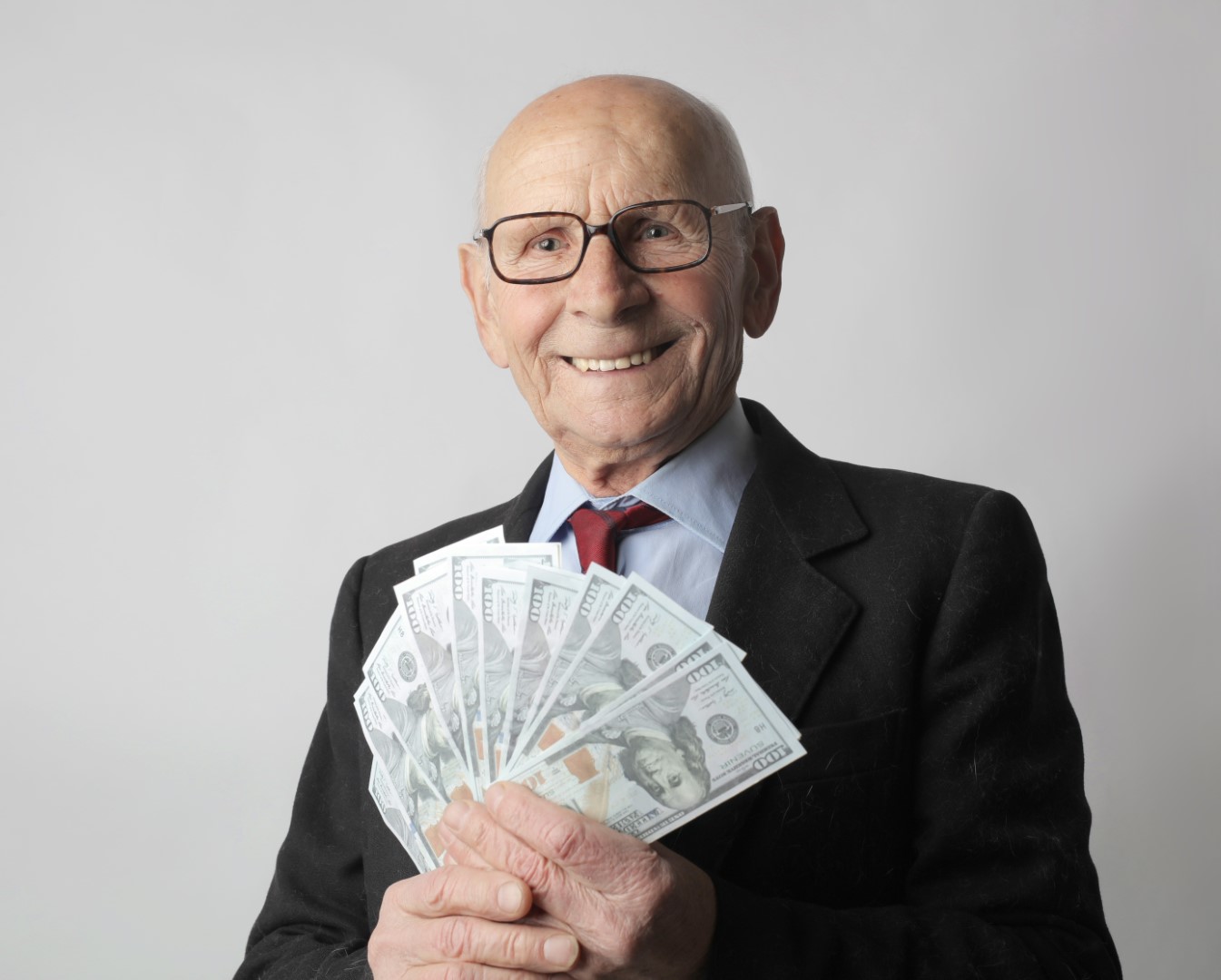 Set Goals
Calculator
How to become a crorepati in 10 years?
This post shows how to reach a goal like 1 crore in 10 years or any such amount in any time you want
Published: 23 July 2021
4 MIN READ
---
Latest articles: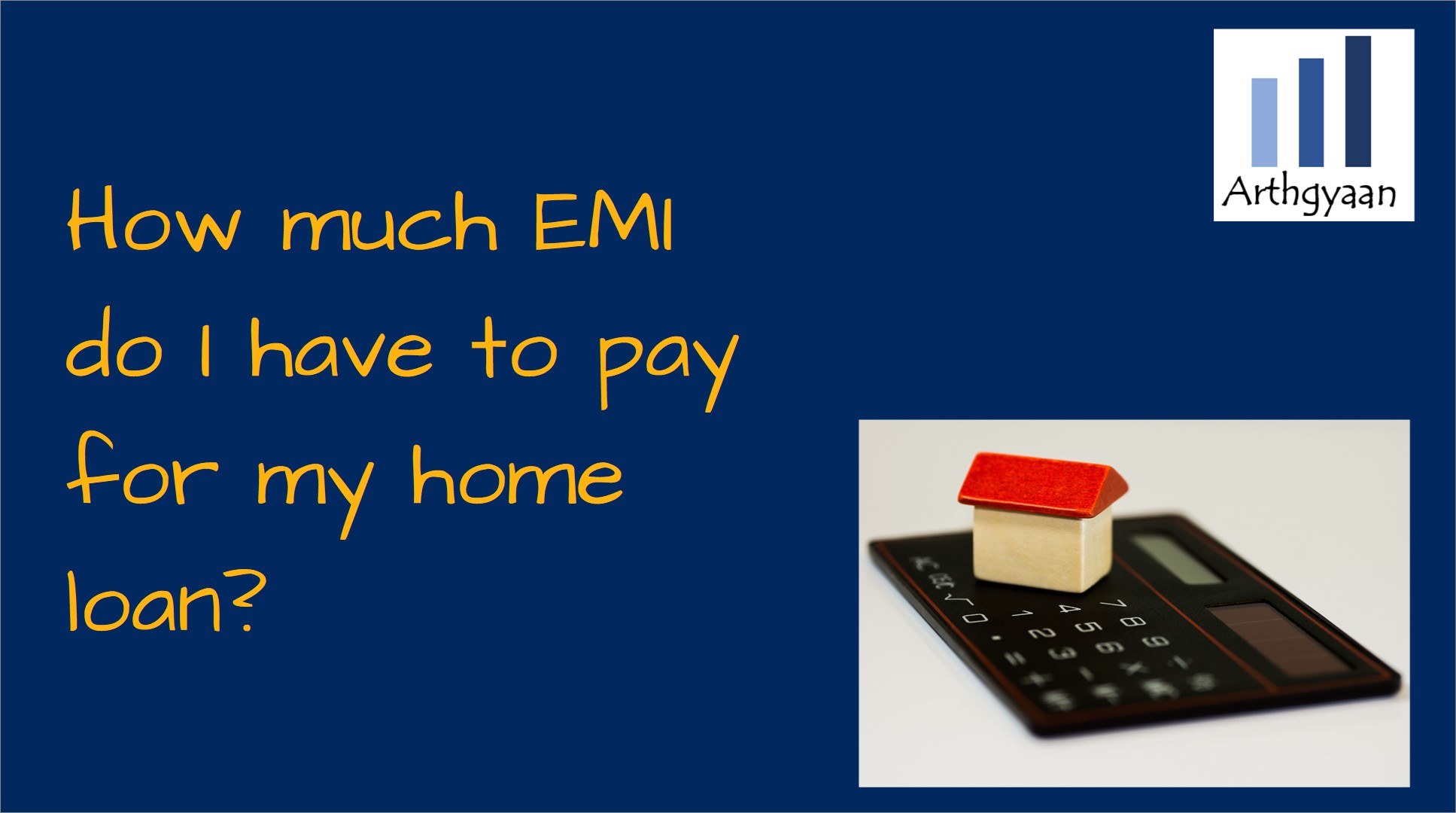 House Purchase
How much EMI do I have to pay for my home loan?
This article shows a handy ready reckoner for home loan EMI amounts for all tenures and interest rates along with the amount of principal and interest to be paid.
Published: 29 September 2023
1 MIN READ
---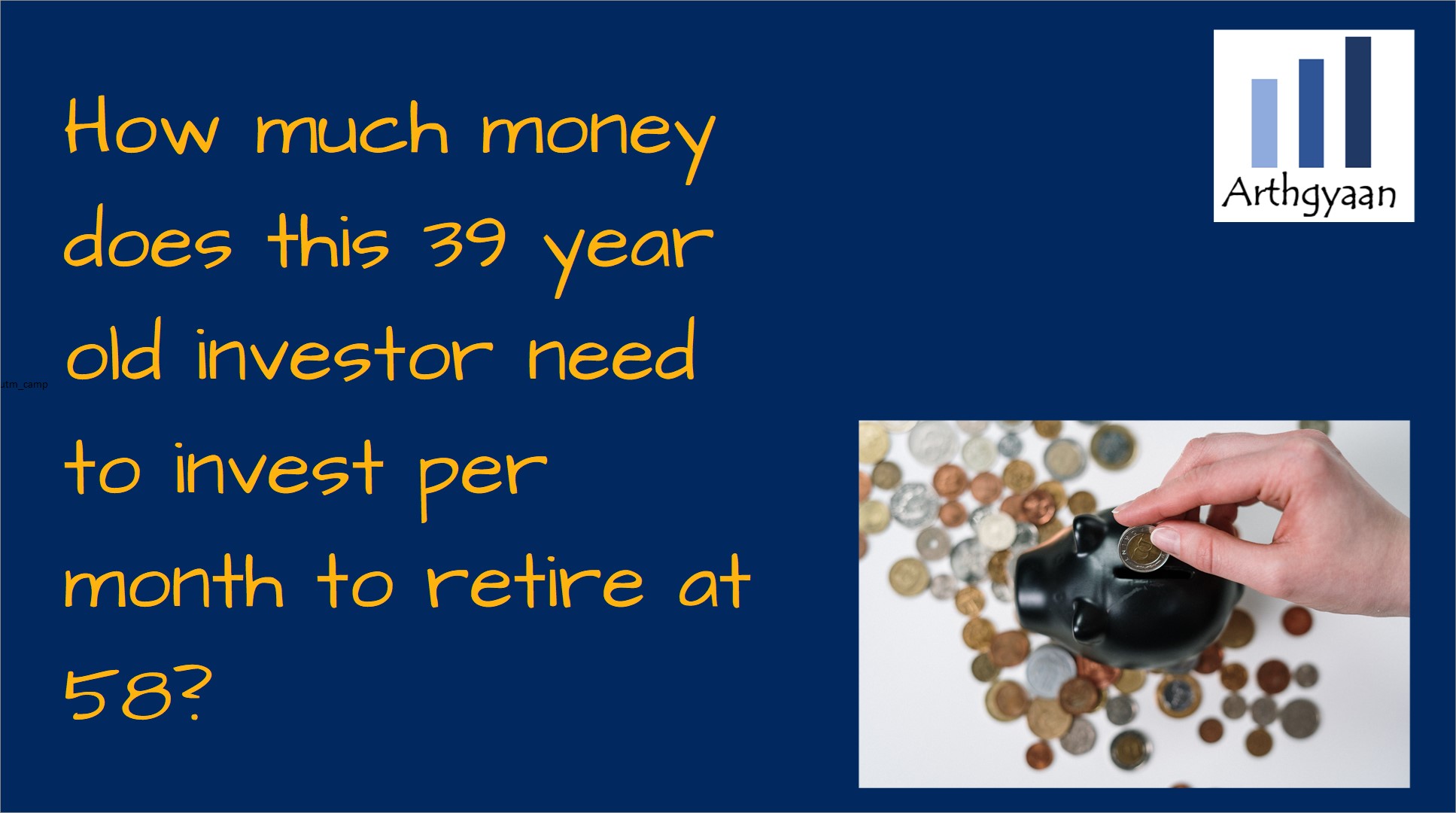 Retirement
Reader Questions
How much money does this 39 year old investor need to invest per month to retire at 58?
A quick retirement calculation for a reader query who has a good amount of corpus already saved for retirement.
Published: 27 September 2023
7 MIN READ
---
Topics you will like:
Asset Allocation (20) Basics (8) Behaviour (10) Budgeting (11) Calculator (17) Case Study (6) Children (12) Choosing Investments (38) FAQ (6) FIRE (13) Gold (11) Health Insurance (4) House Purchase (17) Insurance (15) International Investing (10) Life Stages (2) Loans (9) Market Movements (13) Mutual Funds (29) NPS (6) NRI (13) News (9) Pension (8) Portfolio Construction (46) Portfolio Review (27) Reader Questions (6) Real Estate (6) Retirement (36) Review (12) Risk (6) Safe Withdrawal Rate (5) Set Goals (27) Step by step (14) Tax (37)

Next steps:


1. Email me with any questions.

2. Use our goal-based investing template to prepare a financial plan for yourself
OR
use this quick and fast online calculator to find out the SIP amount and asset allocation for your goals.



Don't forget to share this article on WhatsApp or Twitter or post this to Facebook.

Discuss this post with us via Facebook or get regular bite-sized updates on Twitter.

More posts...


Disclaimer: Content on this site is for educational purpose only and is not financial advice. Nothing on this site should be construed as an offer or recommendation to buy/sell any financial product or service. Please consult a registered investment advisor before making any investments.

This post titled How much cash should I hold in my portfolio? first appeared on 17 Jul 2021 at https://arthgyaan.com


We are currently at 299 posts and growing fast. Search this site: Copyright © 2021-2023 Arthgyaan.com. All rights reserved.

---