What is a Personal Accident Insurance policy: who needs it and why?


31 Jul 2022 - Contact Sayan Sircar


8 mins read





This article explains the pros and cons of a Personal Accident Insurance policy and makes a case for getting one to safeguard your financial goals.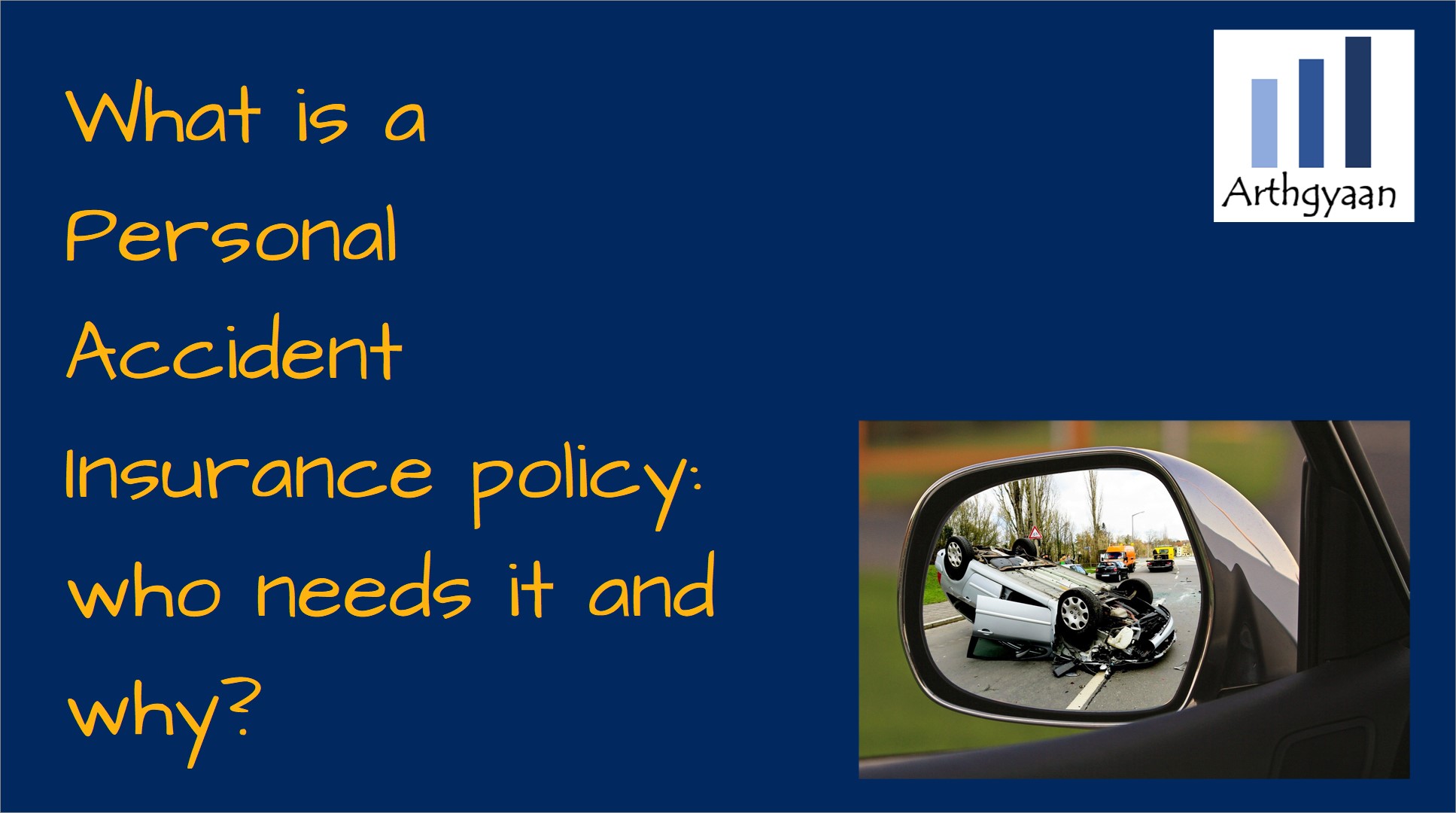 Table of Contents
What is personal accident insurance?
The purpose of the personal accident (PA) insurance policy is to provide a replacement for your income if you have an accident and cannot work after that. Unlike term insurance, where claims are paid on death, a PA cover is applicable when one of the following is the result of an accident:
accidental death
temporary or permanent partial disability
temporary or permanent total disability
Recent articles:
What are the main features of a PA policy?
General insurance companies, just like health insurance policies, sell PA policies. The premium depends on the sum insured (SI) and profession and not too much on the age. The policies are renewable yearly; usually, 2-3 year premiums are offered at a discount. 18% GST is applicable on the premium.
The purpose of the PA policy is for such cases where due to an accident, you do not die but are unable to work. The onus is on the insured person to conclusively prove if the disability due to the accident is preventing you from earning your living.
In all cases, you need to be able to prove that the injury is preventing you from doing your day job. In each case, the amount paid out will depend on the policy terms. From least to most severe, the benefits are, using some representative cases, from one of the policy term documents on the Insurance Regulatory and Development Authority of India (IRDAI) site:
Temporary Partial/Total Disability (TPD/TTD)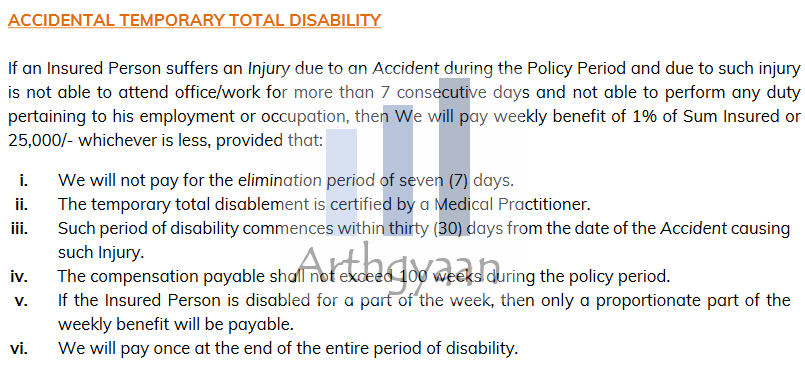 These injuries will heal with time, like fractures or paralysis that may get cured. However, these cases offer the lowest payout, around 1% of the SI per week, until recovery or small lump sum amounts. In most cases, TTD/TPD will not be meaningfully covered.
Permanent Partial Disability (PPD)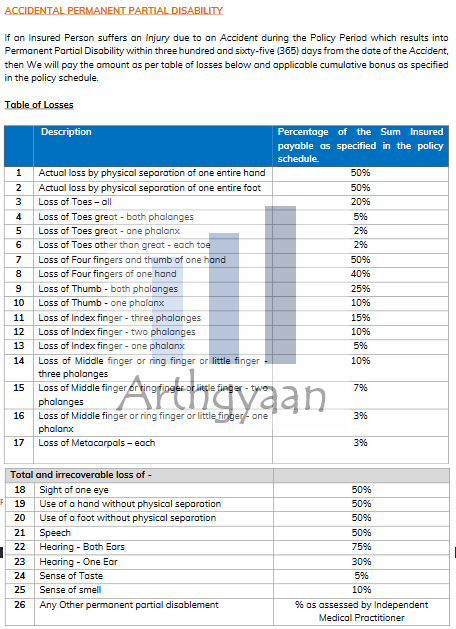 Temporary loss of limb(s), paralysis or sense organs (eye/ear), uniplegia (paralysis of a single limb) etc., fall under this category. The payout may be 25-100% of the SI.
Permanent Total Disability (PTD)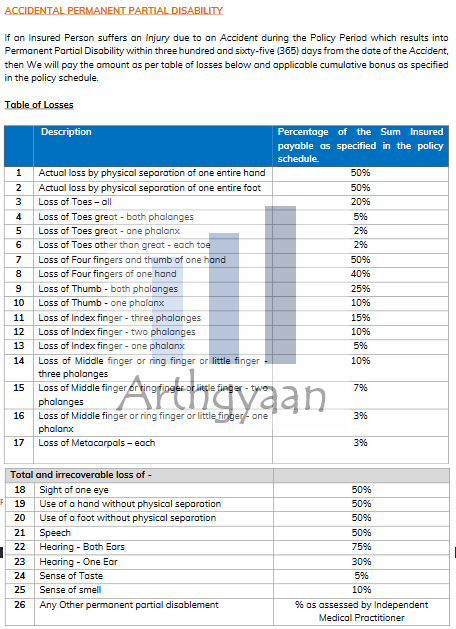 The payout may be 100% of the SI since cases like a total loss of limb(s), sense organ(s) or paralysis are covered here.
Accidental Death

The insurance company will generally pay out 100-200% of the sum insured.
What is an accident?
We have put accident in italics in the previous paragraphs since the definition is fundamental in buying a PA policy. As per multiple PA policy documents on the IRDAI website, an accident is defined as:
An accident is a sudden, unforeseen and involuntary event caused by external, visible and violent means - Source: IRDAI site
The following examples could lead to claim rejection if they strictly do not follow the definition of an accident:
sudden: planned activities like acrobatics, water sports or similar acts may get excluded
unforeseen: it is not unforeseen that if you walk on the road, a car may hit you. So a vehicle hitting you is admissible if and only if you were walking where it is legally allowed to walk, like on a pavement
visible: you were crossing the road in the middle of the night on a zebra crossing, and a car hit you and escaped. The insurer will ask for witnesses for the incident
violent: slipping inside the house may not be an accident since the insurer could argue that it is not violent
In many cases, you may need an FIR and medical examiner's report or autopsy report to support the claim process.
Should you consider a term insurance policy with a PA rider?
Riders make the claim process complicated since you need to prove the cause of death as well. This may cause issues in claim processing by giving the insurance company more to investigate. It is, therefore, better to take a stand-alone PA policy instead of a term insurance rider.
How is a PA cover different from a PA cover in Vehicle Insurance?
PA cover in vehicle insurance protects the owner of the vehicle, as long as they have valid driving license. The policy is set at 15 lakhs by IRDAI (since 2018) and covers permanent total disability and accidental death. PA cover is mandatory if you are driving your own car.
There are two cases here:
if you already have a general PA cover:skip the PA cover with vehicle
if you don't already have a general PA cover: taking PA cover with vehicle is mandatory if you have a driving license
However, this particular PA cover does not cover cases where you have an accident apart from driving your car.
---
Our new Goal-based investing tool will help you to create and manage all of your goals in one place. Click the image below to get access:

---
---
Arthgyaan creates a system for reaching your financial goals by sharing simple, actionable advice backed by research and analysis.

Your email address will not be shared with anyone and you can unsubscribe anytime.
---
How much PA cover should you get?
The PA cover protects you in multiple ways
protect your day-to-day expense flow
protect the investments that go into goals
account for increased expenses due to long-term medical care. This may be offset, to a degree, by lowering expenses on travel and entertainment

The Arthgyaan goal-based investing calculator accounts for the first two options: monthly expenses and investments in SIP form. The calculator will show you the total insurance cover for both term, and as a result personal accident, in the same field.
Are there alternatives to a PA cover?
A health insurance policy is not the replacement for Personal accident coverage. A health plan covers planned and unplanned medical expenses where you are eventually expected to recover. PA covers income loss due to an accident which causes a disability.
Similarly, having only a term insurance policy does not help since the accident does not necessarily kill you. Instead, it will prevent you from earning income, making it impossible to reach your financial goals.
A third-party vehicle insurance cover, for example, if you are injured when a car hits you on the road, is for the car's driver's benefit and not for you.
The only alternative to a personal accident cover is having enough wealth to be unaffected if your income stops today. Astute readers will notice that this is the exact same definition of being Financially Independent: What is the quickest way to reach FIRE?
How to get a cover?
The biggest challenge at this point is finding policies with sufficient coverage. There are too many policies with coverage of a few lakhs than those with coverage of multiple crores. The higher coverage out there is a policy of 2 crores capped at 12x of your annual gross income. However, this amount may not be enough depending on your goals.
This link is the official IRDAI page with all currently available insurance policies: click here. From the same page, you can get the updated list from Products Offered > Health Insurers for the current year.
The page has the policy documents for all active policies in the market. You should look for individual (i.e. non-Group) policies and shortlist the ones where you are okay with the terms and conditions. In parallel, from the insurance company website, you can get a plan quote. You should be able to buy the policy online in most cases from your shortlist.
Is it worth it?
Given the definition of accident, onerous claim process and lack of high-value policies, it is natural to believe that a PA policy is not worth the hassle.
There are some significant upsides as well, though:
this is the only policy that covers permanent disability that may happen due to no fault of yours
the policy is decently cheap (1cr coverage is available for around ₹10,000/year or less)
unlike health premiums that increase with age, there are not many dependencies on the age of the insured
If you liked this article, consider subscribing to new posts by email by filling the form below.
More: worked out case studies for goal-based investing
This article shows how a young just-married couple can invest for future goals using the Arthgyaan goal-based investing tool.

Did you welcome a bundle of joy in your 40s? This article will discuss ways of planning the child's (and your's financial future)

This article shows how a very typical salaried couple with one child can invest for future goals using the Arthgyaan goal-based investing tool.
Previous and Next articles: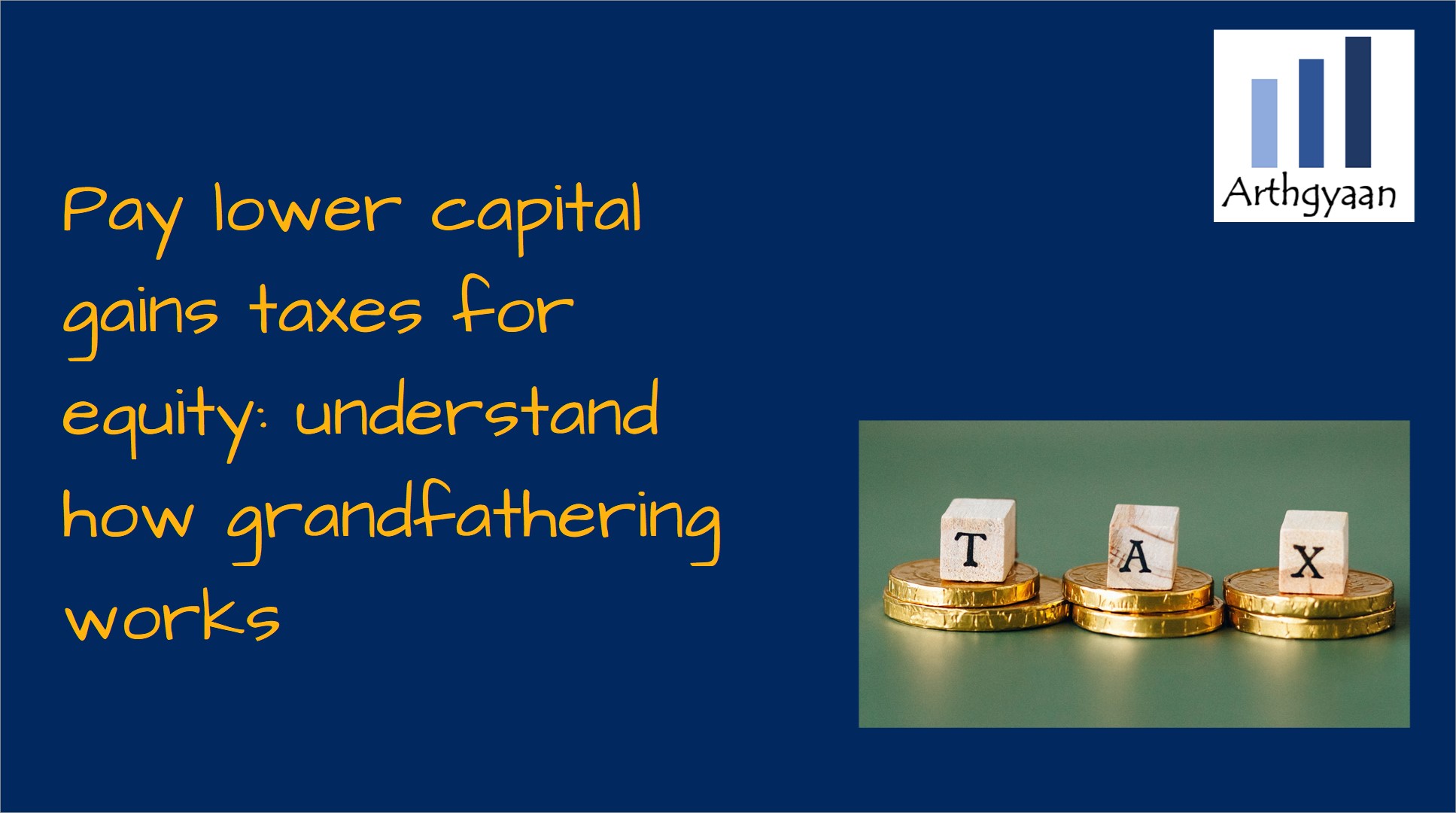 Tax
Calculator
Pay lower capital gains taxes for equity: understand how grandfathering works
This article explains the concept of equity LTCG grandfathering in detail with multiple case studies and examples.
Published: 27 July 2022
7 MIN READ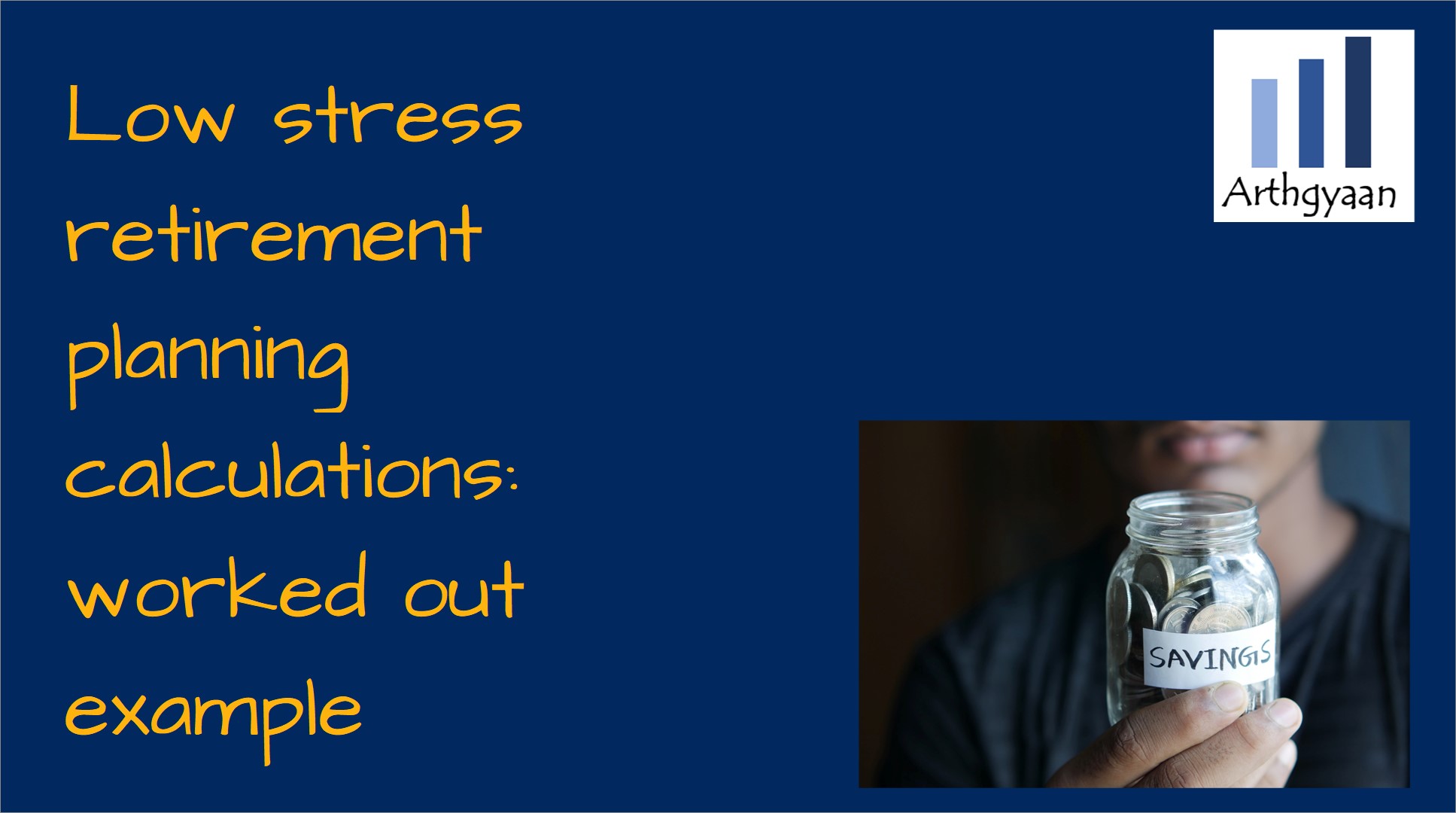 Retirement
Portfolio Construction
Step by step
Low stress retirement planning calculations: worked out example
This article shows a simple retirement and review plan that anyone can follow in a step-by-step manner.
Published: 3 August 2022
6 MIN READ
Latest articles: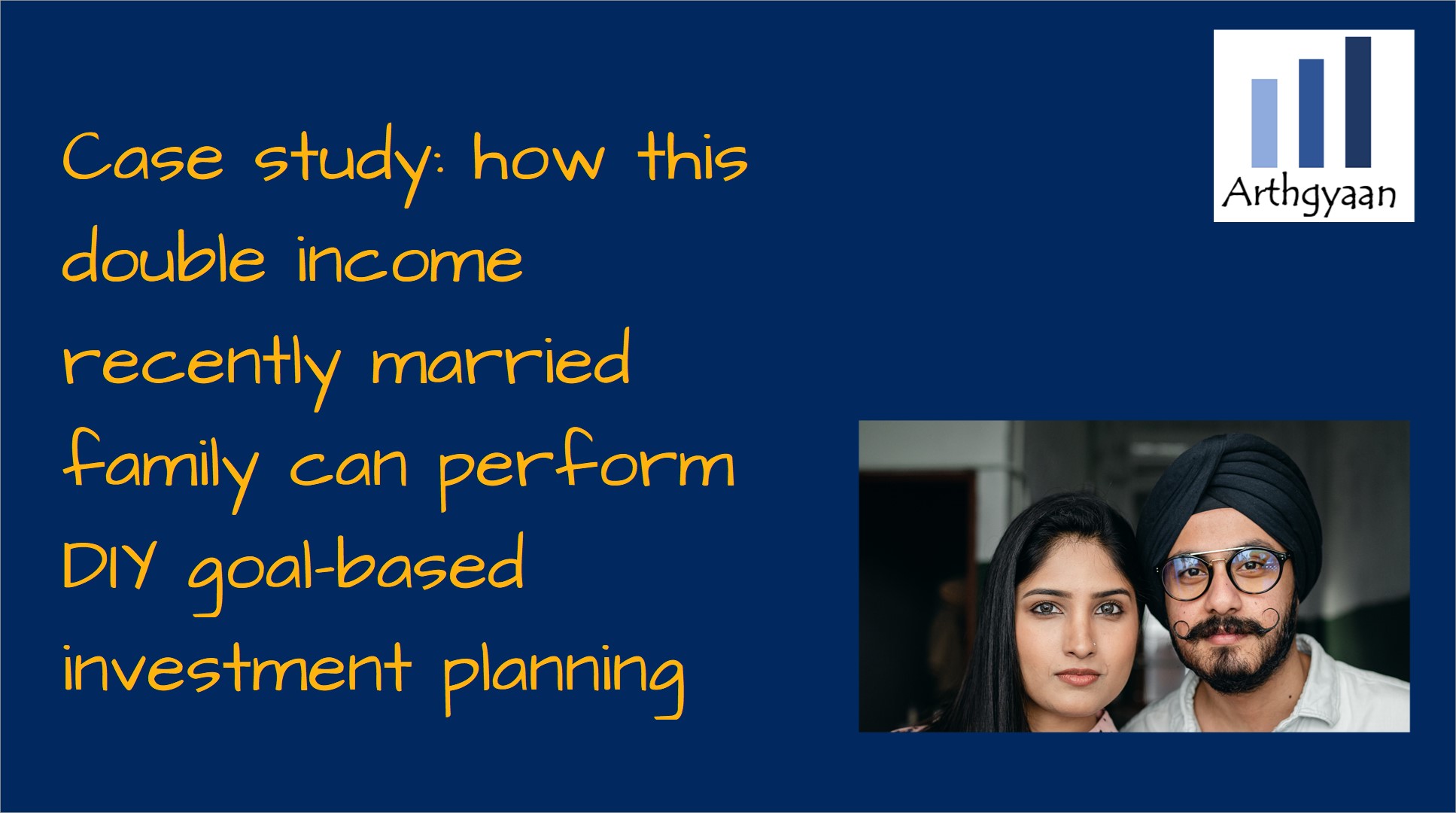 Case Study
Portfolio Construction
Case study: how this double income recently married family can perform DIY goal-based investment planning
This article shows how a young just-married couple can invest for future goals using the Arthgyaan goal-based investing tool.
Published: 7 August 2022
14 MIN READ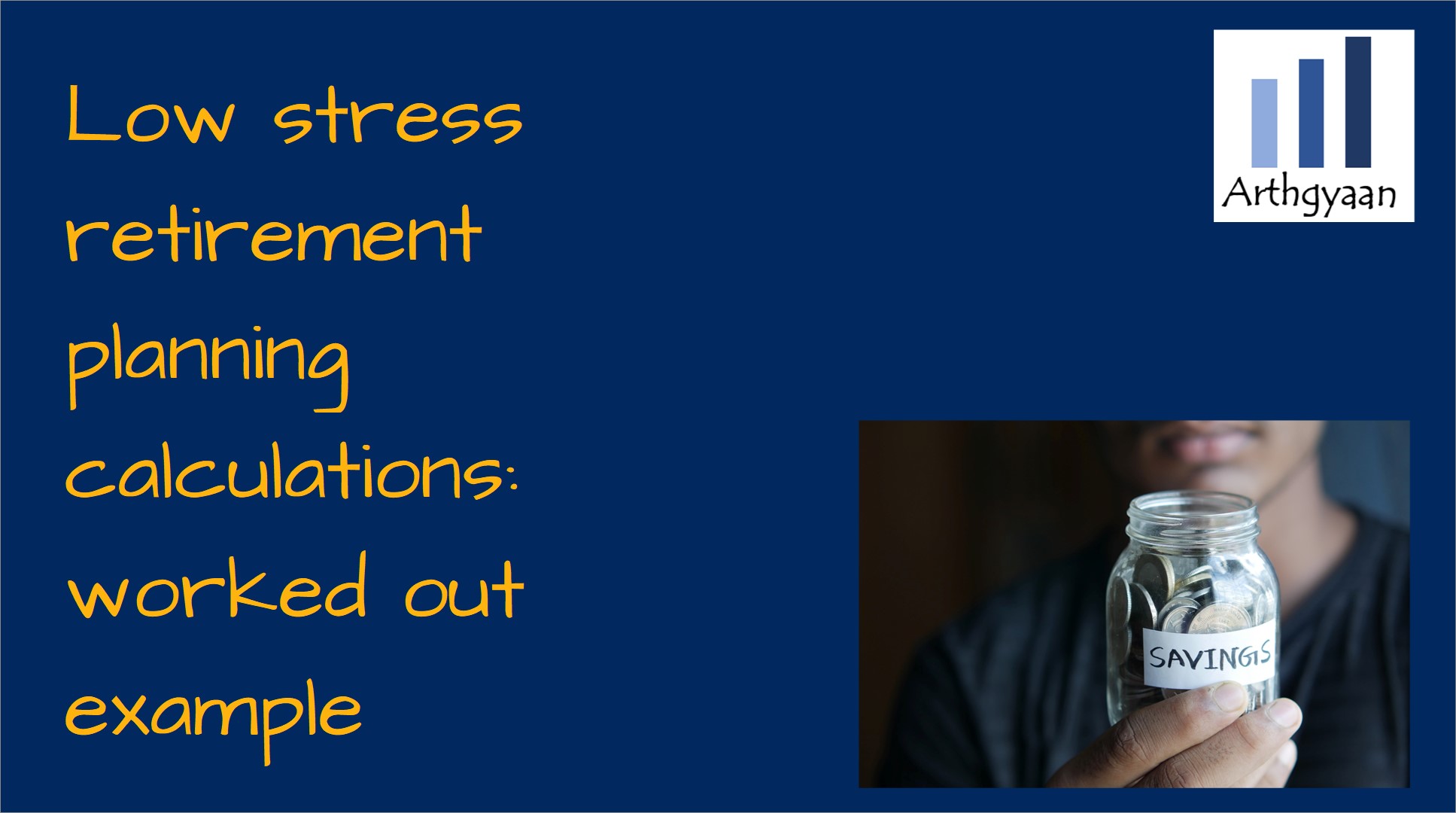 Retirement
Portfolio Construction
Step by step
Low stress retirement planning calculations: worked out example
This article shows a simple retirement and review plan that anyone can follow in a step-by-step manner.
Published: 3 August 2022
6 MIN READ
Topics you will like:
Asset Allocation (18) Basics (7) Behaviour (10) Budgeting (9) Calculator (11) Case Study (3) Children (7) Choosing Investments (24) FAQ (2) FIRE (8) Gold (6) Health Insurance (2) House Purchase (11) Insurance (8) Life Stages (2) Loans (10) NPS (4) NRI (3) News (5) Portfolio Construction (30) Portfolio Review (18) Retirement (22) Review (7) Risk (6) Set Goals (24) Step by step (4) Tax (12)

Next steps:


1. Email me with any questions.

2. Use our goal-based investing template to prepare a financial plan for yourself
OR
use this quick and fast online calculator to find out the SIP amount and asset allocation for your goals.



Don't forget to share this article on WhatsApp or Twitter or post this to Facebook.

Discuss this post with us via Facebook or get regular bite-sized updates on Twitter.

More posts...


Disclaimer: Content on this site is for educational purpose only and is not financial advice. Nothing on this site should be construed as an offer or recommendation to buy/sell any financial product or service. Please consult a registered investment advisor before making any investments.

This post titled What is a Personal Accident Insurance policy: who needs it and why? first appeared on 31 Jul 2022 at https://arthgyaan.com


We are currently at 172 posts and growing fast. Search this site: Copyright © 2021-2022 Arthgyaan.com. All rights reserved.

---