Health insurance: what, why, how much to get and from where?


13 Jul 2022 - Contact Sayan Sircar


11 mins read





This article explains why health insurance is important, how to choose one that suits your needs, the tax benefits and where to buy it from.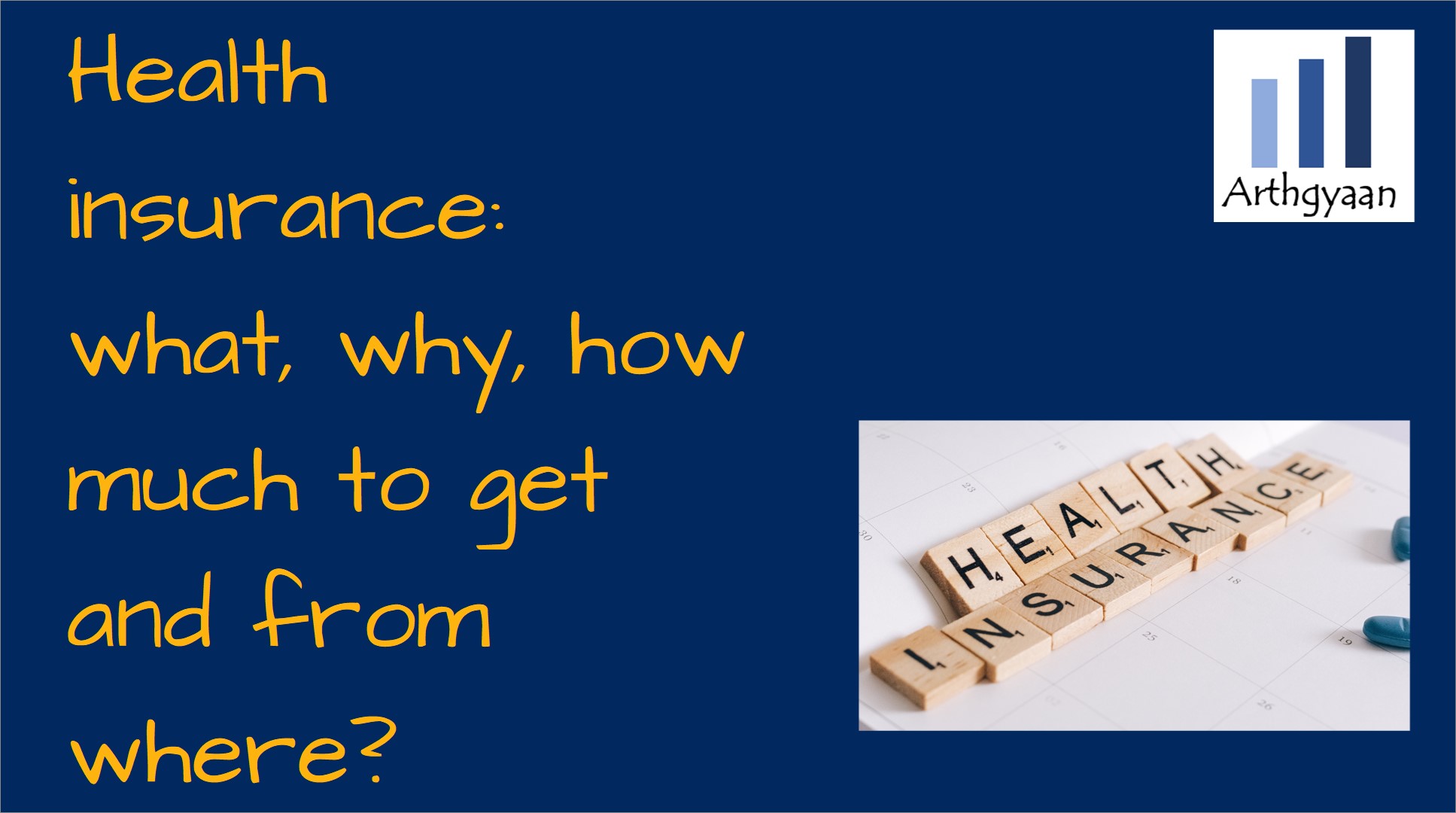 Table of Contents
Why is health insurance important?
Many Indian families are a single hospital bill away from bankruptcy
World Bank data shows that out-of-pocket healthcare procedures as a proportion of the total cost are among the world's highest at 60%. This fact, coupled with extremely low public and private healthcare spending (3.5% of GDP), requires an urgent need for health insurance.
Health insurance is a cheap risk transfer mechanism from yourself to the insurance company. Therefore, unless there is a medical exception that prevents the issuance of a policy, there is no reason that an investor does not wish to take a policy.
Related:
Purchasing a health insurance policy is part of the prerequisites to get started with goal-based investing.
Recent articles:
Common terminology used for health insurance
General insurance companies sell health insurance policies and are separate entities compared to life insurance companies. IRDA regulates both.
You should keep in mind that a GST of 18% is to be paid along with the premium of a health insurance policy.
This section covers a few terms you should know while purchasing a health insurance policy. These terms will be present in the policy document that you need to understand before buying the policy:
sum insured and premium: You pay a premium amount to be eligible to claim up to the sum insured annually. For example, if your premium is ₹5000 and the sum insured is ₹10 lakhs, then you pay ₹5000/year, and the maximum total claim you can make in a year is ₹10 lakhs.
coverage period: the policy is valid for one year and needs to be renewed yearly. Sometimes the insurance company offers a 2-3 years premium payment option at a slight discount
restoration benefit: if you have a ₹5 lakh policy and put in a claim of 5 lakhs, then ordinarily, you cannot claim anything else that year. With a restoration benefit rider, the coverage amount is again restored in case you have another hospitalization in the same coverage period
pre-existing diseases (PED): these are also known as comorbidities. Suppose the person seeking insurance already has high-risk diseases like diabetes, hypertension (BP), and heart/lung problems. In that case, their premiums will be high. Such PEDs must be declared when taking the policy. Otherwise, future claims can be rejected.
waiting period: Most policies have a clause of 1-3 years waiting period before claims related to a PED will be paid out. This point is essential when you are buying insurance for elders who might have PEDs
network hospital: The health insurance company would have tie-ups with several hospitals in each city as preferred partners where cashless claims and other benefits are available
cashless claim: a part or whole of the hospital bill is paid by the insurance company at the time of discharge without the patient being required to file a separate claim later. Cashless claims are most likely to be entertained if the treatment happens in a network hospital
co-payment: a part of the claim amount, say 20-25%, must be paid by the patient in return for a slightly reduced premium. We have covered why you should avoid this with a numerical example below
add-ons/riders/optional covers: the policy you will purchase is called the base policy. Riders like critical illness, maternity benefits, and daily cash reimbursement during hospitalization are offered at an incremental cost above the premium. You should evaluate if you need such riders as per the requirement
critical illness (CI) cover: CI cover offers financial protection post-diagnosis of a particular class of life-threatening diseases, e.g. cancer, heart disease, kidney failure etc. This cover may be available as a rider or as a separate policy from general insurance companies. You should choose a CI policy that pays out a fixed amount on diagnosis of the disease instead of one that claims to reimburse the treatment
deductibles: this concept is pretty similar to co-payment. Instead of a percentage amount, as in the case of co-payment, deductibles are a minimum floor value above which claims will be paid out. Hence a ₹ 5 lakh policy with a ₹20,000 deductible will always pay ₹20,000 less than the claim amount since the insured person is expected to pay that deductible amount out of their pocket
inclusions/exclusions: Inclusions are treatments included explicitly in the policy, while exclusions are the opposite. Insurance companies sometimes issue policies for senior citizens with PED on a permanent exclusion basis which will not entertain any claims due to that particular PED
no-claim bonus (NCB): If you do not claim for several years, you can get a discount on your premium. NCB is the reason why you should always make a claim against your corporate insurance plan instead of your personal plan if you have corporate coverage
porting: transfer the entire policy, with PED coverage intact (this point is important!), to another insurer for additional benefits like lower premium or better network hospital coverage. Do not port if the new policy restarts the 1-3 year clock on PED exclusion.
How to cover all family members in health insurance?
There should generally be the following policies that a family should have at a minimum:
corporate group insurance for salaried employees covering all family members
personal family floater covering self, spouse and children. If you do not have a spouse yet, take the policy now and add your spouse to your policy later
separate policy covering elderly parents. Since a policy's premium depends on the highest age of the members, parents must be covered separately
Why not have only a corporate policy?
Multiple reasons are in favour of having your own family floater policy over and above the corporate group cover that you might already have:
don't be dependent on your job: a job switch/loss/retirement/career change should not impact insurance coverage
buy it when you are fit and fine: if you get a lifestyle or other disease (like BP or diabetes), it will increase your premium (with 1-3 years waiting) in the best case or in the worst, lead to a permanent exclusion for any issues caused by that disease
How to purchase health insurance?
When purchasing a health insurance policy, you must carefully consider the following essential points to ensure the maximum amount of the claim is approved. There are multiple options in an insurance contract that reduce your premium but at the same time disproportionately reduce the amount you will get as the claim.
No Room Rent Limit
A policy with a room-rent limit will never pay out the entire claim amount. For example, if a policy has a room rent limit of ₹5,000/day and you stay in a ₹7,500/day room, then only 5000/7500 = 2/3 of the total claim will be approved.
No Co-Payment
A policy with a co-payment clause will be cheaper than a policy without one for the same coverage amount. For example, assume for a 10 lakh coverage policy, the yearly premium is :
₹10,000 without co-payment
₹7,500 with 20% co-payment
The 25% reduction in premium sounds excellent on paper until you need to make a claim. For example, say you make a ₹5 lakh claim, and we will assume that the entire claim is eligible for payout.
In the first case, without co-payment, the entire five lakhs is paid out. In the second case, the 20% co-payment clause will require you to pay 20% of the claim amount, i.e. one lakh out of your pocket and only four lakhs is paid out. So the ₹2,500/year savings just cost you one lakh or 40 years of savings. Hence you need to avoid co-payment clauses. A similar logic exists to avoid policies with deductibles.
Comprehensive Day Care Treatment coverage
Due to advances in medicine, many procedures that earlier required hospitalization of 2-3 days or more can be done in the outpatient department (OPD) in a day without overnight admission. A classic example of this case is cataract surgery. You should check if the policy covers such procedures since, historically, health insurance does not cover such OPD treatments and requires a minimum one-night stay.
Network Hospitals in your area
Cashless coverage is the most significant benefit of getting admitted to a network hospital. Again, the insurance company website will have a list or map for this. Check that the list has major super-speciality hospitals and clinics for minor procedures.
No disease-wise sub-limits
The sum assured of the policy is expected to be paid 100% for any eligible disease, treatment or procedure. But lately, some policies are issued with high coverage amounts and specific disease-wise limits. For example, imagine a 50 lakhs policy with limits of 20% for every major disease/treatment, which makes the policy only 20% effective. Moreover, sub-limits may also be placed on cumulative room rent, consultation fees etc.
---
Our new Goal-based investing tool will help you to create and manage all of your goals in one place. Click the image below to get access:

---
---
Arthgyaan creates a system for reaching your financial goals by sharing simple, actionable advice backed by research and analysis.

Your email address will not be shared with anyone and you can unsubscribe anytime.
---
How much coverage is enough?
Take health insurance coverage equal to at least 50% of your annual family income
Insurance is a risk transfer mechanism. You need to decide how much you can reasonably pay every year vs the impact on your future financial goals if you require treatment higher than your coverage amount. A few thumb rules can be used here. You should get higher coverage, for example, if :
age is high
PEDs are present
history of diseases like cancer, hypertension or heart ailments in the family
the kind of hospitals you wish to be treated at, i.e. corporate vs smaller clinics
Where to purchase the policy?
There are three options: direct from the company via website or branch, via an insurance aggregator website or an agent. Unlike life insurance, where the claim happens only once (when you die), the agent could play an essential role in the claim process. However, finding such an agent could be challenging and requires some due diligence.
What are the tax benefits of this policy?
Under Section 80D of the income tax act, an individual or HUF can claim the following deductions on health insurance premium (and GST) paid:
when the policy covers self, spouse, parents and dependent children
you should not have paid the premium in cash
eligible expenses, apart from premium and GST, are preventive health check-ups (up to ₹5000/year) and expenditures for senior citizens (>60 y age) who do not have health insurance coverage
for self, spouse and dependent children, the limit is ₹25,000/year
for senior citizens, the limit is an additional ₹50,000/year
If you have paid multiple years' premium, claim the proportionate amount per year. If you have paid, for example, ₹30,000 for three years, claim ₹10,000/year under 80D.
How to ensure that you can pay the premium?
There are two things that you need to keep in mind with health insurance premiums:
they increase with age and with diagnosis/treatment of diseases
it is cheaper to pay the premium annually instead of monthly. Annual payments have a lower risk of payment failures as well
Therefore, keeping a separate account or fund to manage the health insurance premium increase is essential. This article shows how to do that: A health insurance premium fund: who needs it and why.

If you liked this article, consider subscribing to new posts by email by filling the form below.
More: worked out case studies for goal-based investing
This article shows how a young just-married couple can invest for future goals using the Arthgyaan goal-based investing tool.

Did you welcome a bundle of joy in your 40s? This article will discuss ways of planning the child's (and your's financial future)

This article shows how a very typical salaried couple with one child can invest for future goals using the Arthgyaan goal-based investing tool.
Previous and Next articles: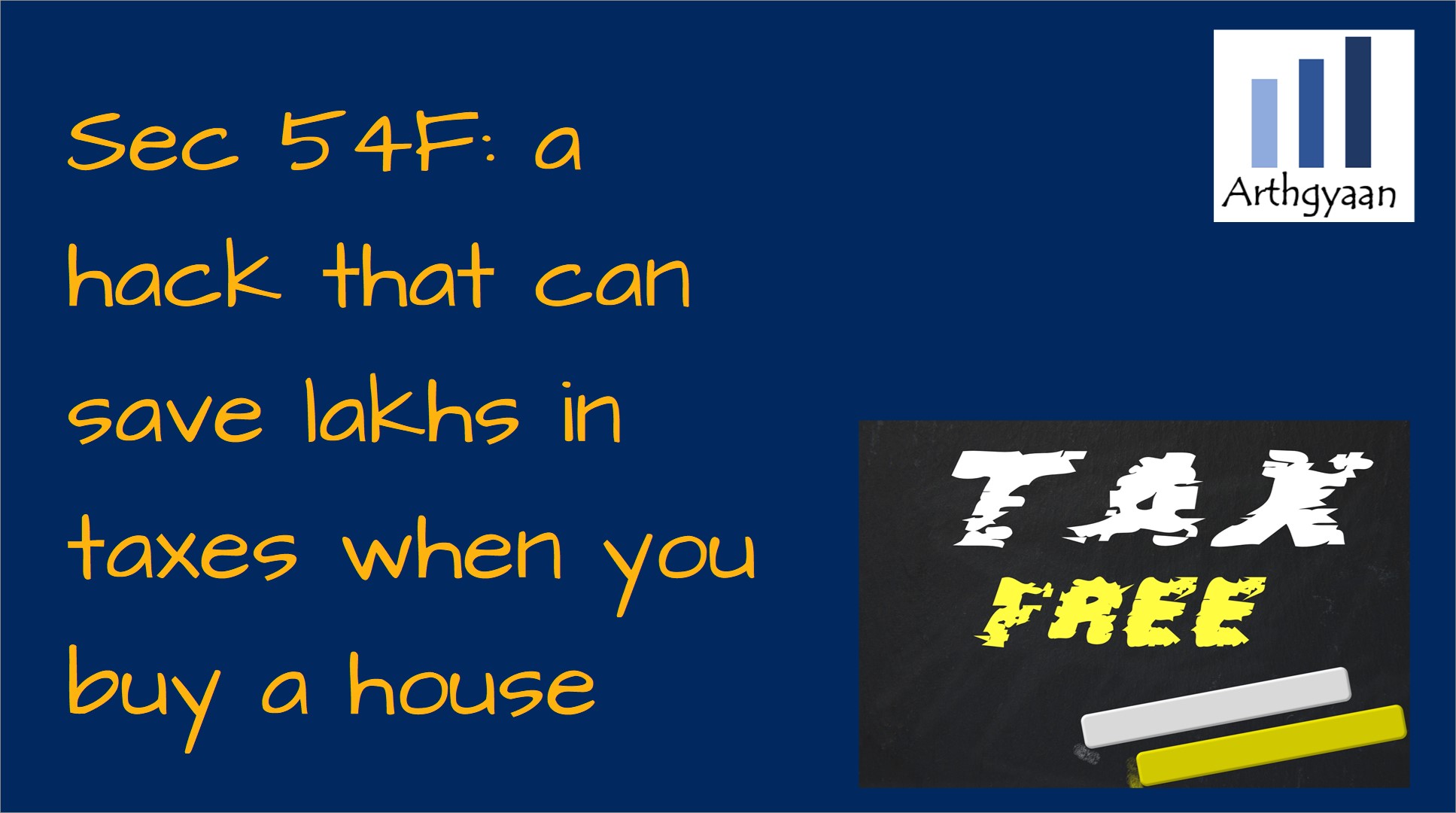 Tax
House Purchase
Sec 54F: a hack that can save lakhs in taxes when you buy a house
This article shows how to save capital gains taxes under income tax Section 54F when you sell other assets to raise money to buy your first or second house.
Published: 10 July 2022
9 MIN READ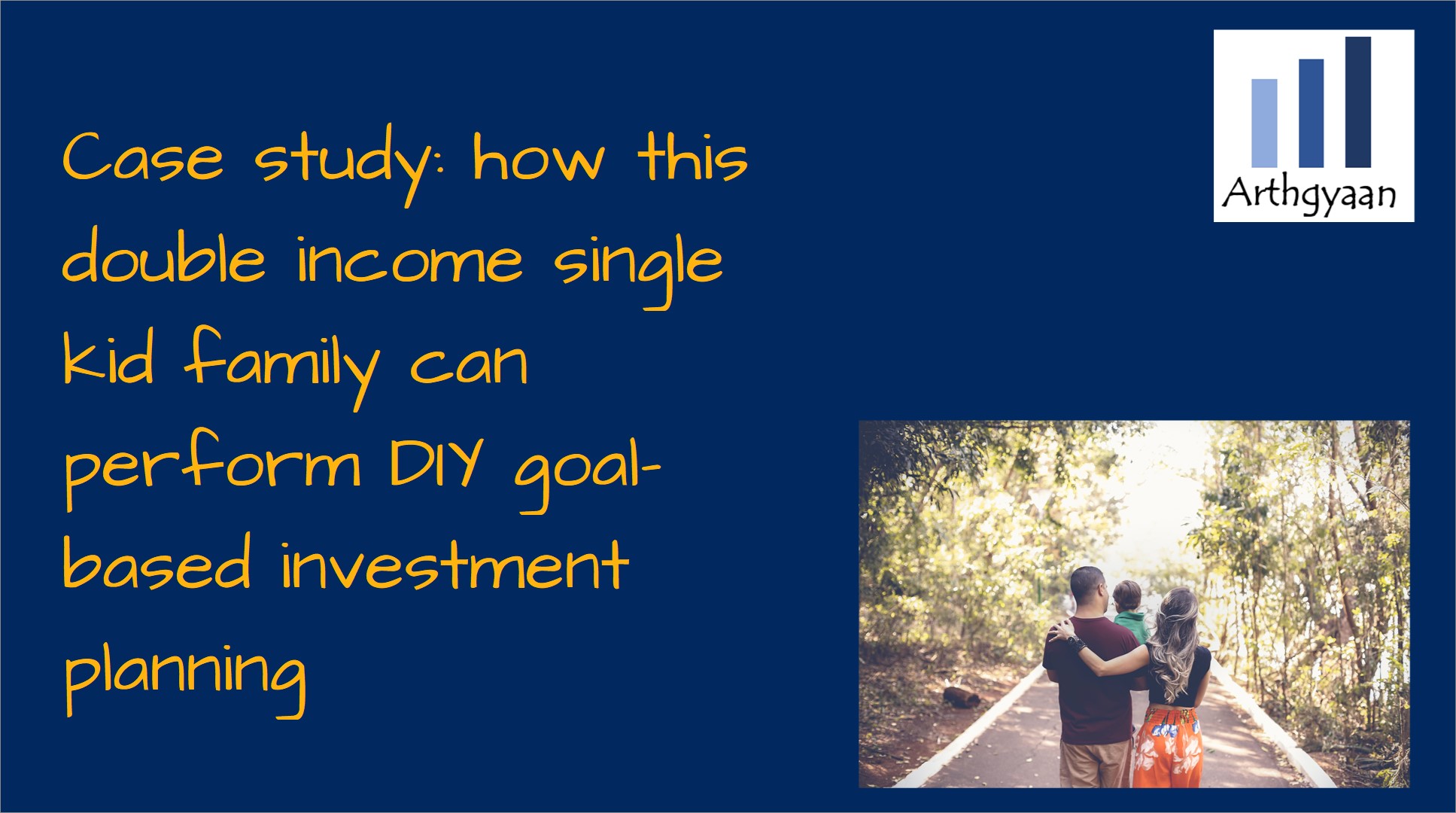 Case Study
Case study: how this double income single kid family can perform DIY goal-based investment planning
This article shows how a very typical salaried couple with one child can invest for future goals using the Arthgyaan goal-based investing tool.
Published: 17 July 2022
14 MIN READ
Latest articles: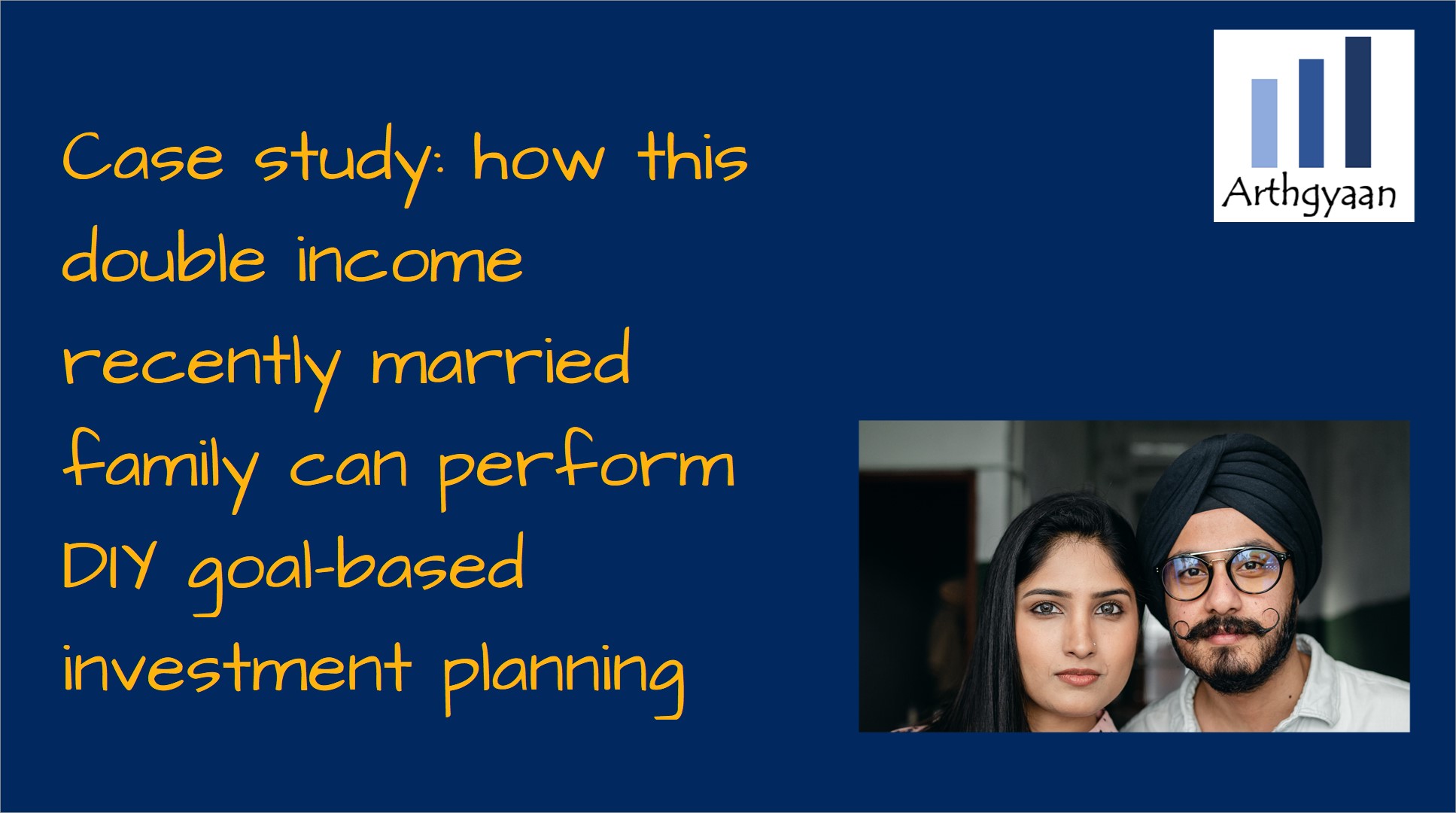 Case Study
Portfolio Construction
Case study: how this double income recently married family can perform DIY goal-based investment planning
This article shows how a young just-married couple can invest for future goals using the Arthgyaan goal-based investing tool.
Published: 7 August 2022
14 MIN READ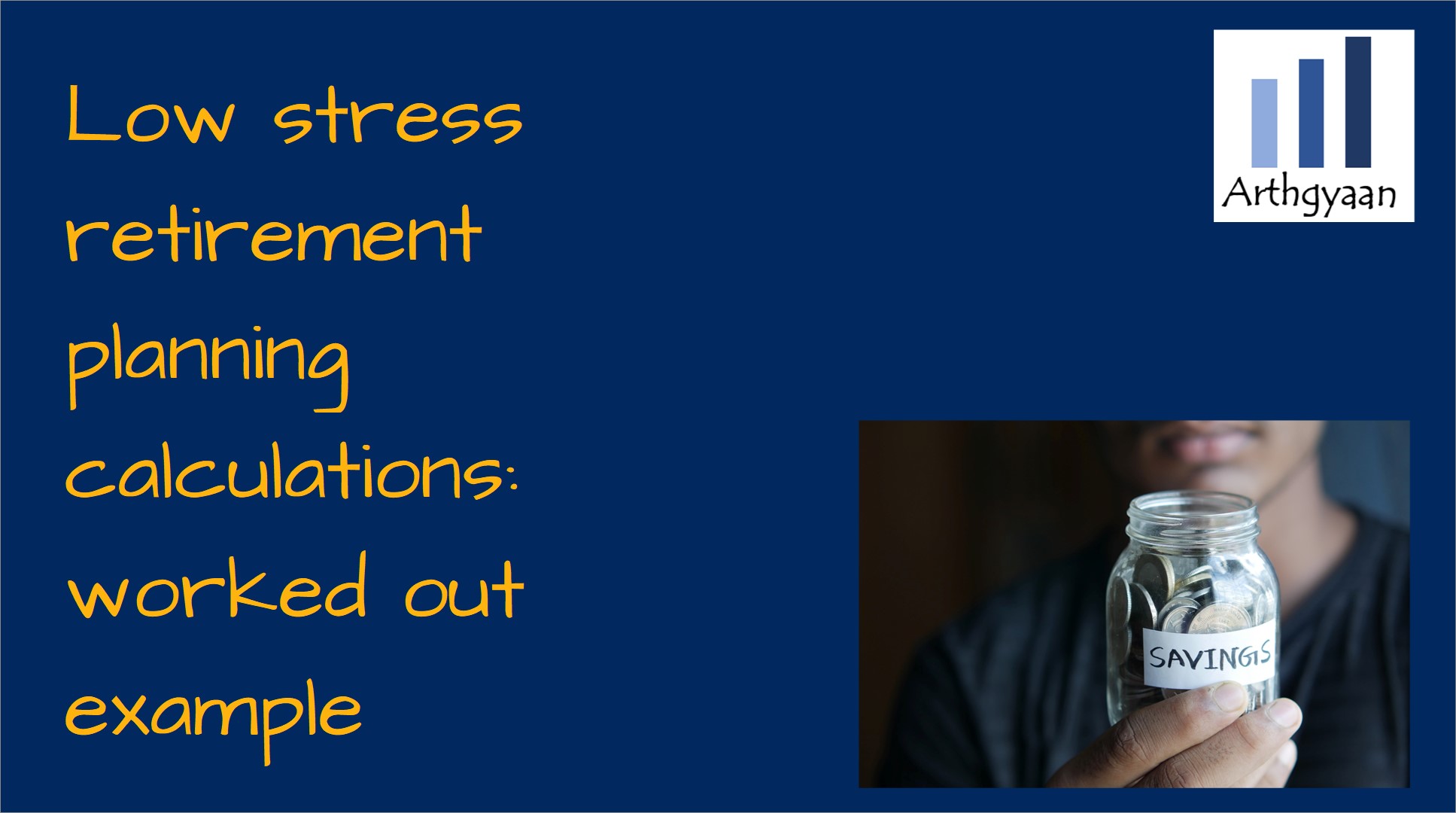 Retirement
Portfolio Construction
Step by step
Low stress retirement planning calculations: worked out example
This article shows a simple retirement and review plan that anyone can follow in a step-by-step manner.
Published: 3 August 2022
6 MIN READ
Topics you will like:
Asset Allocation (18) Basics (7) Behaviour (10) Budgeting (9) Calculator (11) Case Study (3) Children (7) Choosing Investments (24) FAQ (2) FIRE (8) Gold (6) Health Insurance (2) House Purchase (11) Insurance (8) Life Stages (2) Loans (10) NPS (4) NRI (3) News (5) Portfolio Construction (30) Portfolio Review (18) Retirement (22) Review (7) Risk (6) Set Goals (24) Step by step (4) Tax (12)

Next steps:


1. Email me with any questions.

2. Use our goal-based investing template to prepare a financial plan for yourself
OR
use this quick and fast online calculator to find out the SIP amount and asset allocation for your goals.



Don't forget to share this article on WhatsApp or Twitter or post this to Facebook.

Discuss this post with us via Facebook or get regular bite-sized updates on Twitter.

More posts...


Disclaimer: Content on this site is for educational purpose only and is not financial advice. Nothing on this site should be construed as an offer or recommendation to buy/sell any financial product or service. Please consult a registered investment advisor before making any investments.

This post titled Health insurance: what, why, how much to get and from where? first appeared on 13 Jul 2022 at https://arthgyaan.com


We are currently at 172 posts and growing fast. Search this site: Copyright © 2021-2022 Arthgyaan.com. All rights reserved.

---