Which are the safest types of equity mutual funds?


Posted on 22 Mar 2023
Author: Sayan Sircar


3 mins read





This article helps you understand which categories of equity funds are the safest for investors.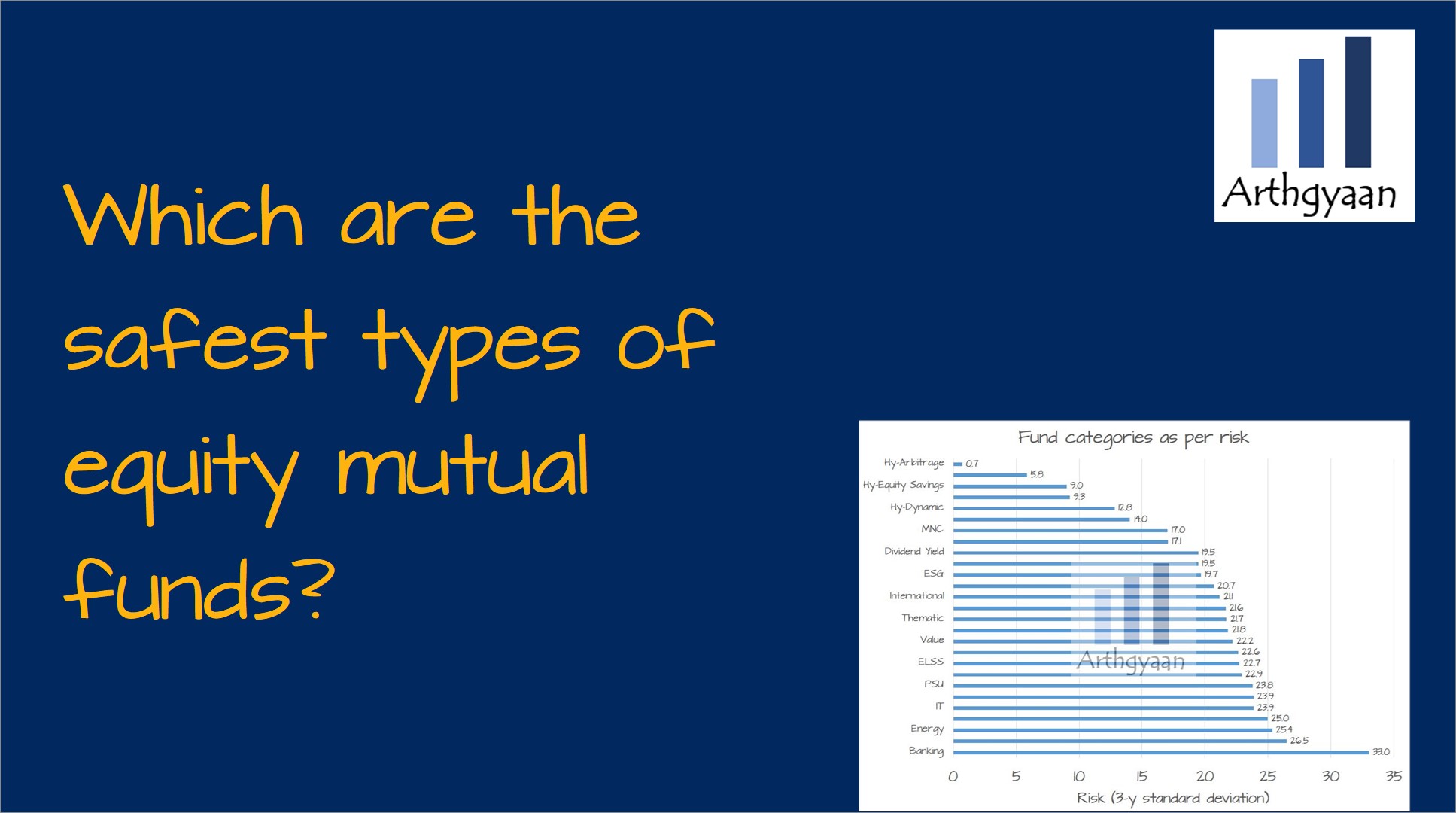 📚 Topics covered:
Why look for safety in equity mutual funds?
Equity mutual funds, by their very nature, are "unsafe". Their returns fluctuate with time and lead to unpredictable values for a corpus, as we have discussed in detail here: The lie of wealth-creation via SIP in mutual funds
However, many investors will benefit from an inter-ranking of equity mutual funds as per their inherent risk, and this article addresses that point.
Caveat: The data in this article is a point-to-point result produced on the article's publishing date, using mutual fund data for the previous three years. The ranking and the absolute values of risk will change with time.
Join the Arthgyaan WhatsApp community:
You can stay updated on our latest content and learn about our webinars. Our community is
fully private
so that
no one
, other than the admin, can see your name or number. Also, we will not spam you.
How to measure the risk of equity mutual funds?
In statistics, the standard deviation is a measure of the amount of variation or dispersion of a set of values. A low standard deviation indicates that the values tend to be close to the mean (also called the expected value) of the set, while a high standard deviation indicates that the values are spread out over a wider range. - Wikipedia
Generally, the higher the standard deviation (SD), the higher the risk of a mutual fund. If a fund has a standard deviation of 15%, its yearly returns are expected to be between -60% to +45%. In general, we can say:
Yearly return range = [-4 * SD, 3 * SD]
We use annualised standard deviation and the last 3-year return data for mutual funds as provided by the Valueresearchonline website.
We have used the SEBI categorisation of funds in defining the categories below. Since hybrid mutual funds also have some equity allocation, we have included them in our list.
Which are the safest fund categories?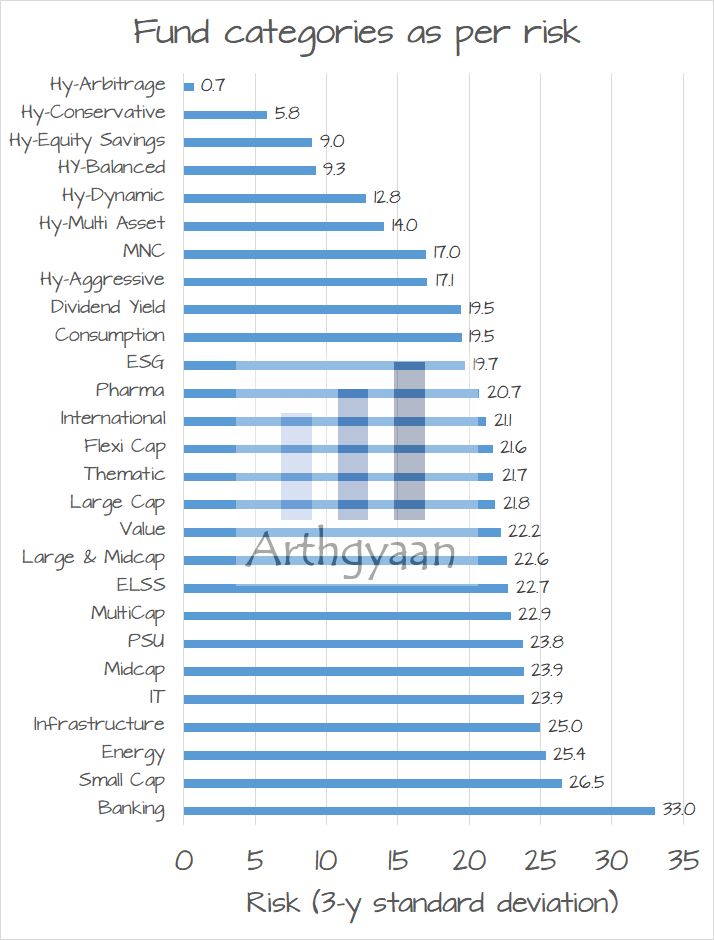 We have arranged the fund categories in ascending order of risk. Due to having less than 100% equity allocation in all cases, we see that the hybrid funds are the safest in terms of risk.
A few other observations:
as the market cap of the funds reduces (large-cap > mid-cap > small-cap etc.), the risk increases
within diversified funds, large-cap funds have the least risk
sector or thematic funds have varied amounts of risk. In general, sector funds are riskier than diversified funds
all international funds are clubbed into one group, but their aggregate risk is lower than diversified domestic funds
Investors should note that looking at only risk is one part of the analysis they need to make to shortlist mutual funds. The next level of study they need to perform is how much return these funds have given, grouped as per risk. We will cover this aspect in a future article.
What's next? You can join the Arthgyaan WhatsApp community
You can stay updated on our latest content and learn about our webinars. Our community is fully private so that no one, other than the admin, can see your name or number. Also, we will not spam you.


Discover an article from the archives
Worked out case studies for goal-based investing
Previous and next articles: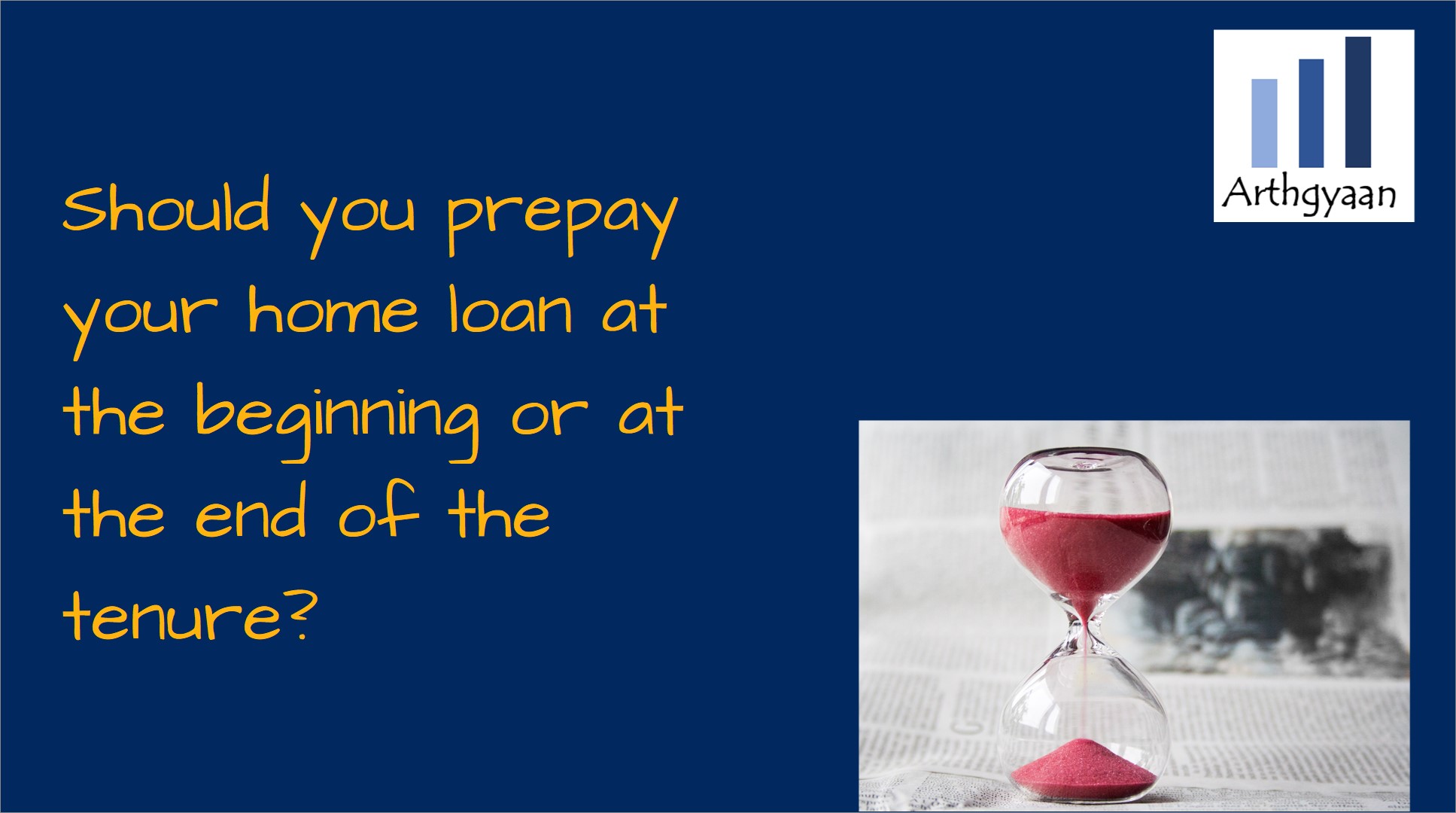 House Purchase
Should you prepay your home loan at the beginning or at the end of the tenure?
This article helps you decide when to prepay your home loan - at the beginning, middle or end of the total loan period.
Published: 19 March 2023
7 MIN READ
---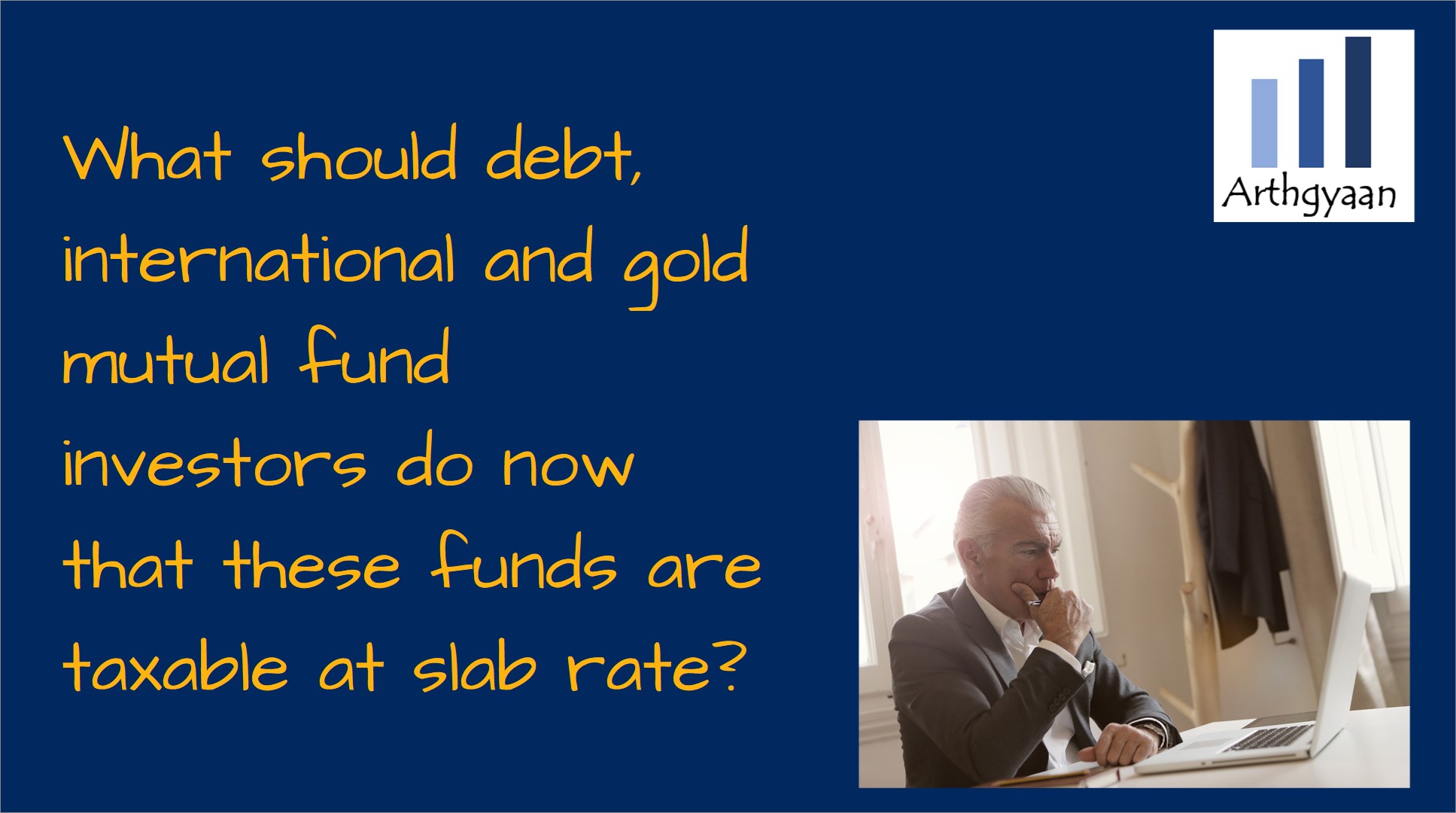 Tax
Mutual Funds
What should debt, international and gold mutual fund investors do now that these funds are taxable at slab rate?
This article shows the way forward for investors in debt, gold, hybrid and international funds which have lost indexation benefits on units purchased after 1st April 2023.
Published: 26 March 2023
5 MIN READ
---
Latest articles: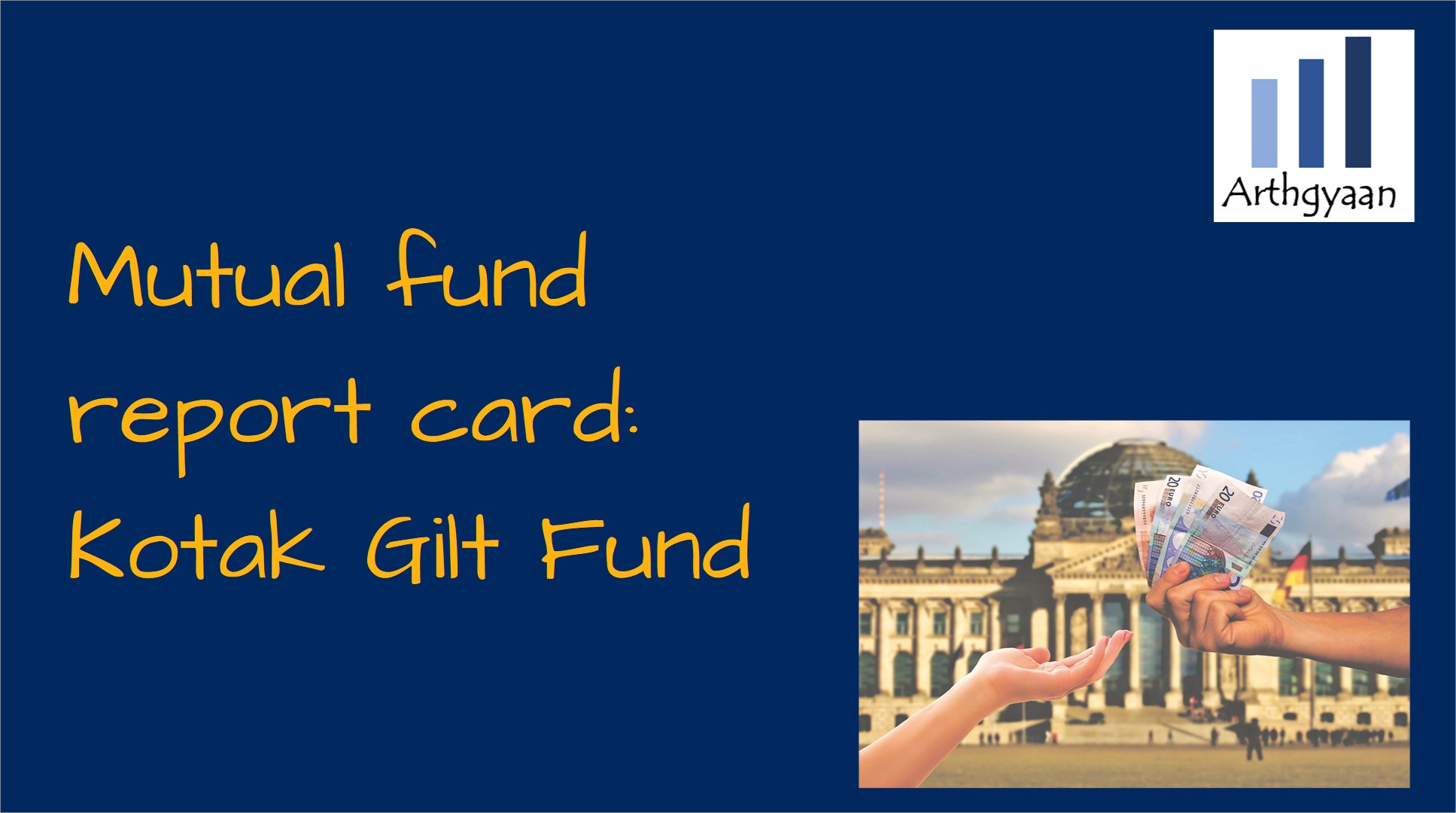 Mutual Funds
Review
Mutual fund report card: Kotak Gilt Fund
This article shows the historical performance of this fund as an example of a long-running gilt fund to demonstrate the risk and return in a gilt fund.
Published: 7 June 2023
3 MIN READ
---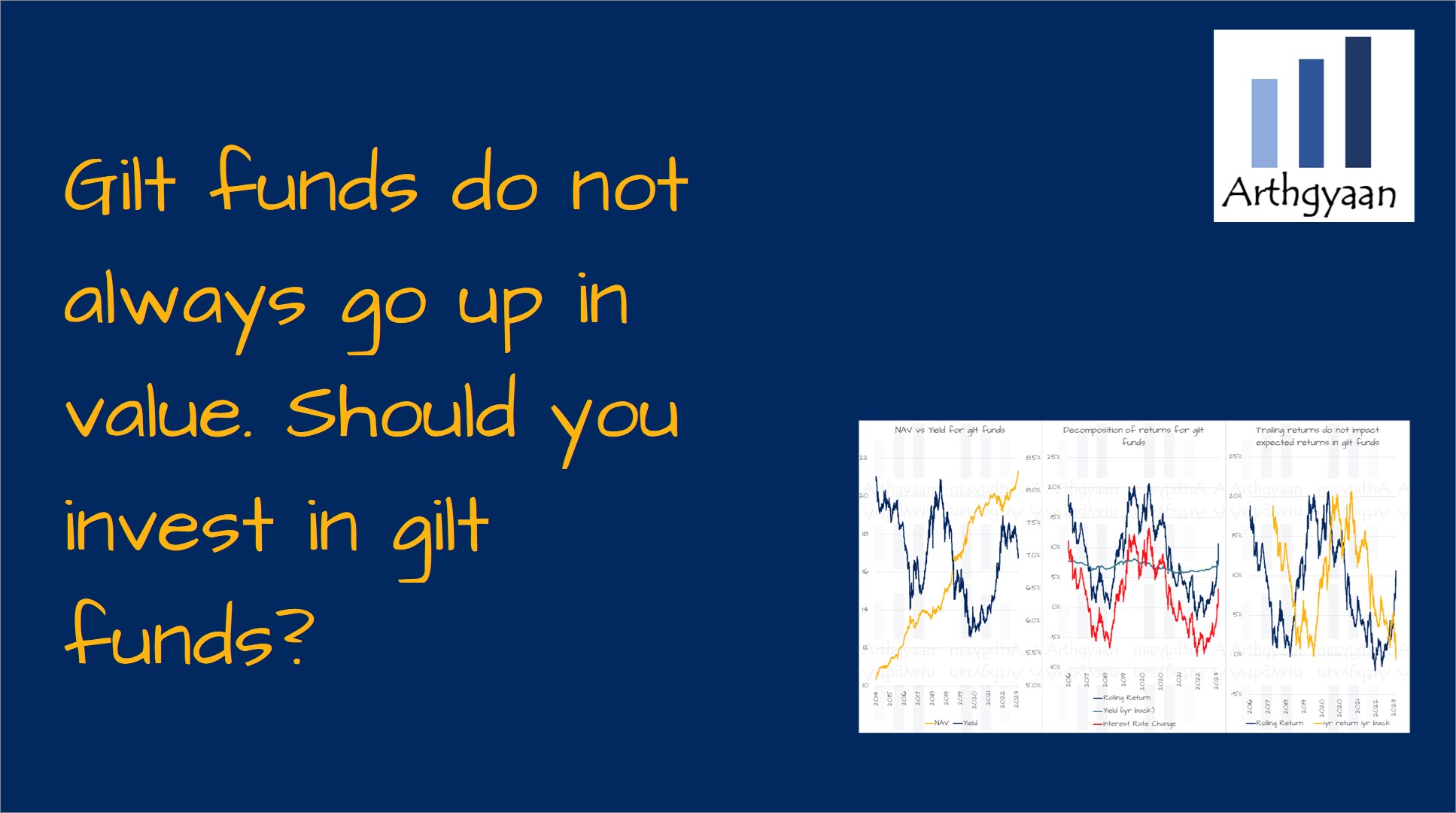 Mutual Funds
Gilt funds do not always go up in value. Should you invest in gilt funds?
This article explains if Indian investors should consider investing in gilt or government securities mutual funds for their goals.
Published: 4 June 2023
4 MIN READ
---
Topics you will like:
Asset Allocation (21) Basics (8) Behaviour (10) Budgeting (11) Calculator (16) Case Study (5) Children (12) Choosing Investments (35) FAQ (5) FIRE (13) Gold (6) Health Insurance (4) House Purchase (14) Insurance (14) International Investing (9) Life Stages (2) Loans (9) Market Movements (11) Mutual Funds (28) NPS (5) NRI (8) News (6) Pension (8) Portfolio Construction (42) Portfolio Review (24) Real Estate (4) Retirement (35) Review (12) Risk (6) Safe Withdrawal Rate (5) Set Goals (26) Step by step (10) Tax (25)

Next steps:


1. Email me with any questions.

2. Use our goal-based investing template to prepare a financial plan for yourself
OR
use this quick and fast online calculator to find out the SIP amount and asset allocation for your goals.



Don't forget to share this article on WhatsApp or Twitter or post this to Facebook.

Discuss this post with us via Facebook or get regular bite-sized updates on Twitter.

More posts...


Disclaimer: Content on this site is for educational purpose only and is not financial advice. Nothing on this site should be construed as an offer or recommendation to buy/sell any financial product or service. Please consult a registered investment advisor before making any investments.

This post titled Which are the safest types of equity mutual funds? first appeared on 22 Mar 2023 at https://arthgyaan.com


We are currently at 261 posts and growing fast. Search this site: Copyright © 2021-2023 Arthgyaan.com. All rights reserved.

---