My experience with the LIC Tech Term life insurance policy


01 May 2022 - Contact Sayan Sircar


9 mins read





This post chronicles my recent experience of applying for a LIC Tech Term life policy and why it will change your belief that LIC plans are more expensive than private insurers.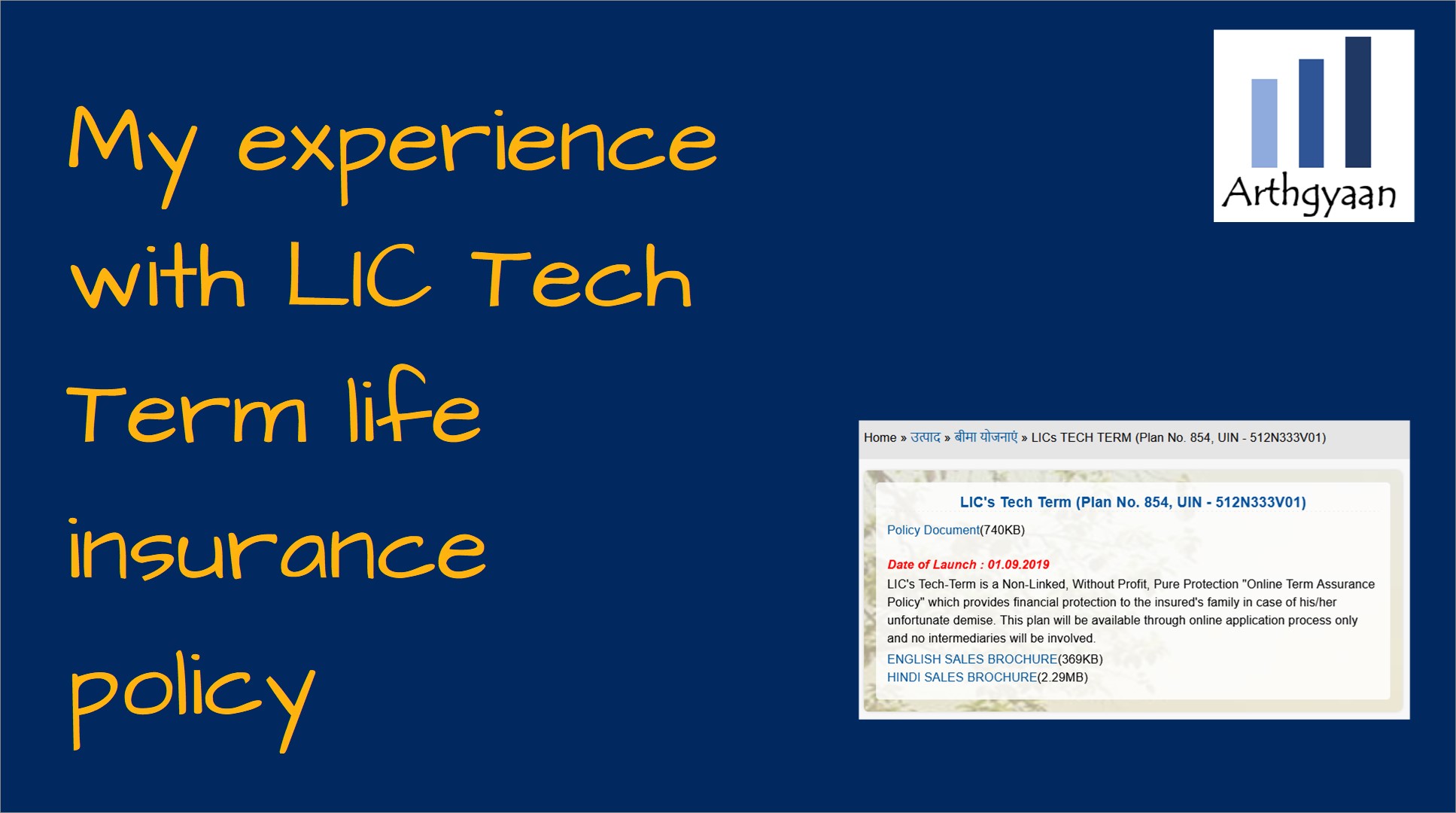 Disclaimer: This article is not a recommendation to purchase the LIC Tech Term life insurance policy. It describes my personal experience with the LIC Tech term online plan application process in Feb-Mar 2022 so that the readers of this article get to know. I am not the policyholder for this policy. Readers should consult with their financial advisor if this plan is suitable for them or not.
If you wish to understand who should purchase a term insurance policy and why along with FAQs, please refer to this post: Term life insurance: what, why, how much to get and from where?
Table of Contents
What is the LIC Tech Term policy
LIC's Tech Term (Plan No. 854, UIN - 512N333V01) is a Non-Linked, Without Profit, Pure Protection "Online Term Assurance Policy" which provides financial protection to the insured's family in case of his/her unfortunate demise. This plan will be available through online application process only and no intermediaries will be involved - LIC Website.
This plan is a term insurance plan with the following features:
coverage paid only upon death. There is no money back or return of premium option
the application process is done in self-service mode via the LIC website. There is no role of agent or customer service. If you call their helpline regarding any query on this policy, they will not be able to help
coverage is offered from today up to the next 40 years. You should choose up to your retirement age which is 60 for most people
no riders are offered. This lack of riders is a welcome move by LIC since it keeps the policy simple. If you need coverage for critical illness or personal accident coverage, take separate policies from a general insurance company
there is no return of premium option. We have provided illustrations before that such policies offer poor returns and are a waste of money
Here are the premiums for some selected combinations of age and coverage:
| Age | Coverage | Sex | Coverage period (y) | Yearly premium incl GST | Premium per crore |
| --- | --- | --- | --- | --- | --- |
| 30 | 1 crore | M | 30 | 11,007 | 11,007 |
| 30 | 2 crore | M | 30 | 20,013 | 10,007 |
| 35 | 2 crore | M | 25 | 25,276 | 12,638 |
| 35 | 3 crore | M | 25 | 37,913 | 12,638 |
| 40 | 3 crore | M | 20 | 46,038 | 15,346 |
| 40 | 4 crore | M | 20 | 61,384 | 15,346 |
| Age | Coverage | Sex | Coverage period (y) | Yearly premium incl GST | Premium per crore |
| --- | --- | --- | --- | --- | --- |
| 30 | 1 crore | F | 30 | 9,346 | 9,346 |
| 30 | 2 crore | F | 30 | 16,992 | 8,496 |
| 35 | 2 crore | F | 25 | 20,862 | 10,431 |
| 35 | 3 crore | F | 25 | 31,294 | 10,431 |
| 40 | 3 crore | F | 20 | 37,312 | 12,437 |
| 40 | 4 crore | F | 20 | 49,749 | 12,437 |
How to purchase this policy
Step 1: Land on their website
A Google search for "LIC Tech term policy" is the recommended route since the link to the page may change.
This is the current link to the policy page: https://licindia.in/Products/Insurance-Plan/LICsTECH-TERM
You will get the policy document and sales brochure here which you should read.
Step 2: Calculate premium
There is an online premium calculator on the right side of the page that will calculate the premium for your need.
Step 3: Start application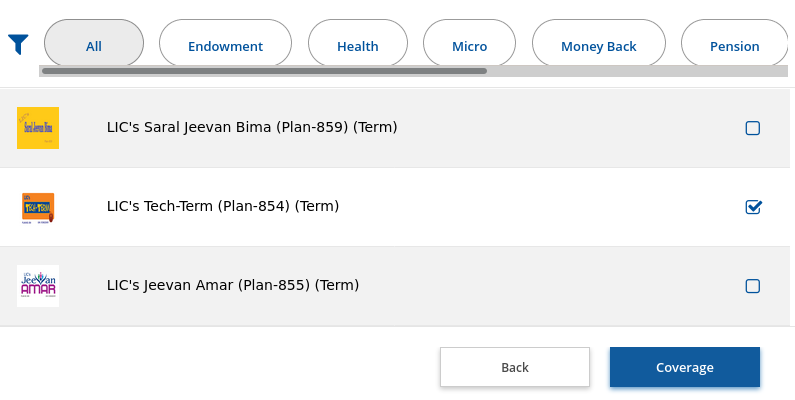 You can start the online application process once the premium is calculated. This is the direct link: https://digisales.licindia.in/eSales/liconline
If this link does not work, Google "LIC Tech Term online purchase".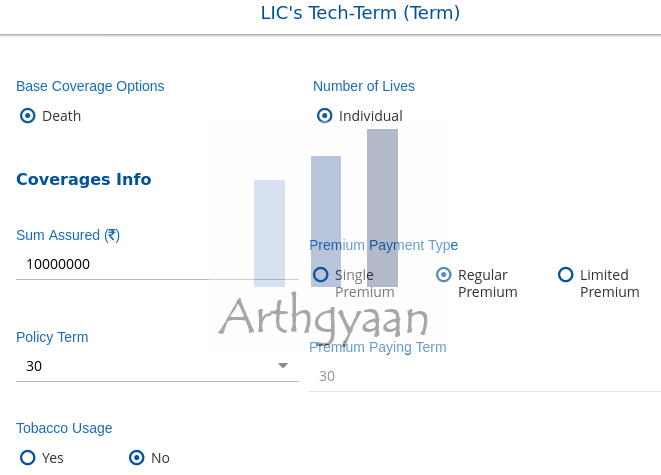 Step 4: Information and documents needed for filling the form
The form that was filled required the following information:
personal, communication and family details
employment and income details
medical history
existing life insurance coverage history
nominee details
There is nothing out of the ordinary here. The applicant should fill the form honestly with all information provided to the best of their knowledge.
The following documents were uploaded while filling out the application form
PAN, Aadhaar copy
specimen signature on white paper
photograph
ITR / Salary slips / Form 16
address proof (this address was used to dispatch the physical policy document later)
cancelled cheque and bank account details
COVID vaccination certificate
policy number and details of all life insurance policies held by proposer and spouse
Step 5: Medical tests conducted
The email for medical tests came two days after the application date. The following tests were mentioned in the email:
Video MER
Rest ECG
SBT- 13
RUA
Haemogram
Hba1c
CTMT
Urine Cotinine Test
Treadmill Test (this was not in the email but performed nevertheless)
Timeline of events
The following is the complete timeline of events:
13 Feb: application done, premium paid, fully online process
15 Feb: Email arrived for medical test scheduling
17 Feb: Medical test done
22 Feb: Email arrived asking for further documentation: Self-attested copies of last three years ITR with computation sheet OR last three years Form 16 OR Latest 3 months salary slip with a bank statement showing salary credit and Employment appointment letter. We uploaded ITR and salary slips again.
24 Feb: Got a call for documentation again: re-uploaded PAN, Aadhaar, ITR again and emailed policy numbers of existing policies
12 Mar: COVID vaccine certificate upload request. We uploaded the documents again
17 Mar: Reminder for ITR by email. We uploaded the documents again
8 Apr: Policy is issued and has been active since 28-March. Premium to be paid on 28-Mar going forward every year
15 Apr: Policy document arrived by registered post
The amusing part here is the endless emails asking for the same documents repeatedly. Unfortunately, their website, where you upload the documents, works only after 9.30 am IST. Maybe someone comes to the office and switches on the webserver!
---
Our new Goal-based investing tool will help you to create and manage all of your goals in one place. Click the image below to get access:

---
Arthgyaan creates a system for reaching your financial goals by sharing simple, actionable advice backed by research and analysis.

Your email address will not be shared with anyone and you can unsubscribe anytime.
---
Why is the premium cheap?
There are multiple theories as to why the premium, unlike previous term insurance plans offered by LIC, is so competitive. Here is some speculation I have come across:
LIC is aggressively trying to grow its market share
other insurers have increased their premiums as a response to the COVID-19 pandemic
LIC can price this cheaply since this is a fully online policy without agent involvement
Whatever be the reason, there is no apparent downside to having a low-premium policy. But, of course, consumers have the right to complain in both cases where the premium of LIC policies is either high or low.
Who should purchase this policy?
Why I chose this policy
I chose this policy due to the following reasons:
the premium was cheapest for the age, coverage period and amount amongst all the insurers I researched
I trust the LIC brand
the policy is a straightforward product without any riders and offers a level policy where coverage stays constant for this period
Should you purchase this policy?
You choose to purchase this policy if and only if
you need a term insurance policy
you are acting as per your own understanding of the policy documentation or are acting on the advice of your financial advisor
you are eligible to take this plan as per the terms and conditions of this policy
you understand that this article is not a recommendation to buy this policy and is not the right place to look for LIC customer service
you can follow the instructions while filling out the online form by yourself and respond to the requests for documentation by yourself. There is no agent to help you.
Caveats in choosing this policy
The period between application to policy issuance is very long (7-8 weeks) compared to private insurers. This was not a hindrance in my case
There will be three premium options: Single Premium, Regular Premium, Limited Premium - you should choose Regular
LIC branch/office might call you for physical document submission. You can ask them for an official email id (from licindia.com domain) and email them. A physical visit is not needed.
If you liked this article, consider subscribing to new posts by email by filling the form below.
Previous and Next articles: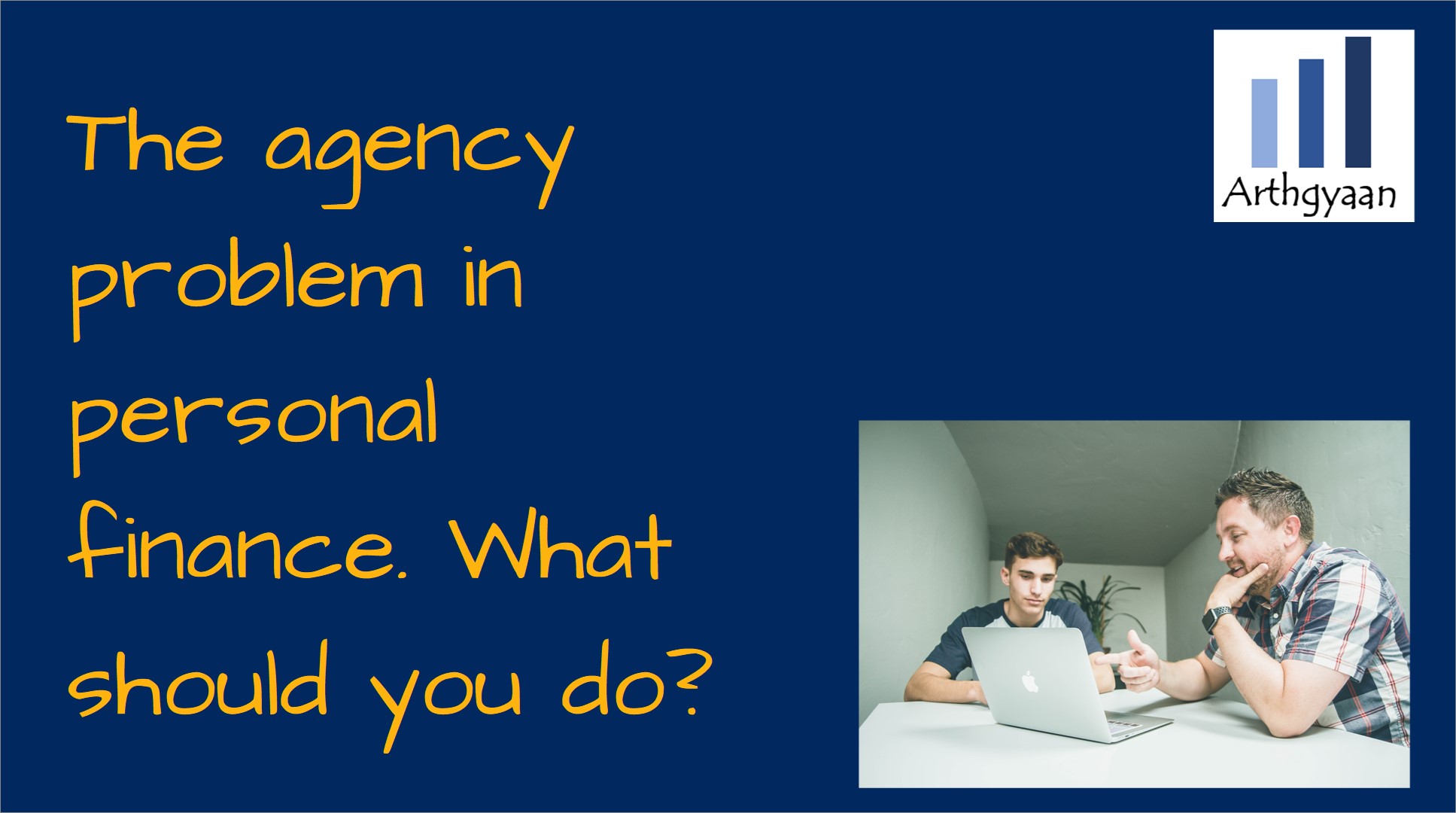 Choosing Investments
Insurance
The agency problem in personal finance. What should you do?
This post discusses how various agents pitch financial products to investors and how many of these products may not suit the investors' goals.
Published: 27 April 2022
9 MIN READ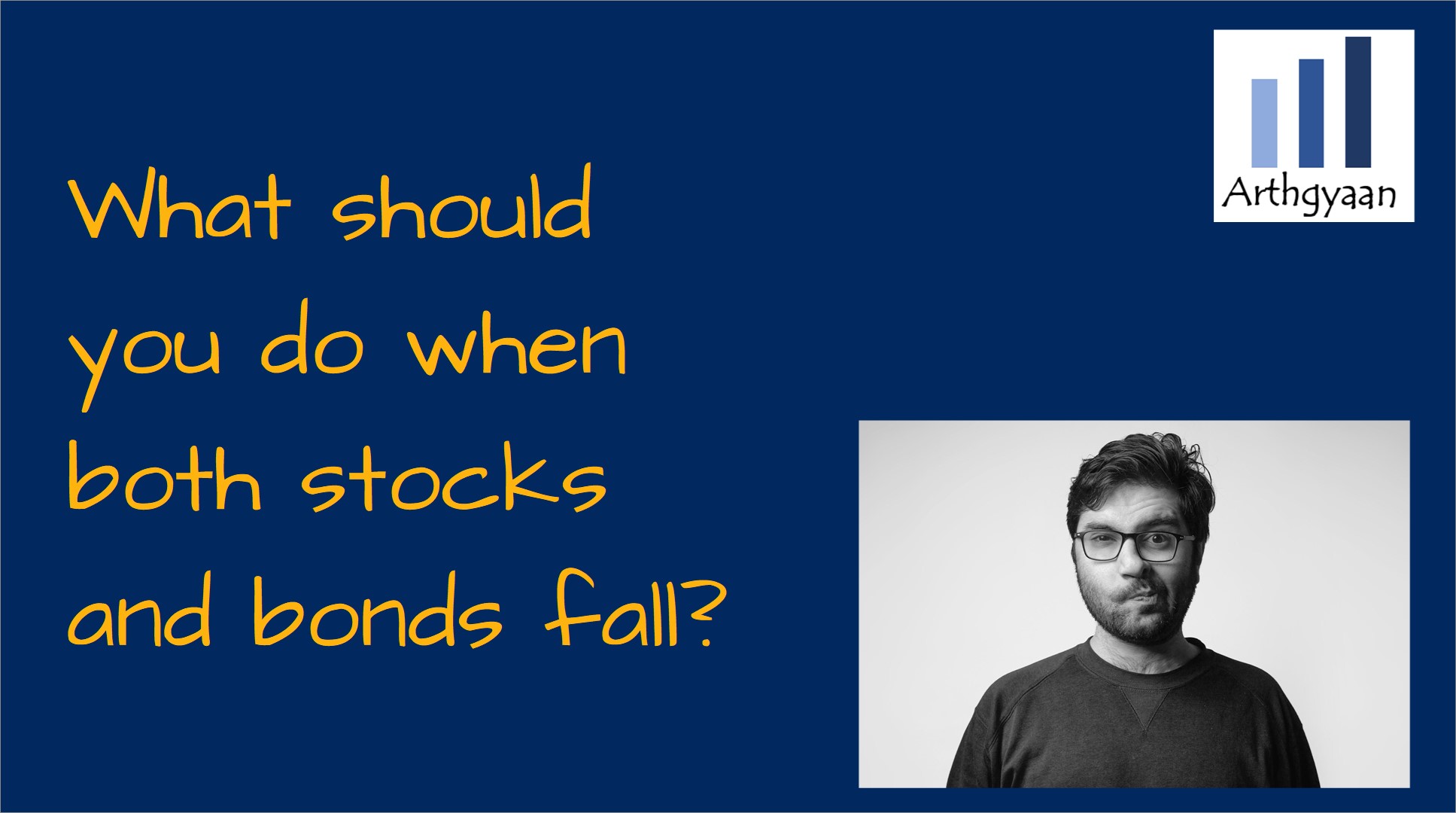 Portfolio Review
What should you do when both stocks and bonds fall?
This article talks about the steps to take in the current market scenario when stocks and bonds are falling simultaneously.
Published: 8 May 2022
4 MIN READ
Latest articles: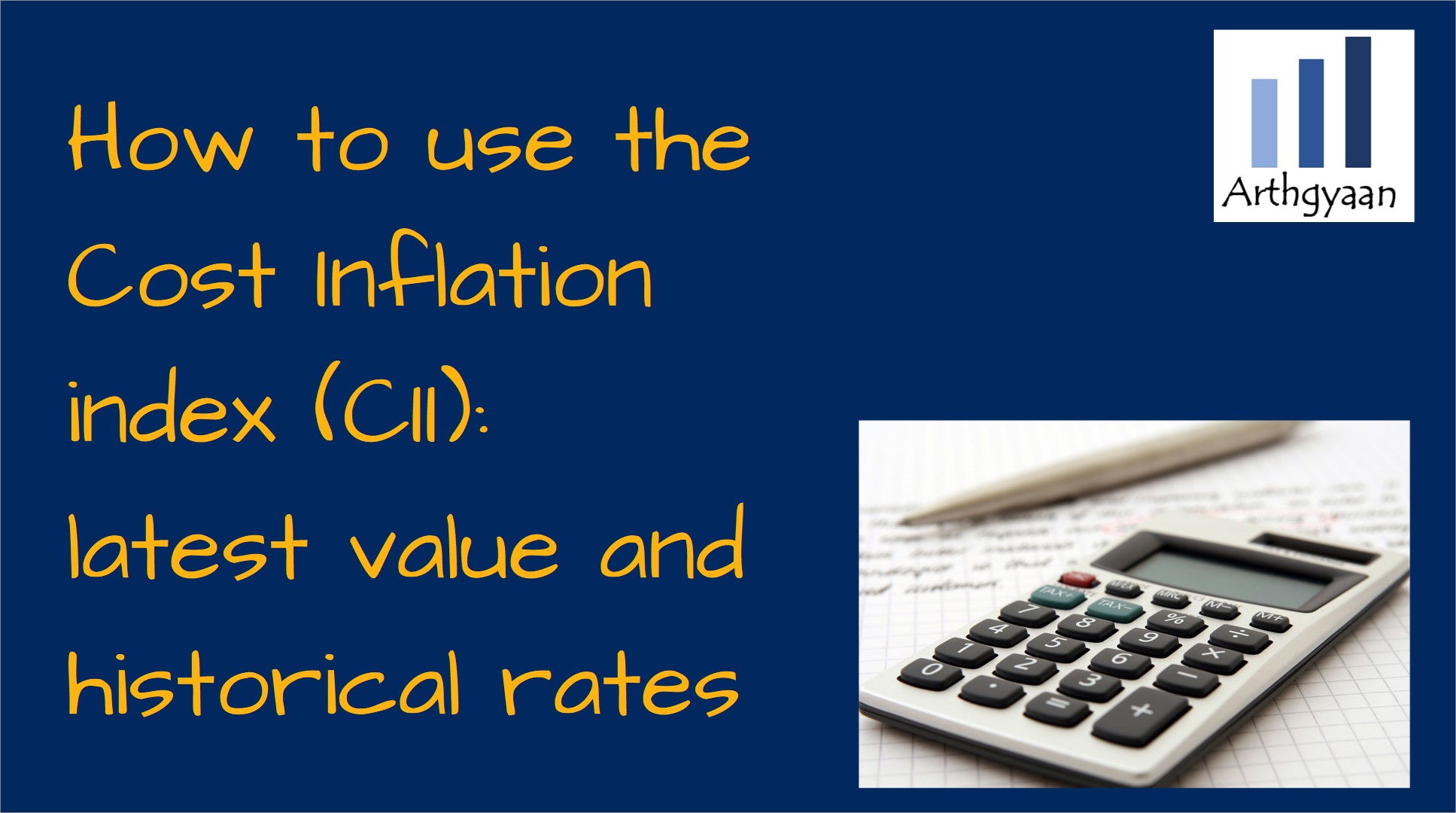 Tax
How to use the Cost Inflation index (CII): latest value and historical rates
This article shows the latest as well CII value and shows you how to use it for calculating capital gains tax.
Published: 29 June 2022
2 MIN READ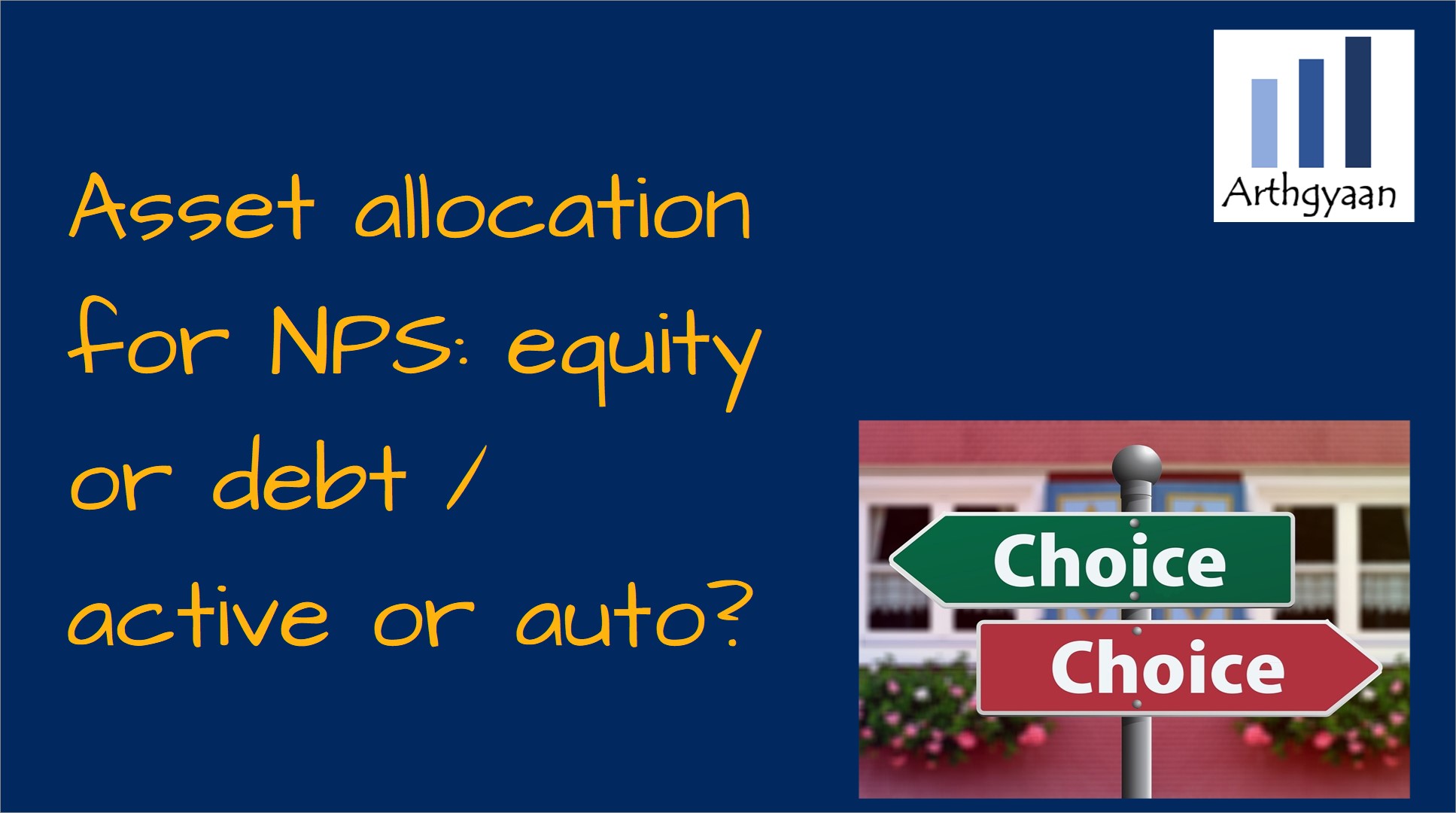 NPS
Retirement
Asset allocation for NPS: equity or debt / active or auto?
This article provides guidance on choosing the right combination of equity and debt along with allocation plan for NPS subscribers.
Published: 22 June 2022
6 MIN READ
Topics you will like:
Asset Allocation (18) Basics (5) Behaviour (10) Budgeting (9) Calculator (10) Children (6) Choosing Investments (24) FAQ (2) FIRE (8) Gold (6) House Purchase (10) Insurance (6) Life Stages (2) Loans (10) NPS (3) NRI (3) News (5) Portfolio Construction (27) Portfolio Review (17) Retirement (20) Review (7) Risk (6) Set Goals (24) Step by step (3) Tax (10)

Next steps:


1. Email me with any questions.

2. Use our goal-based investing template to prepare a financial plan for yourself
OR
use this quick and fast online calculator to find out the SIP amount and asset allocation for your goals.



Don't forget to share this article on WhatsApp or Twitter or post this to Facebook.

Discuss this post with us via Facebook or get regular bite-sized updates on Twitter.

More posts...


Disclaimer: Content on this site is for educational purpose only and is not financial advice. Nothing on this site should be construed as an offer or recommendation to buy/sell any financial product or service. Please consult a registered investment advisor before making any investments.

This post titled My experience with the LIC Tech Term life insurance policy first appeared on 01 May 2022 at https://arthgyaan.com


We are currently at 161 posts and growing fast. Search this site: Copyright © 2021-2022 Arthgyaan.com. All rights reserved.